On the occasion of Cersaie, Fiandre Architectural Surfaces present three important innovations by Iris Ceramica Group at FAB - Fiandre Architectural Bureau - in Castellarano (Emilia-Romagna): the Luce by Guillermo Mariotto collection, the new Hypertouch system and ACTIVE SURFACES®, all of which are deployed in MA, the living module developed by the start-up ConceptMA.
---
Ma is a Japanese word meaning "interval", "space", "duration", "distance". Its kanji symbolises a sun surrounded by a door. The term is used as an aesthetic concept and refers to the subjective variations of emptiness (silence, space, duration, etc.) that connect two objects, two separate phenomena. MA is the fundamental time and space that life needs to flourish.
This philosophy inspired the Austrian start-up conceptMA to develop the MA project – an innovative mind-room that immediately convinced Iris Ceramica Group and its Fiandre Architectural Surfaces brand.
MA responds to the need for a physical and stimulating space in which to give birth to new ideas, a place designed to be in harmony with the environment and to escape from the frenzy and stress of our daily lives. MA is an annex to our professional or personal spaces dedicated to well-being, concentration, creative stimulation or simply total relaxation.
Compact but large enough and comfortable, MA is carefully designed down to the last detail: built in wood, its finishes and materials are of excellent quality because they are designed to last. A living area with a large bay window guarantees natural light and openness to the outside world; and a small technical area with sink, refrigerator and dressing room offers all the necessary comfort.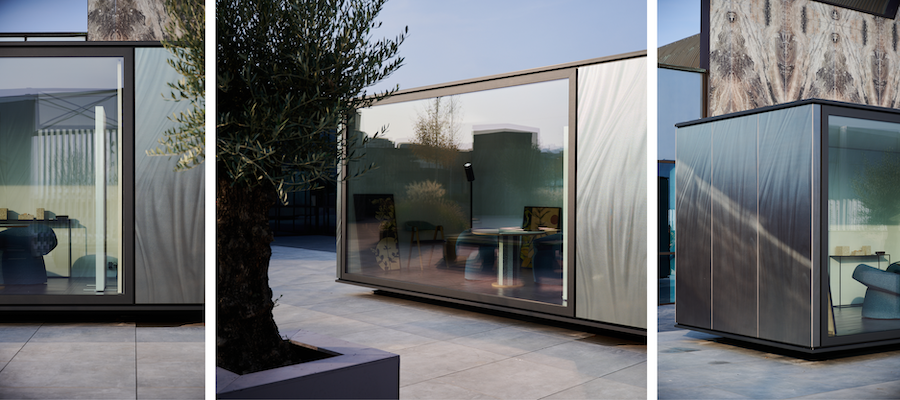 MA guarantees perfect insulation thanks to a structure made of solid cross-laminated wood panels, a layer of ecological rockwool, and exterior and interior cladding in Fiandre Architectural Surfaces technical ceramic. This project of habitable modules was designed to be reproduced in series and transported by land.
In order to meet the important hygienic and sanitary requirements, the surfaces of the technical area (the dressing room and the catering area, including the sink) were made with ACTIVE SURFACES® photocatalytic, antibacterial, antiviral and anti-pollutant ceramic surfaces, capable of eliminating up to 94% of SARs-CoV-2, after only 4 hours of exposure to light (natural or artificial), even at low intensity.
The MA module ordered by Fiandre Architectural Surfaces for its Italian headquarters was created in a special version entirely clad in LUCE, the new collection designed by fashion designer Guillermo Mariotto for Iris Ceramica Group. LUCE, inspired by precious fabrics that play with light, offers a new vision of the ceramic surface, changing and three-dimensional.
The MA module is also equipped with the Hypertouch system, an innovative technology integrated into ceramic surfaces that replaces switches. A light touch of the Hypertouch surface activates integrated home automation sensors (lighting systems, audio-video systems, temperature control, etc.). This is an exclusive technology, designed and patented by Iris Ceramica Group, that can be applied to large-format Fiandre porcelain stoneware.
Please visit 

www.granitifiandre.com

 for more information.