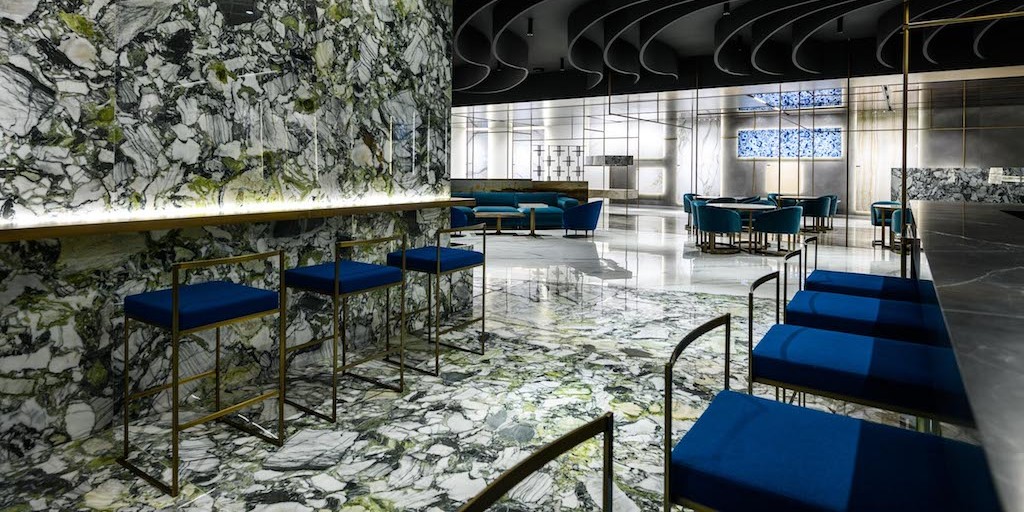 FAB – Fiandre Architectural Bureau – located in Castellaran, Italy, have been totally restyled with a new design by Iosa Ghini Associati. Inaugurated on the occasion of Cersaie 2019, this fresh new showroom of Iris Ceramica dedicated to its brand Fiandre Architectural Surfaces welcomes since several months professionals and design lovers looking for inspiration.
With a large catalog of several new collections, the brand Fiandre Architectural Surfaces wanted to completely rethink its showroom located in Emilia-Romagna (Italy), the FAB Fiandre Architectural Bureau. "Now,five years after the inauguration of FAB, we felt it was time to restyle our offices with a design which highlighted the ongoing evolution of the brand and its products", said Federica Minozzi, managing director of the holding company Iris Ceramica Group, including Fiandre. It was to the Italian architecture studio Iosa Ghini Associati that Fiandre gave the mission to redefine the conceptual language and the exhibition logic of the place – 1,500 sq.m of interior spaces and 5,200 sq.m of exterior spaces. "Iosa Ghini Associati drew up a very exciting design which was both new and highly functional, and which provides Fiandre and its public a place to host visitors with a strong statement of our identity, to show our products in all their forms and applications, and for entertainments", adds Federica Minozzi.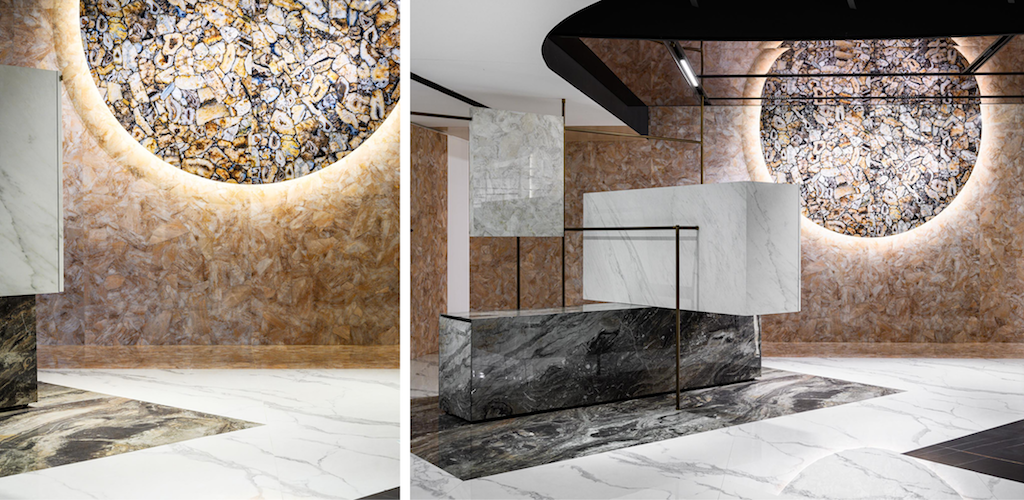 The interior spaces of the showroom were divided by Iosa Ghini Associati into two large areas, each highlighting a core product of the brand: the large slabs for one and the traditional format for the other.
The first area includes the reception area and a bar-kitchen. This space presents Fiandre's Maximum range through large format tiles exposed on the walls or used directly on furniture elements.
The second zone displays the undiminished design potential of traditional format tiles in a boutique-hotel style decor, with the lobby, the wellness and spa area, the various circulation areas – corridor, elevator and stairs – the suites, the studio, the bathroom. A real demonstration for hotel and catering professionals which highlights the brand's ability  to service the requirements of the hotel and luxury residential sectors.
The showroom opens out onto a large square of approximately 5,200 sq.m. A former car park that has become a pedestrian square bordered by trees and decorated with urban furniture, all covered with Fiandre ceramic solutions, of course.
The exterior demonstrates Granitech technical solutions for exteriors, with Fiandre Architectural Surfaces and Porcelaingres surfaces. Fiandre's 20 mm special format slabs pave the raised central island. Another raised paved area was created with the Urban tiles from Porcelaingres, 20 mm thick, cut to size in trapezoidal pieces, while the Arabescato Orobico tiles by Marmi Maximum cover the Granitech external ventilated facades. ACTIVE technology has also made it possible to create a "green lung" and a semicircular wall covered with large Calacatta Light and Premium White Active tiles from Fiandre.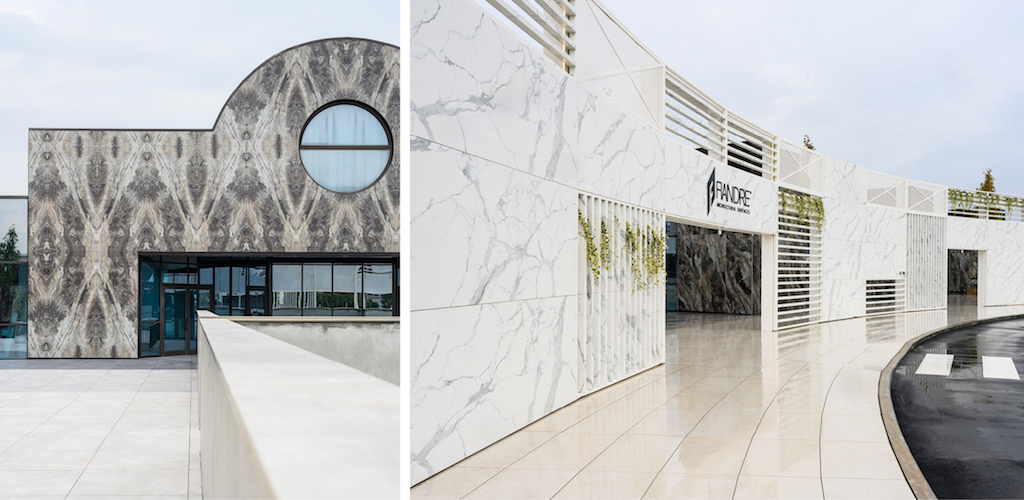 Le projet de Iosa Ghini Associati est donc parvenu à donner un nouveau visage à FAB de Castellarano, qui incarne désormais parfaitement les valeurs identitaires de Fiandre Architectural Surfaces, sa riche gamme de produits répondant à toute exigence conceptuelle, et l'évolution technologique des produits et processus, tournés depuis toujours vers la durabilité environnementale et sociale.
The project of Iosa Ghini Associati has succeed to give a new look to FAB de Castellarano, which now perfectly embodies the identity values ​​of Fiandre Architectural Surfaces, its large range of products meeting any conceptual requirement, and the technological evolution of products and processes, always oriented towards environmental and social sustainability.