AA's issue 449 "Mediterranean Architectures" presents a multitude of Mediterranean projects, from a Greek spa to a Spanish house, including a Corsican market hall, a Jordanian academy dedicated to the environment and a music conservatory in Sète. To go further, discover through pictures and drawings a new project: the Dexamenes Seaside Hotel (2020), rehabilitation of old wine tanks into a seaside hotel signed K-studio.
---
Text : K-studio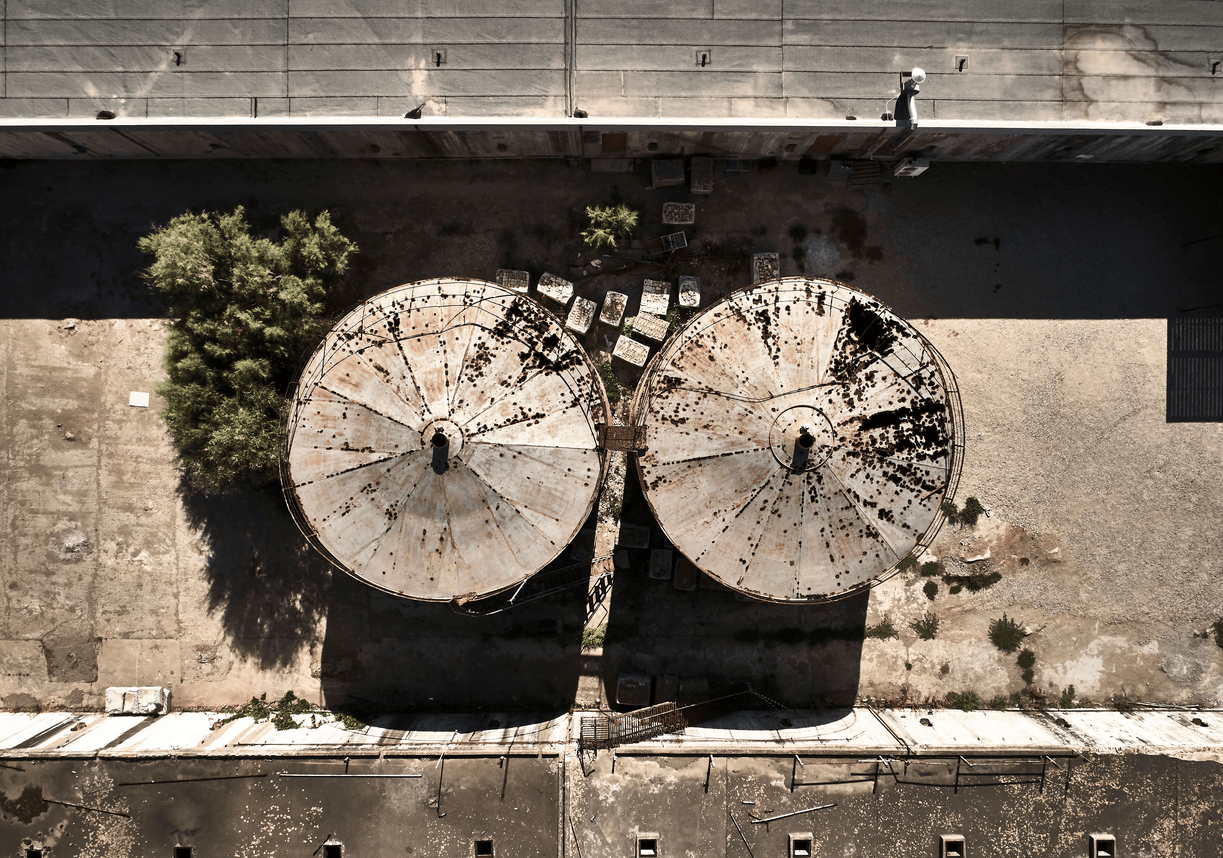 « The history of Dexamenes dates back to the early 1900s, when the concrete tanks were built directly on the coastline, to store wine for export overseas. In converting the site into a hotel, the intention was to showcase the strong history and raw beauty ofthe existing buildings and compliment their brutality with elegant interventions. A complimentary palette of concrete, steel, timber and engineered glass ensures that new construction elements tread lightly, leaving the existing buildings relatively untouched and retaining their strong presence.
The louvered canopy of the reception pavilion offers welcome respite from the heat of sun. Remnants of the industrial past are artfully displayed alongside hand-made linen beachwear in the hotel boutique, as thespace opens out onto the peaceful courtyard garden and terraces. Dominating the site are the 2 concrete blocks of tanks, now converted into 4 neat rows of deceptively luxurious rooms. Separating the blocks a shallow pool has a cooling effect on the air and reflects light and sound onto the concave surfaces of the steel drums sitting in the water. Concrete cut from the tanks to create openings has been used for stepping stones in the pool as well as tables in the lounge pavilion.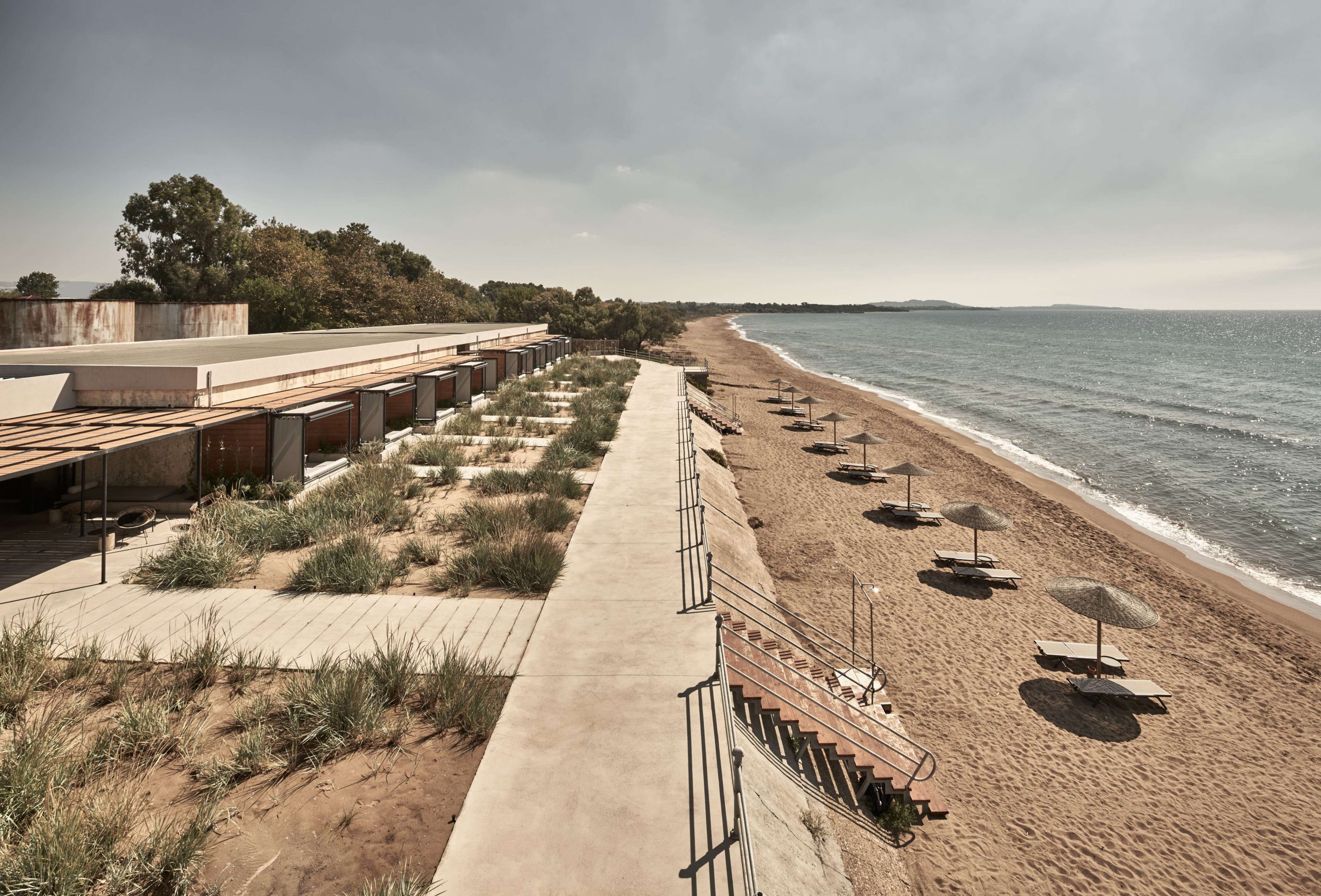 Original features of the tanks such as the façade manholes and the textured internal walls have been preserved to frame the new textured glass, polished terrazzo, rich wood and elegant black steel details. Courtyard-facing bedrooms are laid out to create privacy whilst beachfront rooms maximize their sea-views and are connected by a wide promenade path along the edge of the beach.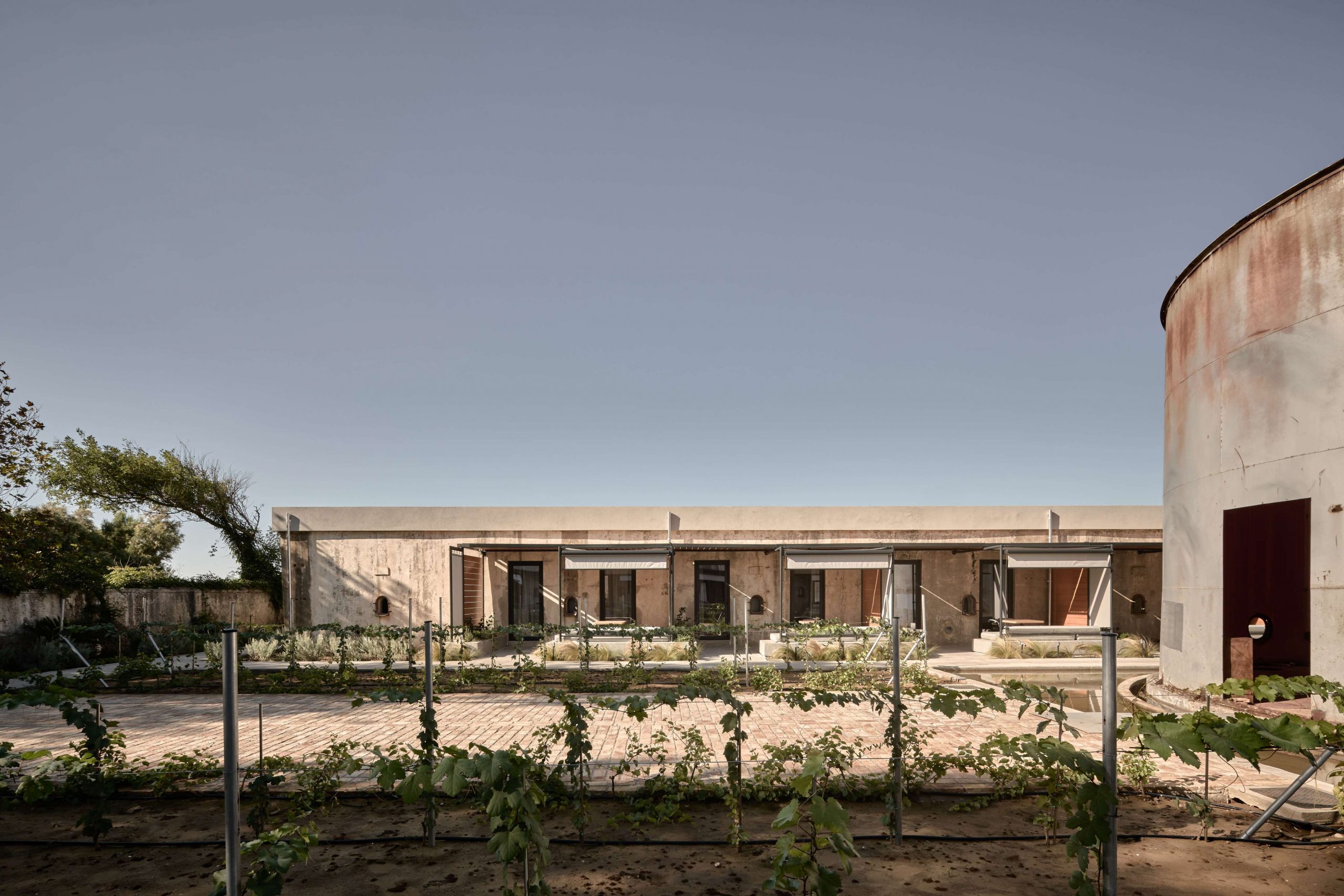 Two original stone out-buildings now provide the hotel with in-house dining and facilities for art and food focused events that communicate the culture of the area and the history of the site. Reclaimed bricks line the floors and terrace, and the pitched roofs have been restructured with bespoke ceramic tiles made locally and crafted to blend with the originals. The hotel has an ongoing program of arts events, with resident artists presenting performances, installations and exhibitions throughout the summer season. »