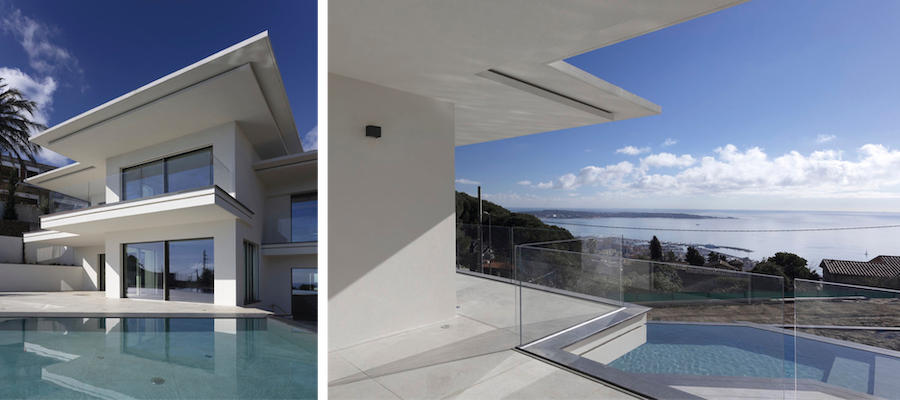 On the heights of Cannes (France), Villa Duna - a private residence designed by Marianne Preveteau and Victor Perez (project manager: Benoît Sgarbi) - is adorned with Fiandre Architectural Surfaces' Marmi Maximum surfaces and asserts a pure style with refined elegance.
www.granitifiandre.it
---
With a breathtaking view of the Mediterranean Sea in the heart of the Côte d'Azur, Villa Duna is a 600 sq.m private residence to which the architects have given a sober and contemporary line that highlights the beauty of the surrounding nature.
The project was designed by Marianne Preveteau and Victor Perez. Project manager Benoit Sgarbi selected Fiandre Architectural Surfaces' Marmi Maximum collection for the project. Thanks to the versatility of Fiandre materials, the architects were able to cover the floors, walls and furniture of the residence and so create a unique and harmonious setting.
The format chosen to cover all the surfaces of the villa is the innovative 300×150 cm Maximum Fiandre Extralite®; it offers great freedom of use while respecting the very high standards of lightness, resistance and ductility.
The colours chosen are Calacatta Light, a delicate cream shade with subtle light grey veins, and Pietra Grey, a flat brown/charcoal grey colour with fine and discreet white veins. A glossy finish has been chosen for both ranges.
An architectural element of remarkable finesse catches the eye, namely the pivoting staircase with its suspended steps. The Pietra Grey cladding gives the impression that they are carved from marble, and the effect of lightness is accentuated by the transparent glass railing.
TECHNICAL SPECIFICATIONS
Collection: Marmi Maximum
Finish : Polished
Size: 300×150 cm
Thickness : 6 mm
Shades: Calacatta Light and Pietra Grey
DETAIL OF SURFACES USED
– floors, coverings and shower trays in the bathrooms: Calacatta Light gloss
– pool wall cladding: Calacatta Light glossy "book-matched
– bathroom furniture and furnishings: Pietra Grey high gloss
– staircase steps: Pietra Grey high gloss
– door cladding: Pietra Grey glossy Pietra Grey high gloss