To convert the first two levels of a commercial building into a health and childcare support complex in Kitakami, on the northern island of Honshu, Japan, Japanese associated offices Unemori Architects and teco Architects got straight to the point. The first two floors of this 1999 building were completely emptied, creating a new "box" of almost 4,000 sq.m in which the architects designed curves, platforms, and playgrounds — to the delight of its little users.



Hiroyuki Unemori from Unemori Architects and Chie Konno from teco Architects agreed to answer our questions, in the framework of the issue No.445 of L'Architecture d'Aujourd'hui dedicated to "renewal".
---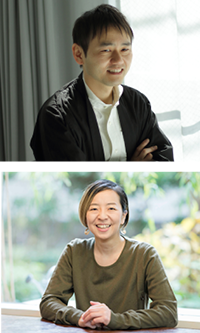 Could you please tell us the history of the project?
Hiroyuki Unemori and Chie Konno: First, we were selected in the competition. We have gutted the two lower floors of the former commercial building entirely. Then, we deconstructed the existing rectangular grid with softly undulating floors and ceilings that overlap the rigid structure of the room. This creates a shift and softness in the space. In addition, for the generous space created under the undulating ceiling, we have designed several seating areas with varying textures and sitting heights that divide the space and make it accessible because of their human scale. We also completely renewed the façade with a glass front and equipped it with a spacious entrance area with sliding doors.
What were the main challenges of transforming this commercial building into a health and childcare center?
HU: The challenge was not only to develop a building for people involved in health and childcare, but also to create an open space that would be equally accessible to other residents of the city and provide a meeting place.
CK: Before the renovation, the building was enclosed and had hardly any windows so that the interior could not be seen from the outside, in line with the economic principles of commercial facilities. I wanted to open this closed capitalist building as a place for the citizens to create a landscape with people on the street. So, we framed the facility with large windows and glass sliding doors, thus reinforcing the open character of the building and its connection to the city.
Our current issue is dedicated to renovation. Transforming rather than destroying is an approach shared by many other architects, to the extent that it is now an unwritten professional code of conduct. What do you think of this?
HU: I think this is very important. Japan's cities are getting older, and I think renovations like this project will continue to increase. Renovation is a creative act that combines the old with the new, and I see great potential.
CK: It is said that the lifespan of a building in Japan is less than 30 years, but since society does not necessarily demand growth, it is important to think about how best to use resources and rebuild buildings. From this point of view, the design of a new building also focuses on how it can withstand the future and adapt to changes in society.

Click on the right of the image to scroll through the slideshow.
---
Health and childcare support complex in Kitakami, Iwate prefecture, Japan
Programme: health center, childcare support, office
Architects: UtA/Unemori teco Associates
Consultants: Structural Engineers: Design Office Momi ; Mechanical Engineers: Zo Consulting Engineers ; Sign Design: Nippon Design Center Inc. Irobe Design Institute ; Textile Design: Talking About Curtains ; General Contractors: Hazama Ando Corporation; Obara Construction Joint Venture Group
Surfaces : Site area: 3,884 sqm (site area) ; 3,097 sqm (building area) ; 14,216 sqm (total floor area) ; 3,947 sqm (renovation area)
Completion: March 2021
---
Find more rehabilitation programmes in the new issue of AA, available in our online shop.