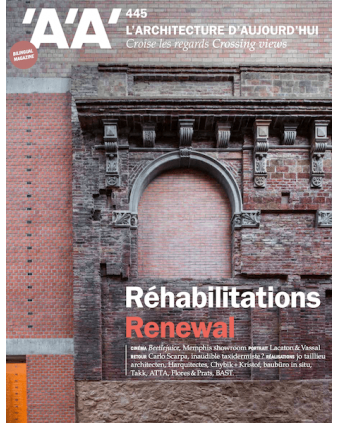 Browse
AA 445
Octobre 2021
Ref :
Renewal
Rehabilitating rather than destroying, the challenge of Lacaton & Vassal, 2021 Pritzker Prize laureates has become an adage for the architects. They do not only rehabilitate heritage or exceptional architecture: all programmes are concerned, and almost all periods. Without touching on the causes of this growing movement, correlated as it is with the growth of the environment crisis, suffice to say that as architects adopt this approach, the more diverse it becomes. They not only rehabilitate, they also reuse, transform, restore, rebuild, and more.
DESIGN: Aubusson Tapestry, Weaving through Time
CINEMA: Beetlejuice, Memphis showroom
ARCHEOLOGY: Postmodern Digging
PROFILE: The Sky is the Limit for Lacaton & Vassal
REPORT: the renovation of the Acropolis of Athens; the Bourse du Commerce viewed by Luc Boegly ; looking back at Carlo Scarpa's renovations ; and the realisations of Jo Taillieu Architecten, Harquitectes, Chybik + Kristof, babüro in situ, Takk, Atelier Tsuyoshi Tane Architects, Flores & Prats et Bast.
This product is no longer in stock
Availability date: