FMG Fabbrica Marmi e Graniti offers architects and designers an infinite range of latest generation technical porcelain stoneware surfaces that explore the full aesthetic potential of marble. For its Marmi MaxFine collection, FMG is now offering a new range, Ocean White: a white marble from Asia recognisable by the white, grey, black and green feldspars

*

 that enlightens its surface.

Discover the collection on www.irisfmg.com
---
The polychrome texture of Ocean White expresses all the richness of this range; its luminosity is enhanced and exalted by the large MaxFine format. Thanks to the drastic reduction in joints, the 6 mm thickness and the technical performance of FMG porcelain stoneware, Marmi MaxFine Ocean White surfaces are a practical and aesthetic response to many architectural needs and desires.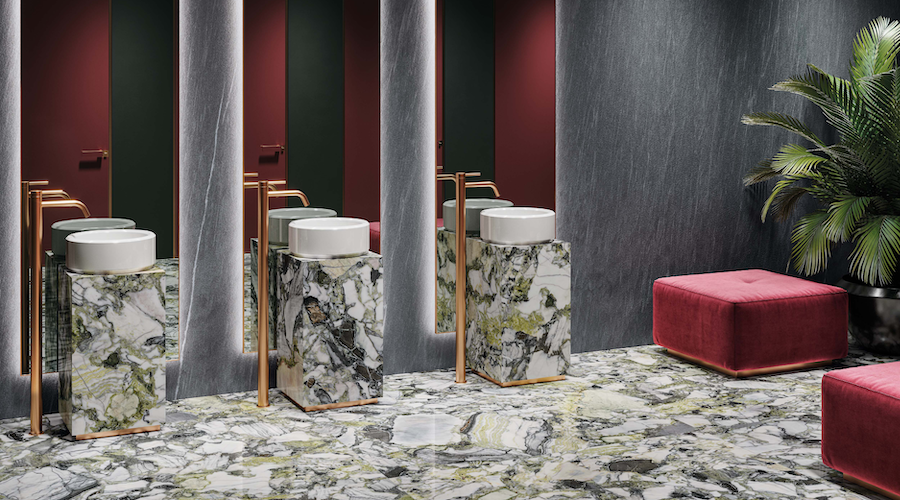 From wall cladding to indoor and outdoor flooring, from the creation of ventilated facades to the creation of customised furnishings, the application possibilities of the large MaxFine surfaces are almost limitless.
Made from selected raw materials in a zero-emission production plant, they meet numerous environmental, mechanical, technical, hygienic and aesthetic criteria.
Decorative, functional and versatile, FMG's new proposal, Ocean White, is available in five sizes (300×150, 150×150, 150×150, 75×75, 75×37.5 cm).
*

Feldspars are a group of naturally occurring alumino-silicate minerals containing varying levels of other chemical elements, including potassium, sodium, calcium and/or lithium. Representing about 50% of all rocks, it is by far the most abundant group of minerals in the earth's crust.