Hotels dug into the rock with the ancestral techniques for retaining walls in southern Greece, rehabilitation of collective granaries in the Moroccan Atlas, reconstitution of old wine cellars in the south of France to revive the region's working-class and wine-growing memory… Those past few years, architects in the Mediterranean basin have been revived vernacular techniques and devices that have always prooved efficient, while reinterpreting exceptional architectural archetypes. This issue 449 offers a Mediterranean overview.
FIND THIS NEW ISSUE
IN PAPER OR DIGITAL FORMAT
ON OUR ONLINE STORE!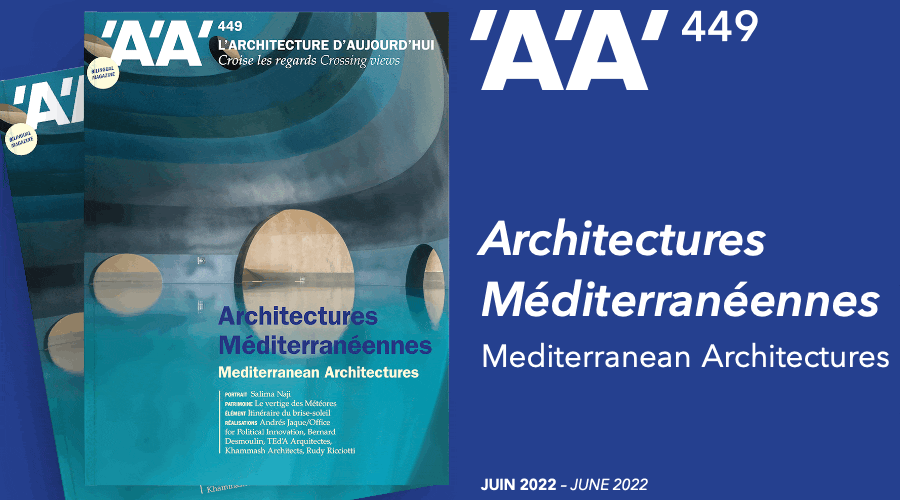 In this new issue:

NEWS
Through the eyes of Refik Anadol ; recent buildings by Amélia Tavella, David Chipperfield, Calq, Michel Desvigne, Carles Enrich, Simon Velez, Architecturestudio, Pierre Hebbelinck, Vincent Eschalier ; follies by DnA Design and Architecture and Jade + QA ; three questions to Franck Houndégla from the Biennale International Design Saint-Étienne ; repairing what already exists with the reuse notebooks…
VIEWPOINTS
DEVICE — Sustainable Fishing, by Yên Bui
WINEGROWING — Achille Boroli, between sea and mountains, by Stephen Zacks
PHOTOGRAPHY — The Dovecotes of Tinos by Luc Boegly
INTERVIEW — Sara Prestianni, "Islands are being sacrificed in the name of security", by Christelle Granja
PROFILE
Salima Naji, architecte, fille de l'agriculture, by Emmanuelle Borne
"From her base in Tiznit, to the south of Agadir in Morocco, where she set up her home and studio in 2008, architect Salima Naji has pursued her twenty-year quest to revive remains of the country's vernacular architecture, once consigned to history by urban planning laws and rise of concrete which has disfigured the landscape of the Atlas Mountains and the southern regions"

REPORT
ESSAY — Sun Architectures, by Jean-Philippe Hugron
ELEMENT — The History of the brise soleil, by Paul Bouet
HERITAGE — The Heights of the Meteora, by Yên Bui
POINTS OF VIEW — What about South Architecture?, by Philippe Tétriack
BUILDINGS

TEd'A arquitectes — Houses Can Gabriel, Can Guillem i na Cati, Can Jaime i n'Isabelle, Majorca, by Irene Pérez et Jaume Mayol
Bernard Desmoulin, Orma et Gilles Sensini — Market hall in Ajaccio, Corsica, France, by Jean-Philippe Hugron
Andrés Jaque/Office for Political Innovation & Miguel Mesa del Castillo — Rambla Climate House, Molina de Segura, Murcia, Spain, by Andrew Ayers
Rudy Ricciotti Architecte, Intercommunal Conservatory (CRI) of Sète, France, by Jean-Philippe Hugron
Deca architecture, Deca architecture, Euphoria Spa, Mystrás, Peloponnese, Greece, by Clara Baudry
Khammash Architects, Royal Academy for Nature Conservation, Wild Jordan Nature Centre, Jordan, by Salma Samar Damluji
TRENDS
In the news — Kohler
Projects and products — AA's Selection
Innovation — Keuco
par Lisa Agostini