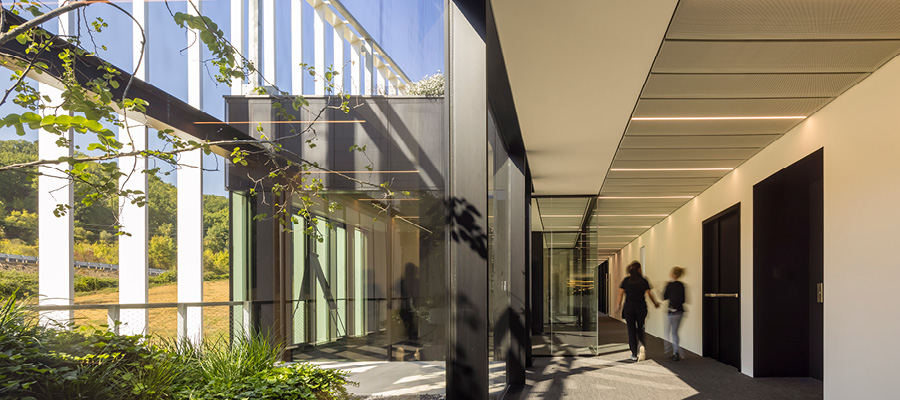 In the hills of Chianti, Italy, GEZA Architettura is delivering the 42,000 sq.m of Furla Progetto Italia, the brand new centre for creativity, production, research and training for the famous Italian leather goods company. This architectural complex is intended to be exemplary in terms of social and environmental responsibility, thanks in particular to virtuous resource management (rainwater recovery) and energy management (thermal and photovoltaic solar panels).
---
For this project, the Italian architects chose porcelain stoneware surfaces by Fiandre Architectural Surfaces, a brand of Iris Ceramica Group. The high-tech surfaces, produced from natural raw materials in zero-emission factories, perfectly meet the expectations of the architects and the client.
The Fjord collection by Fiandre Architectural Surfaces was chosen for this project. Applied by traditional gluing or on a 30 mm sulphate raised floor, the porcelain stoneware surfaces of the Fjord collection can be used for both office floors and production areas.
The Fjord collection is inspired by the enigmatic charm of the northern lands, where stone shapes and animates the landscape, where the full force of nature is expressed in the erosion of the rocks, where the imposing rocky cliffs dominate the North Sea. Natural tones that fit in perfectly with the architects' plan to make the built industrial spaces coexist with the surrounding wilderness.
These porcelain stoneware surfaces are extremely versatile and are suitable for both indoor and outdoor areas. Several colours are available (White Fjord, Sand Fjord, Dusty Fjord and Black Fjord), in the formats Maximum 300×100, 150×100, 100×100 cm with a thickness of 6 mm, or traditional 120×60, 60×60 and 60×30 cm with a thickness of 0.8 and 1.1 cm. The Dusty Fjord, Grey Fjord and Sand Fjord shades are also available in 2 cm thickness, ideal for all types of outdoor spaces.

The material has excellent slip resistance and an optimal static or dynamic friction coefficient. Fiandre Architectural Surfaces' Maximum surfaces are made with at least 40% recycled materials and thus meet LEED (Leadership in Energy and Environmental Design) requirements.