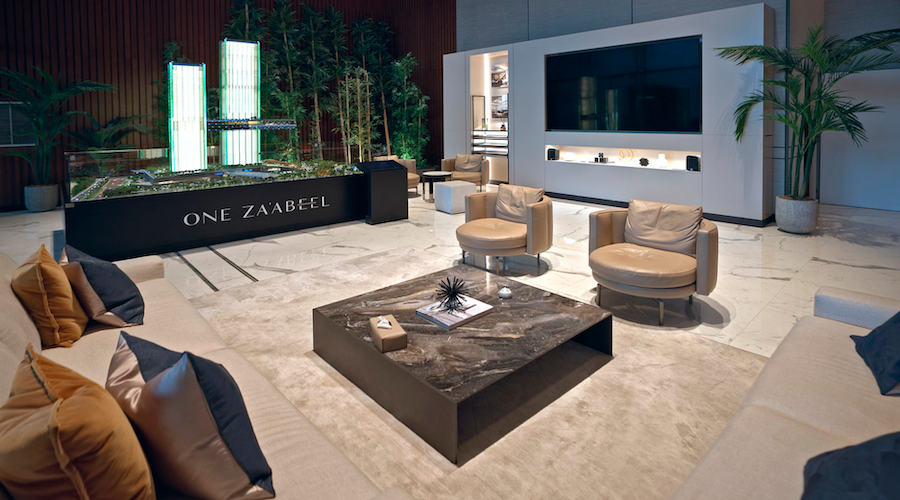 Fiandre Architectural Surfaces, with its distributor partner Arteco Ceramics, is working on the One Za'abeel project (Dubai, United Arab Emirates) designed by the architects of the Japanese office Nikken Sekkei for Ithra Dubai.
---
Located in the heart of the city, not far from the Burj Khalifa and the airport, the One Za'abeel complex (Ithra Dubai) is a new peak in the Dubai skyline. It is composed of two skyscrapers of extraordinary size: the first, One Za'abeel The Residences, rises to 235 metres or 58 floors, and the second, One Za'abeel Tower, goes even higher with its 68 floors for a total height of 300 metres. But the height is not the only technical challenge taken up by the architects, the main technical feat is the impressive 226-metre long horizontal tower suspended between the two skyscrapers over 100 metres high.
Inside, several hotels and luxury residences, offices, bars, eleven restaurants, boutiques, wellness areas and a spectacular infinity pool share the 530,000 sq.m of the total surface area.
The Italian firm Fiandre Architectural Surfaces is accustomed to high-end projects. With its distributor partner Arteco Ceramics, Fiandre has been commissioned to dress many of the spaces in the One Za'abeel The Residences tower.
In this world of excellence, Fiandre has set up its most beautiful ceramic surfaces, produced with natural raw materials and high technology.
The floors in the lobby, common areas and lifts are covered with the Calacatta Statuario range from the Marble Lab collection, characterised by a delicate ivory-white colour with fine grey veins. For an extra touch of refinement, leaf-shaped bronze inserts were custom-made.
In order to preserve the aesthetic harmony of the entire project, surfaces from the Calacatta Statuario range were also chosen to decorate the 264 flats. The material was applied to floors, shower trays and bathroom countertops. In order to reduce production waste and scrap, Arteco has optimised its manufacturing processes.
Discover more on www.granitifiandre.fr