In 2021, Venice Architecture Biennale 2023 curator Lesley Lokko established the African Futures Institute in Accra, capital of Ghana, not only to offer world-class education on the African continent but also, she says, "to seize the experimental, more radical space that Africa offers, to think differently about architecture studies worldwide". In an Africa where the average age is 20, there is "an incredible energy" that represents an opportunity to considerably enrich not only teaching but the discipline in general.
This 455 issue will not only offer a selection of African contemporary buildings but will also ask the following question: What is Africa's input on contemporary architecture worldwide?
VISIT OUR ONLINE STORE
TO PURCHASE THIS NEW ISSUE
IN PAPER OR DIGITAL FORMAT!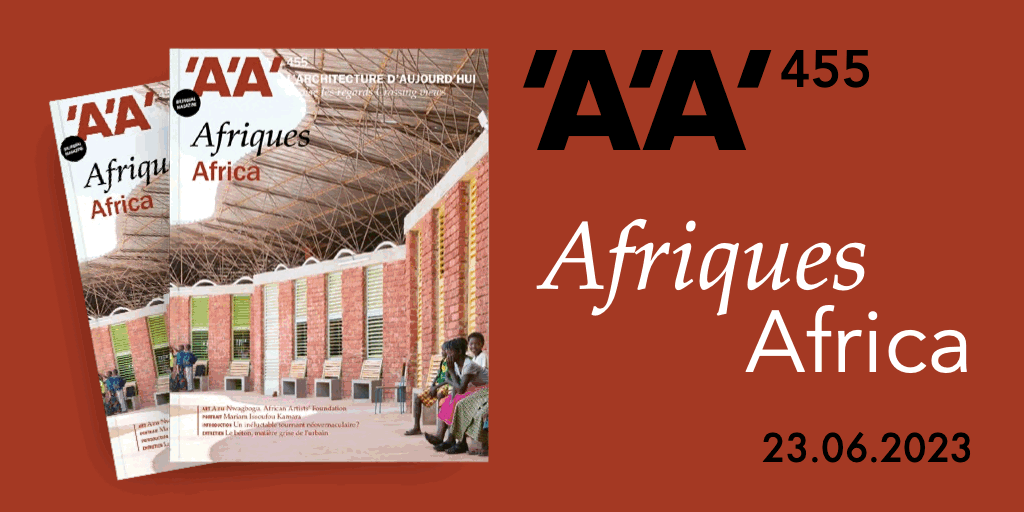 In this issue: 
NEWS
In the eye of Olalekan Jeyifous ; our selection at Venice Architecture Biennale ; recommendations from Venice Biennale's Electa bookshop ; looking back to the Palais de la Porte Dorée, Paris ; the carnets du réemploi N.15 « Saving structures »… 
VIEWPOINTS
ART — Azu Nwagbogu : « Africa is Ground Zero », interview by Antoine Vigne
PHOTOGRAPHY – Congorama, as seen by Luc Boegly
MUSIC —More Brilliant Than the Sun, Extract, by Kodwo Eshun 

PROFILE
Mariam Issoufou Kamara, Earth versus Dogma, by Anastasia de Villepin
"I like looking at cities from the sky. It gives me a very pleasant feeling of clarity," she told AA in 2018. Since founding her own architecture studio, Atelier masōmī , in 2014, Mariam Issoufou Kamara has worked the earth instead – not just any earth, but the sandy earth of Niger, sites trampled by centuries of colonialism, and the earth of future cities, far removed from Western models – not to oppose them, but as most pertinent choices.
REPORT
INTRODUCTION – Neo-Vernacular Turn, by Sénamé Koffi Agbodjinou
ANALYSIS – Provocations on Informality, by Khensani Jurczok-de Klerk
HERITAGE – Sedimented Secrecy: The Conservation of Cave Architecture in Ethiopia, by Miriam Hillawi Abraham
INTERVIEW – Armelle Choplin, Concrete City, interview by Emmanuelle Borne
SCHOOL – "Creating a Curriculum that Speaks About us", interview by Marc Frochaux
OFFICES
Kéré Architecture, Germany
Christian Benimana, MASS Design Group, Rwanda
Wolff Architects, South Africa
Worofila, Senegal
cmDesign+Atelier, Nigeria
Localworks, Uganda
Counterspace, South Africa
ON AIR
A glimpse on the new partnership between AA and French radio France Culture: "Decolonising Imaginaries?", interview with geographer and urban planner Armelle Choplin and architect and anthropologist Sénamé Koffi Agbodjinou, as part of the "Esprit des lieux" radio programme, by Tewfik Hakem.
TRENDS
In the news — Evertree, Seripanneaux
Projects and products — AA's selection
Innovation — La salle de bain bio, par Woodio
by Lisa Agostini