It is without doubt one of the most overused terms today: "local" and, even more so, the expression "building locally" is on everyone's lips and in every project. Being understood that in order to reduce a carbon footprint, to reduce greenhouse gas emissions, in short to fight against the ecological crisis, it is advisable to build as close as possible to selected resources, within the framework of short circuits.
That being said, is "building locally" always the best strategy in terms of ecological balance? How can we distinguish genuinely virtuous buildings from simple statements without any reality? AA has investigated "local" architecture from all over the world.
VISIT OUR ONLINE STORE
TO PURCHASE THIS NEW ISSUE
IN PAPER OR DIGITAL FORMAT!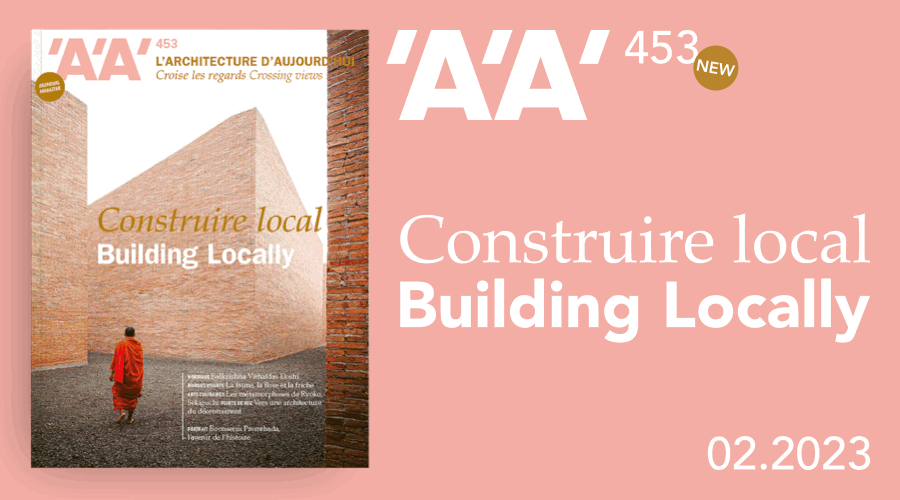 In this issue:
NEWS
In the eye of OMA; a tribute to Balkrishna Vithaldas Doshi; recommendations from the Canadian Centre for Architecture bookstore; TAKK's 10K House in Barcelona; the Shoe Museum in Waalwijk, Netherlands, by Civic Architects; our selection of exhibitions in France and abroad; Ronan & Erwan Bouroullec's design news; a look back at the history of the Grand Rex by journalist and critic Jean-Claude Raspiengeas; the carnets du réemploi n°13 "Sculpting space"…
VIEWPOINTS

 
LIVING WORLDS — Fauna, Flora and the Wasteland. An interview with Audrey Muratet by Christelle Granja
FASHION — Power Dressing. Fashion as a tool for cultural reappropriation, by Anastasia de Villepin
PHOTOGRAPHY — Pesmes, French Village, as seen by Luc Boegly
CULINARY ARTS – Ryoko Sekiguchi's Metamorphoses, interview by Emmanuelle Borne

PORTRAIT
Boonserm Premthada, The Future of History, by Marie-Hélène Contal
At the age of 56, Thai architect Boonserm Premthada, who is already well-known in the West and throughout the world, has eschewed the architecturebranding route. He is still based in Thailand and continues to innovate, without ever losing sight of resources and people's needs. With unflagging energy, he explores materials, methods of production and shapes, but also the ways in which architects can take action in society in order to bring about not just "progress" per se, but also multiple improvements and make these improvements as understandable as they are accessible. He adopts a highly experimental, figurative and at the same time spiritualist architecture, that never wastes a jot of the materials used to bring it into being.
REPORT
INTRODUCTION – The Blue Marble. About Localisme, by Éric de Thoisy (SCAU)
POINTS OF VIEW – Decentralised Architecture, by Valérie de Saint-Do
SCHOOL – The Traces of the Landscape, by collective (In)visible, Gaspard Basnier, Léo Diehl-Carboni, Lawan-Kila Toe
INTERVIEW – Morgan Moinet, from the consulting firm REMIX, interview by Amélie Pouzaint
BUILDINGS
Paul-Emmanuel Loiret et Serge Joly, Fabrique Cycle Terre, Sevran, Seine-Saint-Denis, France
Anatomies d'Architecture, Le Costil, Sap-en-Auge, Orne, France
Wallmakers, Shikhara House, Pirouette House, The Ledge, Chuzhi House, Inde
AAU Anastas, The Stonesourcing Space, Stone Matters, extension de l'abbaye Sainte-Marie de la Résurrection, Palestine
Atelier png, technical facilities, Villard‑de‑Lans, Vercors mountains, France
ON AIR
A glimpse on the new partnership between AA and French radio France Culture: "It is about Understanding the Journey Taken by the Materials", interview with Anatomies d'Architecture, as part of the "Esprit des lieux" radio programme, by Tewfik Hakem.
TRENDS
In the news — Cycle Up
Projects and products — AA's selection
Innovation — Repan, by Isosta
by Lisa Agostini