The "city of tomorrow" is on everyone's lips, in every strategy: political, urban, architectural, environmental. Densification, mixed use, integration of living things, but also smart cities, 15-minute cities, transitional urbanism, greenways, pedestrianization and, always, planning. There is no shortage of terms to describe urbanization and urban rehabilitation strategies. The pandemic, and its corollary, containment, have made it even more urgent to think about the city in order to create more urban, that is to say, more welcoming places. So, dressing the city…
FIND THIS NEW ISSUE
IN PAPER OR DIGITAL FORMAT
ON OUR ONLINE STORE !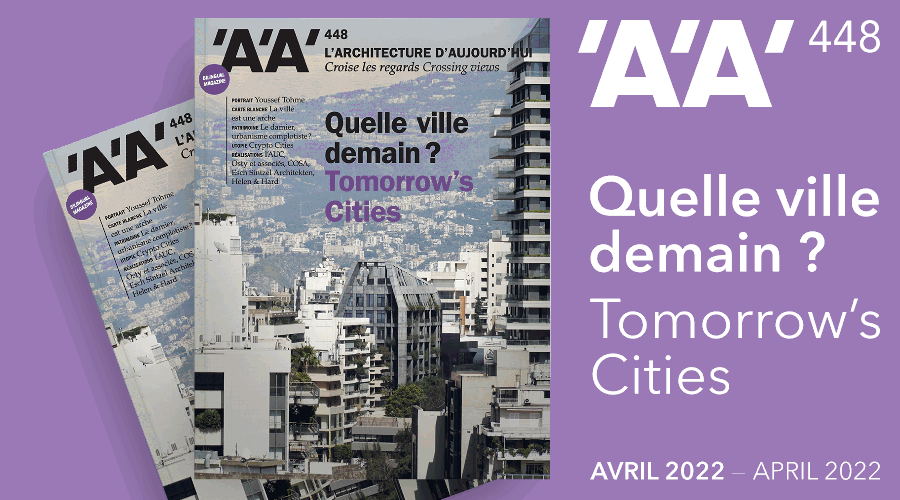 In this issue :

NEWS
In the eye of Anya Ivanenko; the rehabilitation of the Albert-Kahn museum by Kengo Kuma; the choice of the Athenaeum Boekhandel bookstore in Amsterdam; news of the Atelier du Rouget agency; the Pritzker Prize 2022 awarded to Diébédo Francis Kéré; three questions to Shigeru Ban; the reuse notebooks by Vincent Laureau and Victor Meester; buildings, exhibitions, visits and AA's "solidarity" selection…
VIEWPOINTS
DANCE – Mourad Merzouki. Hip-hop: from Street to Stage, by Christelle Granja
EXTRACT – Enchanting urban planning, Charles Altorffer
PHOTOGRAPHY – Suspended in Medellín, by Luc Boegly
CARTE BLANCHE – Ark and the City, by Nicolas Gilsoul
PROFILE
Youssef Tohme's cities, by Emmanuelle Borne
"In France, this Franco-Lebanese architect born in Beirut in 1969 imagines the unpredictable in places where everything is planned and standardised. In Lebanon, he builds places where others erect architectural objects. Youssef Tohme seeks to create anchor points in an age when established references are proving to be powerless."
REPORT
INTERVIEW – Djamel Klouche: "There are no models, only situational intelligences", by Emmanuelle Borne
ESSAY – Private life, public life, by Catherine Sabbah
HERITAGE – Conspirational Grid, by Jean-Philippe Hugron
UTOPIA – Crypto Cities, by Bert de Muynck
CONSTRUCTION SITE – Esch Sintzel, Conversion of a wine warehouse into housing, Lysbüchel Süd, Basel, Switzerland, by Andreas Kofler
EXPERTISE – Densification in Zurich: at what cost? by Susanne Schindler
BUILDINGS

LANDSCAPE – Osty et associés, Parc Martin-Luther-King, Clichy-Batignolles, Paris, France, by Andrew Ayers
URBAN PLANNING – Transitional Urbanism: Permanent experimentation?, by Valérie de Saint-Do
Cosa, Quai de Paludate and Bacalan block, Bordeaux, France, 2021, by Jean-Philippe Hugron
Helen & Hard, Vindmøllebakken, Stavanger, Norway, 2019, by Siv Helene Stangeland and Reinhard Kropf
TRENDS
In the news – Sandalor
Projects and products – AA's selection
Innovation – FPI, K-Line
by Lisa Agostini