'Don't destroy, rehabilitate' — more and more are turning this adage into a precept. Without touching on the causes of this growing movement, correlated as it is with the growth of the environment crisis, suffice to say that as architects adopt this approach, the more diverse it becomes. They not only rehabilitate, they also reuse, transform, restore, rebuild, and more.
For Lacaton & Vassal, Pritzker Prize 2021 and ardent defenders of rehabilitation for more than thirty years, it is about much more than the history of a palimpsest or the value of a piece of heritage. It is a vocation. An ethic. And if the Pritzker Prize tells us anything, it's that this approach is shared by many other architects, to the extent that it is now an unwritten professional code of conduct.
Unusual or even rare some years ago, there are now fifty shades of rehabilitation. We no longer simply rehabilitate outstanding architecture. We apply these principles to all sorts of programmes. Architects do not rehabilitate buildings in Barcelona in the same way as they do in Toulouse or Berlin, but they all aim to achieve the same goal of inhabiting the world.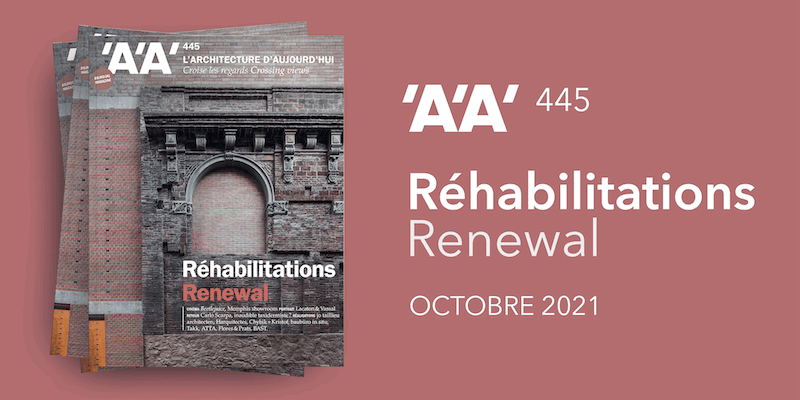 In this issue

NEWS
In the eye of Christo and Jeanne-Claude ; MVRDV building in Bordeaux, France ; the bookshop's selection of the Musée des Arts Décoratifs et du Design of Bordeaux ; news from Ciguë ; the Cosmic House ; maintenance and storage site in Orly by Ferrier Marchetti Studio ; the reuse notebooks by Vincent Laureau and Victor Meester ; buildings, exhibitions, visits and AA's selection …
VIEWPOINTS
DESIGN — Aubusson Tapestry, Weaving through Time, by Anastasia De Villepin
CINEMA — Beetlejuice, Memphis Showroom by Christophe Le Gac
ARCHAEOLOGY — Postmodern Digging, an interview with Rachael J. Dann, by Andrew Ayers
PROFILE
The Sky is the Limit for Lacaton & Vassal by Karine Dana
"They have changed our outlook on architecture and the city as well as on the profession. In March 2021, tribute was paid to Anne Lacaton and Jean-Philippe Vassal's approach when they won the Pritzker Prize; a prize with a resounding impact not only among the many architects who share their values and their struggles, but also among the many residents who now call on them in their hope of preserving their homes."
REPORT
INTRODUCTION — The Building and the Document, by Éric de Thoisy
HERITAGE — Cement and Discontent, by Christophe Catsaros
PHOTOGRAPHY — La Bourse de Commerce by Luc Boegly
LOOKING BACK — Carlo Scarpa, Inaudible Taxidermist ? by Jean-Philippe Hugron
BUILDINGS —
Jo Taillieu Architecten, Paddenbroek Centre, Gooik, Belgium, 2020
Harquitectes, Centre Cívic Cristalleries Planell Les Corts, Barcelona, Spain, 2016 et Centre Cívic Lleialtat Santsenca, Barcelona, Spain, 2017
Chybik + Kristof, Zvonarka Central Bus Terminal, Brno, Czech Republic, 2021
Baubüro in situ, K118 et ELYS, Basel, Switzerland, 2021
Takk, The Day After House, Madrid, Spain, 2021
Atelier Tsuyoshi Tane Architects, Hirosaki Museum of Contemporary Art, Japan, 2020
Flores & Prats Arquitectes, Sala Beckett, Barcelone et théâtre des Variétés, Bruxelles, Belgium, 2017
Bast, M26, Toulouse, France, 2020
TRENDS
In the news — USM
Projects and products — AA's selection
Innovations — Ronan & Erwan Bouroullec Design, Alcove Plus Work
by Yên Bui