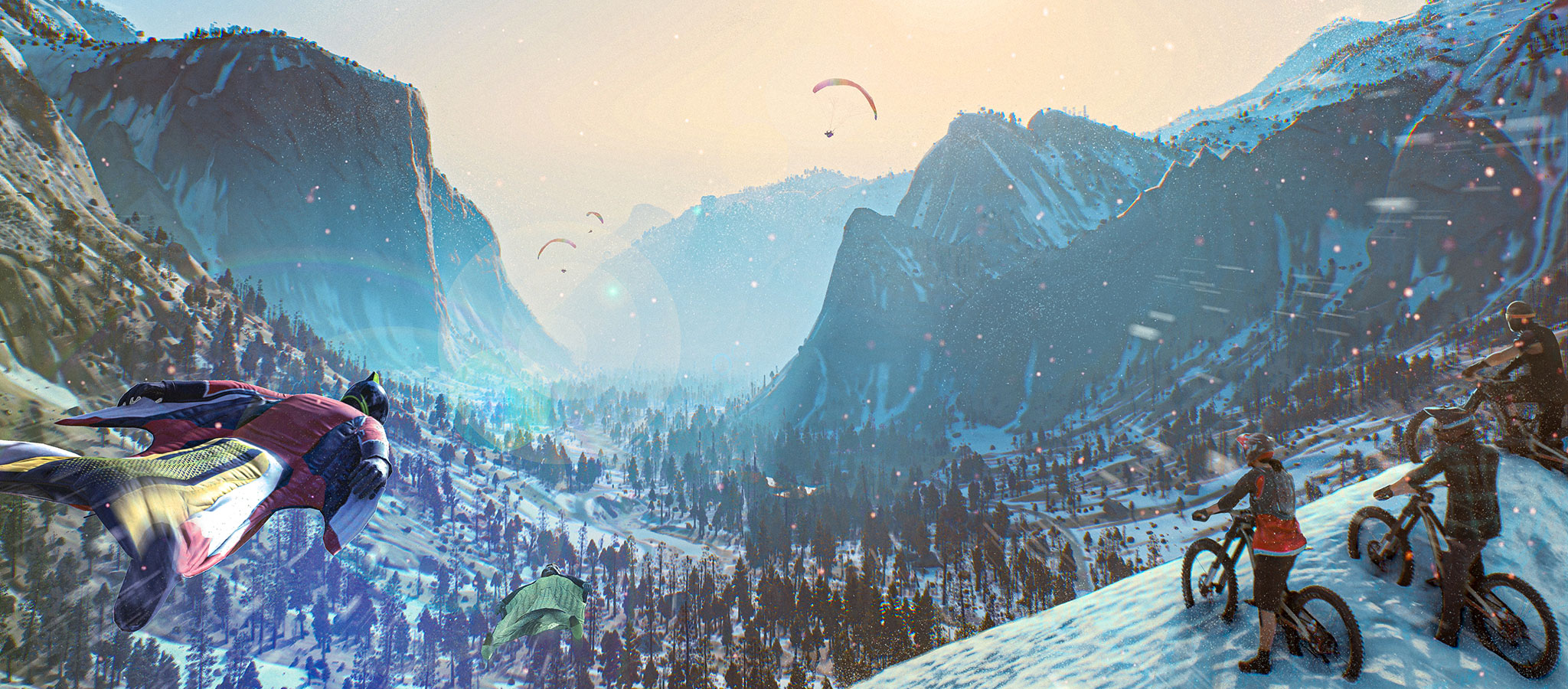 Renaud Person is 'World Director' at French video games company Ubisoft, for whom he imagines and designs video games from the studios in Annecy. In connection with L'Architecture d'Aujourd'hui 446th issue, "Architecture goes wild", he looks back at the design of the universe of Riders Republic, an extreme sports video game set in North American national parks.
---
As builders, we all experience the same constraints… hardly.
We all work with many specialised fields, working with very specific materials, with a predefined budget, within a certain time window, according to schedules and organised stages. In the same way as a 'classic' building, my team and I create a set of spaces in which a large number of functions must coexist. We define a programme in which each of the uses is identified, integrated and located in the overall structure of the building, while at the same time being linked to its neighbours according to multiple circulation rules.
There are many similarities between our profession and that of builders, which is troubling: as landscape designers we work with nature, as urban planners we build cities, as architects we construct buildings and as designers we draw objects.
However, our projects have uncommon constraints: they are often on a multi-kilometre scale and are intended for millions of people. Everyone must be able to consume these environments at their own pace, according to their own desires. Solo, but also (and above all) with friends, free of will but also guided. The function of these worlds is not to live in or work in. The places we imagine are for entertainment.
Our creations are different from the world we are used to because they have amazing characteristics. You don't have to go there, they come to you and you can even take them with you. We make virtual worlds, worlds for video games. What is created in them does not exist in reality and only exists virtually, which changes the game. This allows us to abolish all physical constraints according to our needs: time and gravity are only simulated if they are useful, and can even be modified at will. However, the result remains subject to material constraints and must be legible and understandable. As I like to say, we give meaning to the things we make. 
I'm going to tell you a little bit about the magic that my team and I used to build our latest world. It's a huge world to share with friends and dedicated to extreme sports: the world of Riders Republic.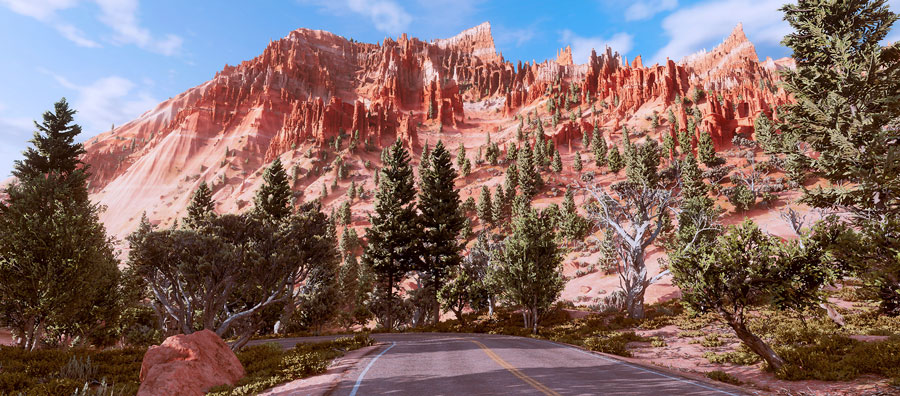 The world of Riders Republic is the result of the cooperation of a motivated, talented and highly skilled team, who worked together over several years. It has been designed and built to be a fun place for skiing or snowboarding, riding freestyle or downhill biking, paragliding, wingsuiting, rocket-wingsuiting, snowmobiling or even walking. It is very important to take into account how the players will use this world.
How do we build this type of environment?
The requirements of the site are numerous, because of the titanic metrics and the drastic technical standards added to the constraints of a very particular navigation. The whole thing must offer users complete freedom to enjoy these places in their own way. This requires both short and long term vision, daily creativity and systematic rigour. The fact that this is an IT construction does not make the effort any less significant, as with any large-scale construction. This work is certainly of a different nature to traditionnal construction, but it requires the same qualities: vision, creativity and rigour.
This vision is given by the Creative Director, whose goal was "to make the first video game world where extreme virtual athletes can give free rein to their imagination in real and mythical places that will inspire them in their performances". It was therefore necessary to find a setting that would have the necessary scope to fulfil this wish.
We quickly turned to American national parks. They are indeed a powerful evocation of the strength and richness of nature, expressed in Dantesque dimensions and unique silhouettes. From the sixty-three legendary places, we selected seven. Our criteria indeed included their beauty and notoriety, but above all their unique morphology, as well as their slope and surface variety. Let's not confuse the issue! It's all about making places to have fun. Even if the parks in Riders Republic look very similar to real ones, they are only reproduced to better serve the different extreme sports. In our world, nothing has a purpose if it doesn't help us have fun. That's why we sometimes transgress reality: to make it more fun to play.
After much research, we selected the Teton Mountain Range in Wyoming's legendary Yosemite Valley, the famous forest of Sequoia National Park and Mammoth Mountain in California, the incredible hoodoo forest of Bryce Canyon, the dizzying topology of Zion, and finally the desert maze of Canyonlands in Utah.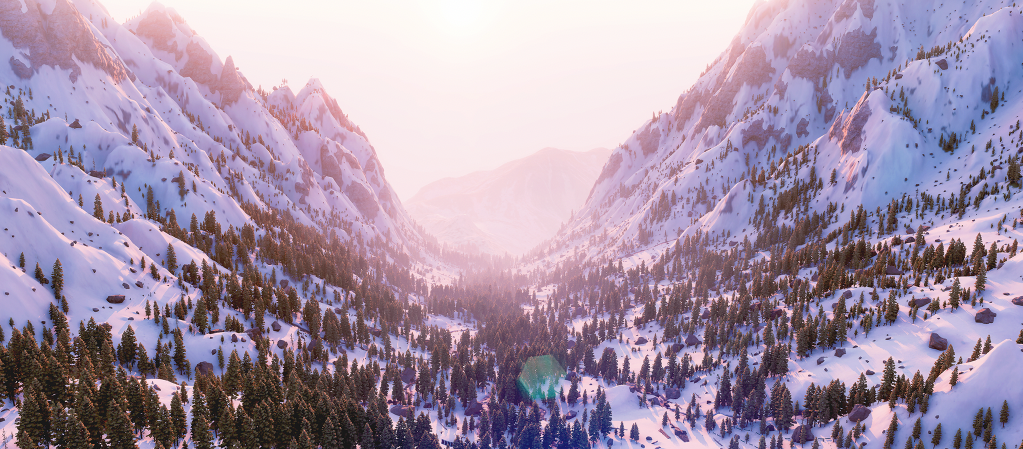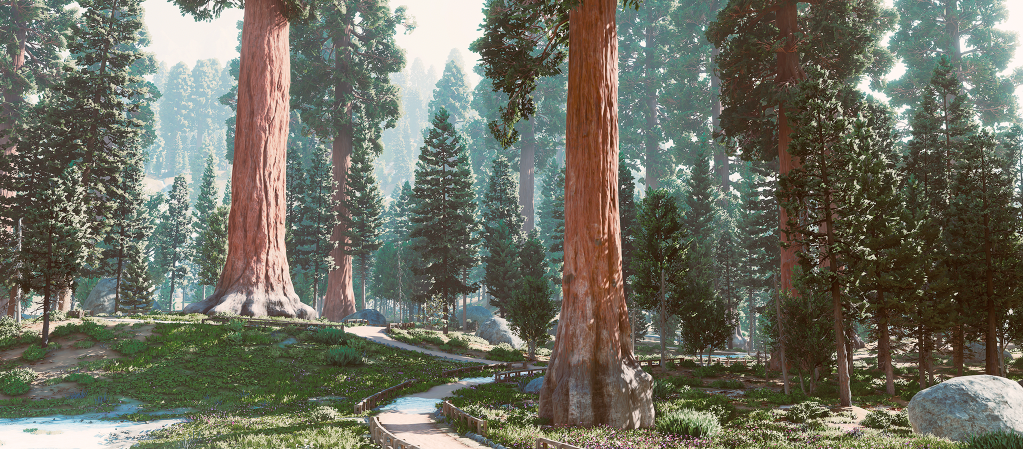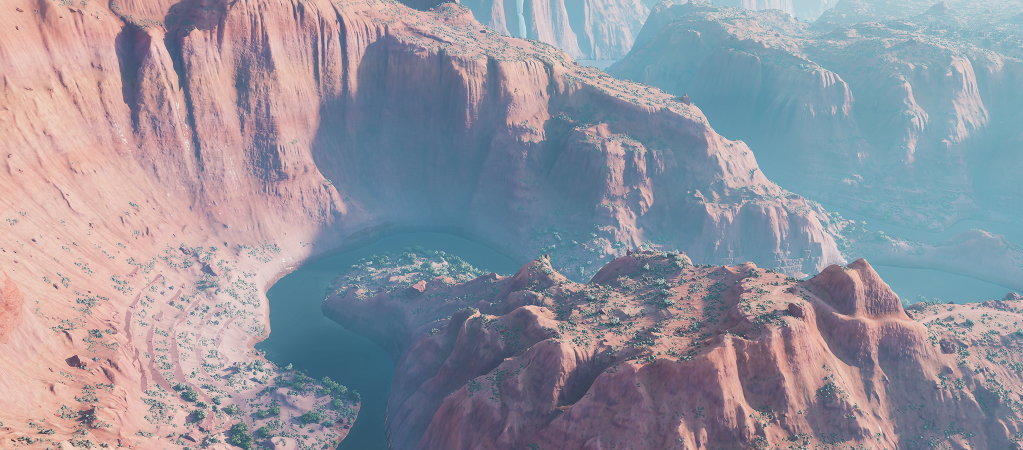 In order to generate these landscapes, the Art Director and I spent several weeks in the area, collecting as much information as possible to create the virtual landscape. We met with geologists, wildlife specialists, but also with both amateur and top athletes. All of these people explained in detail the specificities of these places, of which they are all in a way the guardians. For each of these parks we have written a reference "bible" containing absolutely all the information that could be useful in the design and realisation of these spaces.
Assembling these regions was not without difficulty, because it was necessary – in a vast but finite volume – to assemble these mineral giants so that their borders and altitudes coincide. The first step was to reproduce the geology. Then, on a smaller scale, we added relief to the resulting volumes. This local heterogeneity is important because our players spend a lot of time exploring our worlds. It is therefore essential for us to provide them with something to enjoy: by working on the frequency and amplitude of terrain accidents, we managed to simulate the snow bumps that cover the rocks at high altitudes, the giant breaks in the granite due to thermoclastia, or the layers of sedimentary rocks that are superimposed by the hundreds. From then on, numerous tests enabled us to refine the formulas and to add to the initial volumes a coherent but heterogeneous surface, favourable to the discovery of territories.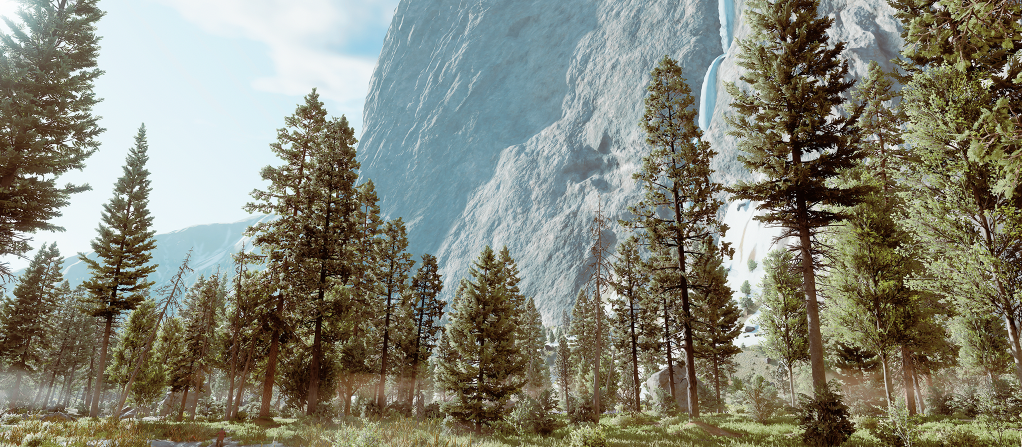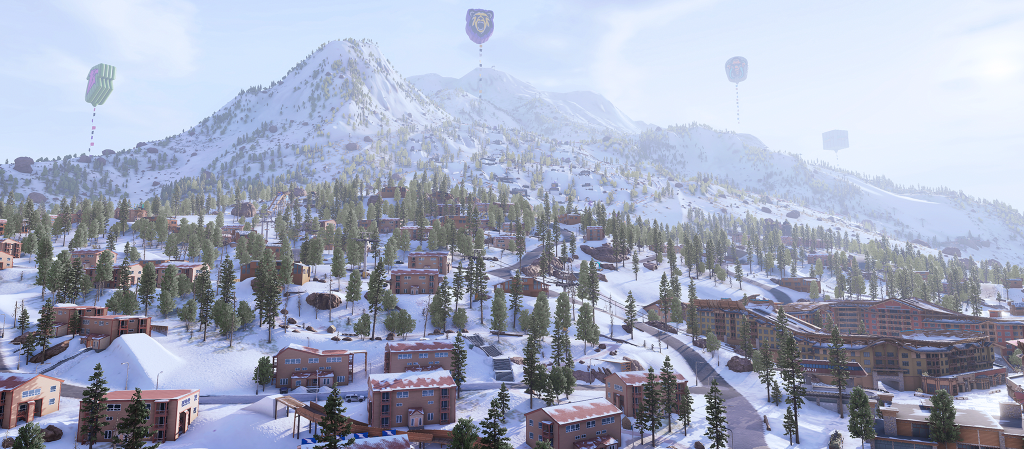 Then came the moment of 'settlement'. Not only did we have to make the plant species from scratch, but also all the rock types. We then spread them across the surface of the world by hundreds of thousands. To do this, we developed rules which simulate natural mechanisms (maximum slope per species, soil moisture and exposure, preferred altitude, clearing mechanisms, etc.) allowing players to navigate. Thus, depending on each region, the density of the forests was the subject of many iterations to achieve this impression of vegetation cover while leaving enough space to move without hindrance. Once the natural part has been installed, numerous "playtests" are then organised to validate it. This is a crucial time because once this stage has been completed there is no turning back.
It is then time to build the different competition venues that we will offer to our players. Each of these means of transport has its own specificity, its own speed, its own preferred surface, and therefore has different needs in terms of the space in which it can be used. During this stage, we will meticulously identify all the areas suitable for the expression of this or that sport, according to the nature of the terrain (snowy, grassy, mineral) and the state of its surface (flat or sloping, smooth or rough), in order to finally draw the tracks necessary for these friendly confrontations. The nature of these tracks is multiple and goes from the sandy track to the asphalt road, passing by modules of half-pipes, or the packed track. Some parts are also left in their original natural state to vary the sensations and difficulty. Finally, we will add places dedicated to game modes. They are made not only according to the sports that are played there.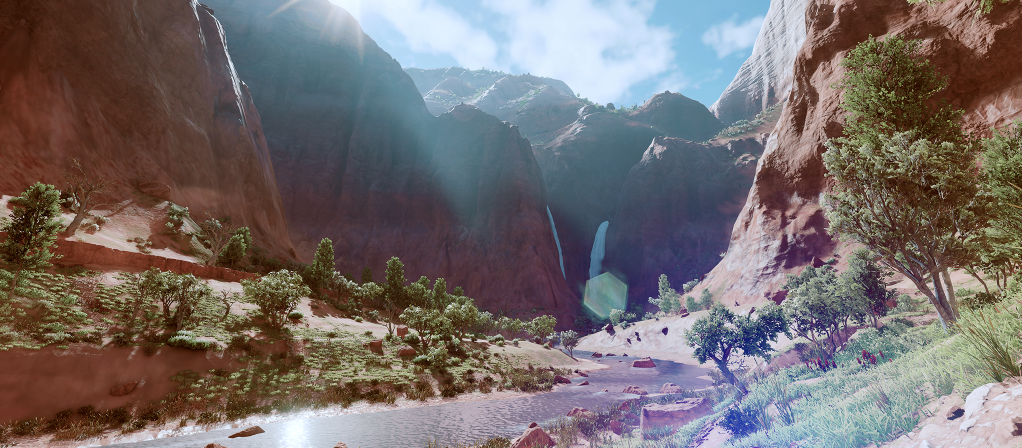 The genesis of a world for a video game is intense, diverse and complex work. But the game is worth the effort: sharing your creation with as many people as possible to express yourself, shaping the surface of the field to perform exceptional actions in a setting that transports and enriches you… what better job? It's an opportunity, a rare, amazing and exciting job to create playgrounds. In my opinion, there is nothing more motivating and gratifying than to design places for others, and moreover, for them to have fun in! 
Moreover, the accessibility of this world allows millions of people to discover places they might not have the chance to see in reality. Virtual worlds are not just worlds where you chase each other with a gun, or where you go to fight aliens. They can just as easily be places rich in meaning and knowledge that allow everyone to flourish.
In the age of the "metaverse", when more than three billion people play video games, the profession of virtual space designer is bound to grow and evolve. For me, it is the contemporary version of the ancestral profession of architect. However, it serves purposes and uses means that only our century possesses, and this allows us to dream of the extraordinary places we will be able to visit in the decades to come.