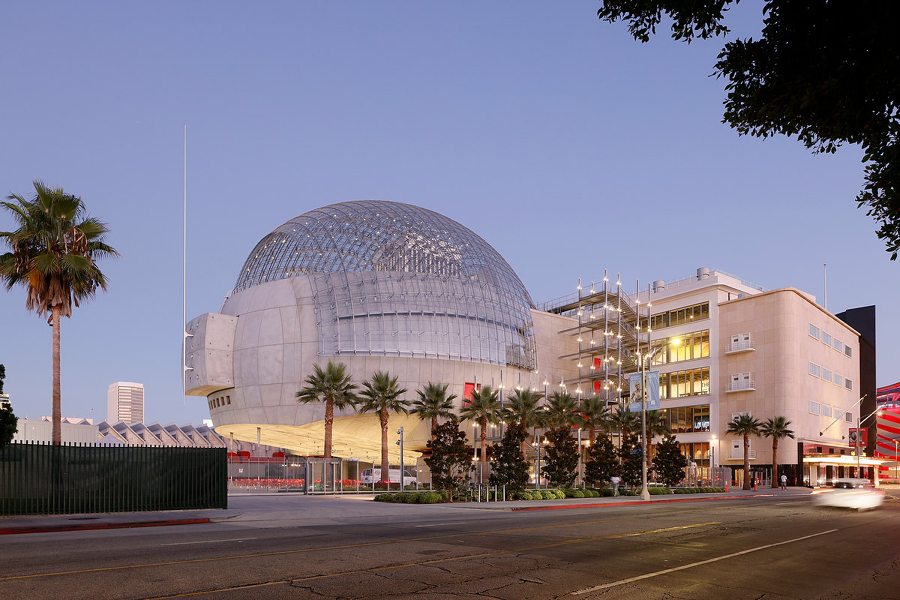 Entrusted in 2012 to the Renzo Piano Building Workshop, the Museum of Motion Picture in Los Angeles opened its doors with great pomp and ceremony on 30 September, inviting, among others, the management of the Academy and its museum, the mayor of Los Angeles, Renzo Piano, donors, but also Hollywood actors and actresses.
---
On Wilshire Boulevard, Piano's project includes the restructuring of the Saban Building, a 23,000‑sq.metre building dating back to 1939, which he has completed with a 4,000-sq.metre spherical volume. Of glass, steel and concrete, the dome is made of 1,500 flat glass panels cut in 146 different shapes and sizes. On six floors, the museum hosts immersive exhibition galleries, an education studio, two theatres, as well as public spaces for events and a rooftop terrace.
Today, the Saban Building houses the museum's gallery spaces, the Sidney Poitier Grand Lobby, Shirley Temple Education Studio, Debbie Reynolds Conservation Studio, Ted Mann Theater, Fanny's restaurant and café, and the Academy Museum Store. The 26-million-pound structure of the sphere building reaches 45 feet. Designed with a earthquake isolation system, the sphere is balanced atop four concrete plinths fitted with base isolators. The façade is encased in curved architectural concrete panels, with a veil of glazing and articulated steel stairways. Curved steel tubes rise above the concrete while secondary struts and bracing create a tensioned gridshell structure that supports the domed glass roof.
"Visitors climb through a new open circulation 'spine' weave through dynamic, interactive spaces in one of Los Angeles' most iconic historic buildings and arrive, floating above the city, on the ethereal terrace of the bubble," the architect says. "A dialogue between the existing building ('gravitas') and the extension ('levitas') emerges and with it, a discourse between shadow and light."
The large-scale project is already way over its $250 million initial budget. Is this genre-defining cinema museum, in the world capital of the 7th art, really worth it?
Click on the right of the image to browse the slideshow: