Once a year for the past three years, L'Architecture d'Aujourd'hui has been published with a guest editor-in-chief. From the outset, we deliberately chose creative talents from different backgrounds as a means to explore a variety of disciplines and approaches. After architect Marc Barani in 2019 and artist Tadashi Kawamata in 2020, we invited a designer to fill the role, and not just any designer: the father of democratic design, Philippe Starck. And he certainly measured up to his reputation. Rather than the subject we expected him to focus on, design, he chose instead to venture into a known territory to architects, the industrialisation of construction, and more specifically house construction, with a guiding principle that looks like a motto: "A house should not cost more than a car".
After all, as we finally realise the increasingly urgent need for rehabilitation, surely prefabrication, off-site construction and modular buildings, strongly associated as they are with new builds, need to play a less important role? However, the French designer suggests we switch focus, and makes an argument for housing as a product that deserves to be considered as part of a quality industrialisation process, rather than simply as a product in itself, to counteract "the thieving builders who ruin the people who buy these imposter objects". And along with Jean Prouvé, it is worth joining him on his journey to see if there is, perhaps, a path to better days.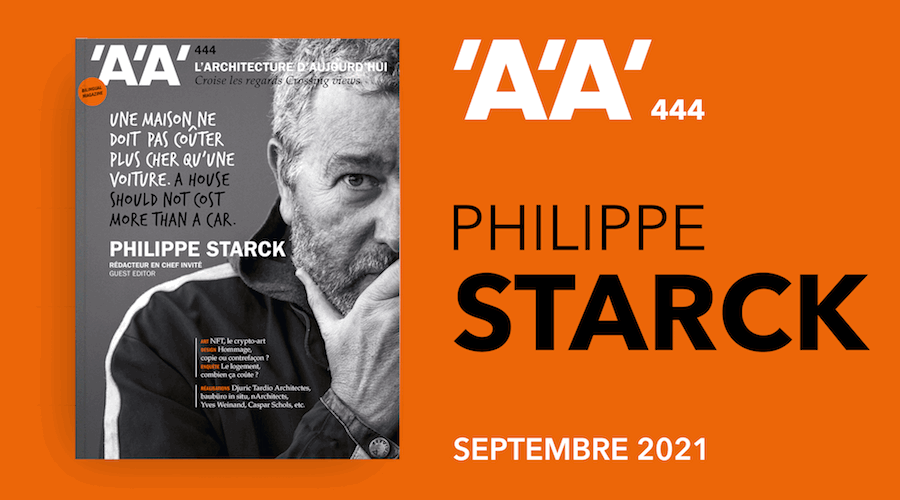 In this issue
NEWS
In the eye of Sarah Sze; Ramy Fischler's made-to-measure; book: Énergies Désespoirs; reopening of La Samaritaine, Paris; three questions to Christine Leconte, new president of the CNOA; pop street furniture by Studio Idaë in Saint-Étienne; the Striatus bridge in Venice; Vincent Laureau's and Victor Meesters' reuse notebooks; projects, exhibitions, visits and AA's lifestyle selection.
VIEWPOINTS
ART — This is not a collection of pixels, art in the age of NFT by Philippe Trétiack
DESIGN — Homage, copy or counterfeit? by Marie Godfrain
PORTRAIT
Philippe Starck's Houses by Maryse Quinton
« Who hasn't heard of Philippe Starck? Although he may deny it, he is a star in his field, one of the rare creators — perhaps the only one — whose face is well-known. A lesser‑known fact is that housing is a question that has obsessed him for a long time — since his childhood, since his proposal for a house marketed by the late 3 Suisses mail order catalogue, and today more than ever. »
REPORT
FOREWORD, by Philippe Starck — "A House Should not Cost More than a Car"
INTRODUCTION — Modern Modular: Factory Fabrication, Now! by Emmanuelle Borne
HERITAGE — Once upon a time in the West, a dive into the archives of the Sears, Roebuck and Co catalogue by Stephen Zacks
UTOPIA — Home Sweet 3D-printed Home by Christine Desmoulins
BUILDINGS —
Djuric Tardio Architectes, modular kindergarden, Paris, 2019
nArchitects, Carmel Place, New York, 2016
Yves Weinand, IBOIS, Vidy-Lausanne theatre, 2017
Caspar Schols, Cabin Anna, 2021
Baubüro in situ, offices, Dübendorf, 2021
SeARCH, Hotel Jakarta, Amsterdam, 2018
SURVEY — Demolish Less, Build Cheaper! by Valérie de Saint-Do
TRENDS
In the news — Owen, Lighted Start-up
Projects and products — AA's selection
Innovations — Tsugite, Airflow
by Yên Bui