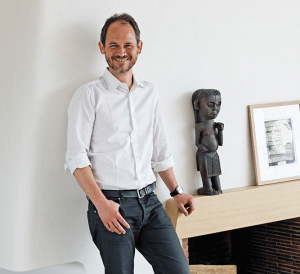 Interview with architect Sébastien Segers, of the eponymous Paris-based office, founded in 2003. For AA, he shares his views on the profession, his sources of inspiration as well as his vision of the future.
Sébastien Segers combines architecture and design, working in partnership with designers such as Jasper Morrison or Daniel Buren. The office is currently working on  the interior design of Greenwich West, a 170-unit apartment building in New York, to be completed in 2020.
Being an architect means…
Sébastien Segers: Adolf Loos' is the best definition, "an architect is a bricklayer who has learned Latin."
Your ideal commission
SS: All commissions that require the use of a broad know-how.
Your job in 20 years
SS: A palimpsest, meaning, serenity and optimism.
The advice you would give a young architect
SS: Architecture is more about experience than education.
The architect we should all follow
SS:  Bijoy Jain's Studio Mumbai.
The project you would have loved to build
SS: The vestibule of the Laurentian library in Florence, by Michelangelo.
Your favorite city
SS: Paris, up until I can visit Venice, New York or take a walk in a forest from time to time.
If your architecture was a movie…
SS: It could be Sally Potter's The Party or – radically different – Pasolini's The Gospel According to St. Matthew.
Your lucky charm object
SS: My Oceopin maritime pine seed oil.
A museum you recommend visiting
SS: The Storm King Art Center in the State of New York, a 'carved landscape' with works by Richard Serra, Mark Di Suvero, Sol LeWitt or Daniel Buren.
Your favorite restaurant
SS: Chez Omar, in Paris Marais district.
Your bedside book
SS: Magellan by Stefan Zweig, heroic destiny, genius and passion.
Private or public commission?
SS: Private commission.
Your motto
SS: Combine geometry and intuition, interpret the classics and give credit to know-how.
Another career you'd have liked to pursue
SS: Composer.
To learn more about Sébastien Segers, visit his website.