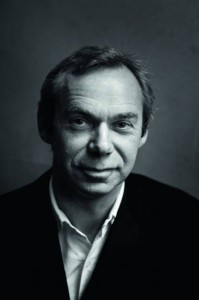 Interview with Patrick Mauger, founder in 1999 of the Paris based Architecture Patrick Mauger office. For AA, he shares his views on the profession, his sources of inspiration as well as his vision of the future.
The office operates in the fields of architecture, urban planning, research and design in France and overseas.
In 2018, Patrick Mauger completed the City of Paris' Research Centre for Innovation. In 2022, the Cité muséale of Château Chinon will be delivered with the extension of the museums of the septennat and the costume.
L'Architecture d'Aujourd'hui: Being an architect means…
Patrick Mauger: Participate to the creation of the city and make malleable buildings to allow projects to reinvent themselves, to evolve over time while preserving the marks of the past; it is also sharing, communicating, re-enchanting life.
AA: Your ideal commission
PM: The one in which the commissioner will look for a space to relax, at the edge of the sea or in the heart of Paris.
AA:Your job in 20 years
PM: A complete job, connected, committed, demanding more philosophy.
AA: The advice you would give a young architect
PM: Draw, travel, travel…draw!
AA: The office we should all follow
PM: Diller Scofidio + Renfro.
AA: The project you would have loved to build
PM: The Musée Cluny renovation.
AA: Your favorite city
PM: An Italo Calvino's city.
AA: If your architecture was a movie…
PM: Smoking / No Smoking by Alain Resnais.
AA: Your lucky charm object
PM: Bouroullec brothers' and Eames' house birds.
AA: A museum you recommend visiting
PM: The Abu Dhabi Louvre.
AA: Your favorite restaurant
PM: Glou, just near my office (Paris 3rd arrondissement).
AA: Your bedside book
PM: Lettres aux derniers lettrés by Kenneth White.
AA: Private or public commission?
PM : A hybrid public/private one.
AA: Your motto
PM: Architecture is haute couture! A good architect never conceives twice the same project according to the context, the inhabitant, the user, the owner. He customizes his building and, like a coat, it has to wear … right!
AA: Another career you'd have liked to pursue
PM: Writer.
To learn more about Architecture Patrick Mauger office, click here.