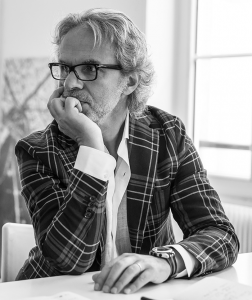 Interview with Alfonso Femia, founder of office 5+1 in 1995, renamed 5+1AA in 2005 and Atelier(s) Alfonso Femia in 2017. The office is currently based in Paris, Milan and Genoa. For AA, he shares his views on the profession, his sources of inspiration as well as his vision of the future.
Ever since its creation the office Atelier(s) Alfonso Femia has been working on a wide range of projects, in France and abroad. In 2018, the office completed the Dallara Academy, an exhibition centre designed and realized for the namesake car producer. Lately, the office has won a competition for the construction of a creative centre in Marseille, France, located near the city's central school.
L'Architecture d'Aujourd'hui: Being an architect means…
Alfonso Femia : Being on a journey
Your ideal commission
AF : The next one
Your job in 20 years
AF : A journey in the journey
The advice you would give a young architect
AF : Love
The architect we should all follow
AF : Beauty, desire
The project you would have loved to build
AF : The sea
Your favorite city
AF : The beach… and Genoa
If your architecture was a movie…
AF :  Howl's Moving Castle by Hayao Miyazaki
Your lucky charm object
AF : The horizon
A museum you recommend visiting
AF : The Mediterranean
Your favorite restaurant
AF : My wife
Your bedside book
AF : Favole al telefono, by Gianni Rodari
Private or public commission?
AF : Commission
Your motto
AF : We need to be responsible and brave
Another career you'd have liked to pursue
AF : Being Neil Armstrong
To learn more about Atelier(s) Alfonso Femia AF517, click here.