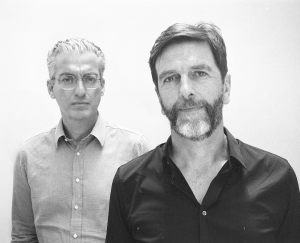 Interview with architects Filippo Pagliani and Michele Rossi, founders and partners of the Italian office Park Associati. For AA, they share their views on the profession, their sources of inspiration as well as their vision of the future.
In 2018, the Milan-based office completed two rehabilitation projects:  the Engie's headquarters, and the multi-functions building Tenoha, hosting restaurants, shops, exhibition and co-working spaces. For this latter project the office was awarded with the The Plan Awards 2019 retail category.
L'Architecture d'Aujourd'hui: Being an architect means…
Filippo Pagliani et Michele Rossi : Always be in balance between dream and reality.
Have a capacity for synthesis and resist the temptation to say too much in a single project.

AA: Your ideal commission
FP :  The one driven by a constructive collaboration among the main actors.
MR : The one in which research and innovation – both on materials and design – can overcome obstacles and constraints. 
AA: Your job in 20 years
FP et MR : It's hard to imagine how Park Associati can evolve over the next 20 years. We would certainly like the office to maintain its capacity for creativity and experimentation and we would like it to remain for us a place where we can continue to share and exchange ideas with young talents, without ceasing to learn.
AA: The advice you would give a young architect
FP et MR : Work in places with different approaches. Fortunately, design is always approached in a very varied way, with great local differences. Understanding how our profession is perceived in different geographical locations is important in order to tackle each and every project with an adaptive approach. This will allow you – when you'll eventually get commissions – to know how to seize the opportunity, to express yourself and grow, even in the project that looks the poorest and the least stimulating.
AA: The architect we should all follow
FR: Herzog & de Meuron for for their ability to become, over the years, a respected office, preserving the enthusiasm and freshness of its beginnings. They do not repeat themselves, and always manage to surprise us.
MR : A person from the past, Giò Ponti, for his ability to approach all scales of design with the same creative intensity and his ability to reinvent himself over the years.

AA: The project you would have loved to build
FP et MR: The Pompidou Centre for its experimental nature and its extraordinary vision of design as well as of the historic moment that society went through during the years of its design and realization. This project became a reference and a basis of discussion for the world of the architecture and beyond.

AA: Your favorite city
FP: Rome because it is a magnifying glass on a unique historical, cultural and environmental stratification. A crossroads between beauty and difficulty, where we can still experience what we can call sublime.
MR: New York and Venice, because these are two places you can not get used to. These are cities that, for different reasons, create each time the surprise and a feeling of strangeness.
AA: If your architecture was a movie…
FP: Stanley Kubrick's 2001, a Space Odyssey: imagining the future by creating the perfect script.
MR: Alfonso Cuarón's Roma for the ability to create a perfect balance between technique, aesthetics and the ability to excite.

AA: Your lucky charm object
FP et MR: The vertical line.
AA: A museum you recommend visiting
FP: The Archaeological Museum of Naples, the splendor and sophistication of a civilization are tangible in the rooms that guard the treasures of Pompeii.
MR: The Victoria and Albert Museum in London, for the vastness and heterogeneous richness of its collections. Design, art, history, minor arts and costume in a kaleidoscope of objects that enclose the heart of our civilization.

AA: Your favorite restaurant
FP: I Rizzari in Brucoli, a place between Catania and Augusta, Sicily. A restaurant near the water, a triumph of the Sicilian fish cuisine. 
MR: Da Gemma in Amalfi, a historic restaurant where receipts where passed from mother to son, updating a millenary culinary culture in the heart of one of the most extraordinary places in the world.
AA: Your bedside book
MR: Serotonin by Michel Houellebecq, an author that I love even because of his annoying sides.
FP: The guide to the northern India history. An exciting tale on a land that I am willing to go visit very soon. 
AA: Private or public commission?
FP et MR: We've mainly worked for private clients, and we would like to have more occasions to work with public commissioners.
AA: Your motto
FP et MR: The good designer is the one who knows how to resist temptation … which is a sentence we love very much from Ludwig Wittgenstein.
AA: Another career you'd have liked to pursue
MR: Filmmaker, because I've always imagined that role to be very similar to the architect's. As in our work, the filmmaker coordinates many different professionals, his purpose being to keep the initial vision as realistic as possible.
FP: In an ideal world, artist. I've always felt close to artists and their free spirit, defying conventions.
To learn more about Park Associati office, click here.