After Balkrishna Doshi in 2018 and RCR office in 2017, Japanese architect Arata Isozaki has received the 2019 Pritzker Architecture Prize. The most prestigious architecture prize of all is awarded each year to an architect for his significant achievement.
Born in 1931, Arata Isozaki worked during his early years with Kenzo Tange. In 1962 he got involved in the Metabolism movement. His article « City Demolition Industry, Inc. » published in 1962 highlighted his concern regarding the destruction caused by World War II in his country. "My first experience of architecture was the void of architecture, and I began to consider how people might rebuild their homes and cities."
In 1963, he established Arata Isozaki & Associates and worked on "redefining mutual exchange between eastern and western societies", underlines the Pritzker Prize jury. "Isozaki was one of the first Japanese architects to build outside of Japan during a time when western civilizations traditionally influenced the East, making his architecture—which was distinctively influenced by his global citizenry—truly international," comments Tom Pritzker, Chairman of Hyatt Foundation.
Isozaki has completed more than 100 buildings including the Kitakyushu Municipal Museum of Art (1974, Fukuoka, Japan), the Art Tower Mito (1990, Ibaraki, Japan), the Pala Alpitour stadium in Turin (2006), the Himalayas Art Center (2013, Shanghai), the Allianz Tower (2014, Milan), the Qatar National Convention Centre (2011, Doha) and the Shanghai Symphony Hall (2014, Shanghai).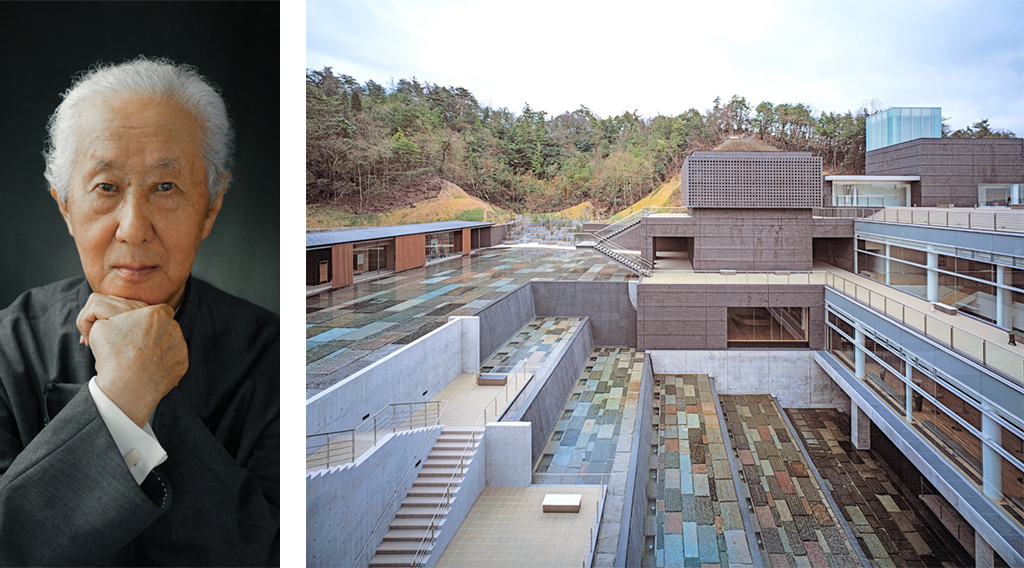 In 1987, L'Architecture d'Aujourd'hui's April issue was dedicated to the Japanese scene. The cover presented  one of Isozaki's serigraphy, untitled "Tsukuka centre in ruins". In its report, AA presented several major projects, as the Los Angeles Museum of Contemporary Art (MOCA), completed in 1986—Isozaki's very first international commission—but also the Daniel Templon Foundation, in Fréjus, South of France—a project cancelled by the City in 1992.
Click on the cover to read the articles.