Completed in 2019 in Sussex by architect Adam Richards as his own home, Nithurst Farm is partly modelled after the Russian science-fiction film Stalker and other filmic references. A house full of meaning.
The rest of this article by Financial Times' architecture critic Edwin Heathcote can be found in AA 437 - Fabulous Britain! - Available on 

our online shop

.
It looks like an architecture of bits. Bits of an antique aqueduct or bits of a leftover agricultural structure. Bits of a classical country house, bits of Roman archaeology or bits of a Renaissance villa. Each of those bits tells a story but the most surprising is that the principle inspiration behind Nithurst Farm was, it turns out, Andrei Tarkovski's film Stalker (1979), an idea of the sublime which materialises in the mind rather than in the landscape. It leaves an architecture which sits somewhere between collecting and editing, between the depth of history and the flatness of the screen.
Adam Richards' house, set into the gentle landscape of Sussex, is one of the most intriguing and compelling dwellings built in Britain in recent years. You might argue, quite reasonably, that it doesn't, in fact, have a lot of competition. The landscape and tradition of contemporary architect-designed homes here is sparse and spattered only with the occasional gem. Yet this is a fully-formed and brilliant work which draws on both English and continental archetypes, on film, fantasy and the everyday reality of infrastructure to create a comfortable but always visually arresting home. The central space contains the kitchen and dining area with a small elevated playroom at the front end.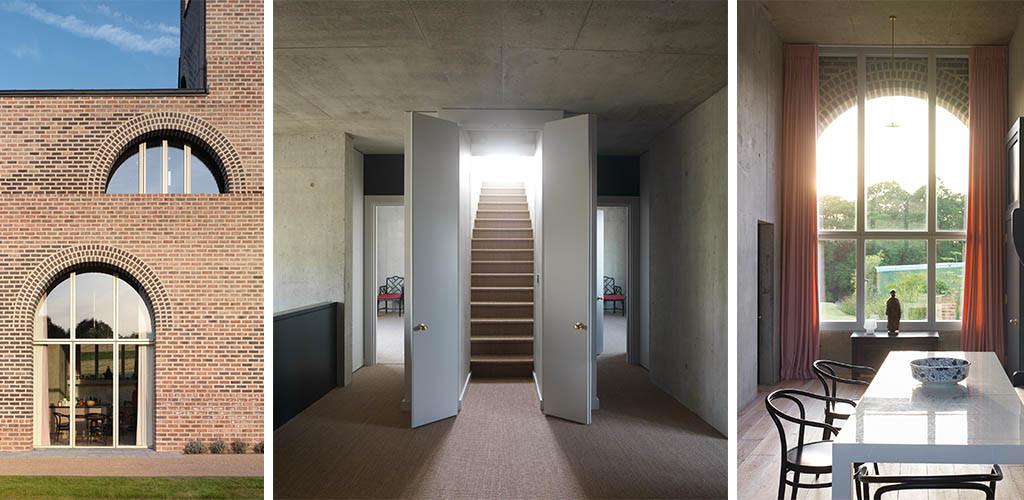 Encased in concrete, it has a feel which blends Ando-ish Japanese minimalism with an almost industrial presence, both exquisitely finished and somehow still raw. Six cubic volumes jut into the main space, each containing a secondary room – larder, study, cloakroom and so on.
They conceal the sources of light from the sides and give a sense of a marching progression towards a door at the end. Encased in books, the doorway leads to a mysterious space which turns out to be the living room. Richards claims that this is the culmination of a journey inspired by Stalker in which the final room may or may not, exist solely in the visitor's imagination. It is an ideal space and the family's perceived perfect place and the architecture here plays with the impossibility of achieving that perfection. Floor to ceiling windows are interrupted by brick arches which both interrupt the rigour of the geometry and also expose the nature of the brick, so solid on the elevation, as a membrane, a rainscreen.
Architecture might appear permanent and solid but it can be as fleeting as an image on a screen in a clouded memory.