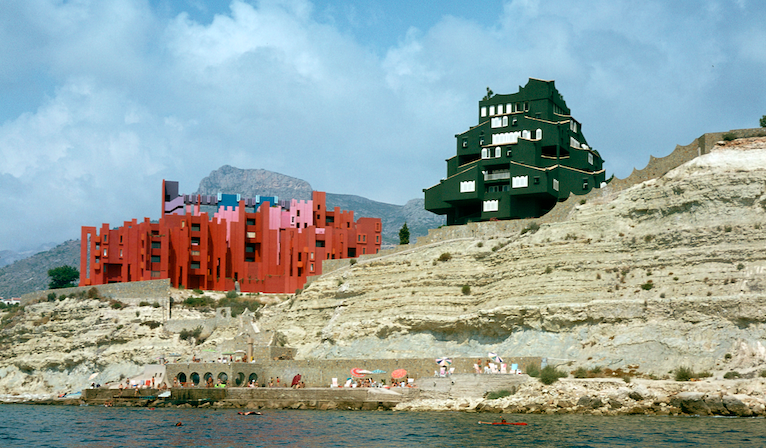 He will leave an indelible mark on contemporary architecture history: Catalan architect Ricardo Bofill died today, 14 January 2022, his family announced in a press release.
---
With Manuel Núñez Yanowsky, Ramón Collado and his sister Ann, he founded his office in Barcelona in 1963, Ricardo Bofill Taller de Arquitectura, and designed unforgettable works in France (the Arcades du Lac in Montigny-le-Bretonneux in 1981, the Espaces d'Abraxas in Noisy-le-Grand in 1982, or the Antigone district in Montpellier in 1988) but also in Spain (the Walden 7 residences in Barcelona in 1975, the Muralla Roja in Alicante in 1973) and around the world (the Mohammed VI Polytechnic University, Benguérir, Morocco, 2016). "Postmodernist", "neoclassical", "oversised", whatever the label, Bofill's architecture was above all the result of eminently urban thinking, a social vision, and a taste for research applied with the utmost care.
In December 2020, he was featured in AA's issue 440 dedicated to "bigness" in architecture, in which he told journalist Andrew Ayers: "I don't think it's very elegant to praise yourself at the end of your life. You have to be much more self-critical. I still design projects because I believe I can still improve, that I still have things to say."
Read the full article below.
---
Ricardo Bofill, Larger than Life
Whether in France, Spain or the U.S., 81-year-old Barcelona-born architect Ricardo Bofill has realised some of the most impressive buildings of the past six decades, both in terms of size and style, his overblown concrete Classicism of the 1970s and 80s having come to define an epoch. While some are tempted to dismiss his architecture as bombastic, his social consciousness, his concern for structural logic and quality, his taste for experimentation and his sense of surrealist irony add up to make him — both despite and because of the old controversies — one of the greats of his century.
Andrew Ayers
"From an urbanistic point of view, France has done some amazing things. It has traced out giant spaces and great axes, boulevards and squares that are a part of French genetics. It's what you call designing the city, and nobody does that anymore." It was with this pronouncement, made before I could even utter a single word, that Ricardo Bofill Leví began our interview. For 30 years, from 1971 to 2000, the Barcelona‑ born architect headed one of the largest practices in France, indelibly marking Gallic territory with his giant housing estates and other major projects in Paris, Montpellier and the new towns of the Île-de-France. His decision to leave the land of secularism, 20 years ago, had nothing to do with resentment — "I was fantastically happy in Paris" — but because his firm, the Taller de Arquitectura, "had grown enormously, to the point where I found myself in a managerial role. I no longer had time to think and create, I couldn't do architecture anymore." Which is why, at the age of 60, he closed all the Taller's international offices and "came back to Barcelona to work in a little family firm of around 100 people" — a figure which, given that French practices average barely five people, provides an insight into the sense of scale of a man who today, at the age of 81, continues to work around the globe, from China to India to Russia, and occasionally in France.
"Each of my projects is a part of an impossible city," says Bofill of his 60‑year career. "Put them all together and a city emerges." But the Surrealist cadavre exquis that would result is nothing like the lifetime's oeuvre of a Zaha Hadid or Giancarlo De Carlo, who spent a whole career refining the same themes and approaches. "I'm not stubborn: when I see that something doesn't work anymore, I drop it. One of my challenges is to express myself in many different vocabularies." The first of these was a sort Balearic "critical regionalism," expressed in a family house in Ibiza, completed in 1960 when Bofill was just 19 and still a student in Geneva, after he had been kicked out of Barcelona University for his links to the Catalan communist party. "My father was an architect and builder who worked with GATEPAC [the mostly Republican Grupo de Artistas y Técnicos Españoles para el Progreso de la Arquitectura Contemporánea], collaborating with José Lluis Sert and Antoni Bonet. So I had the advantage of being able to start building very young. I learned a lot from him, but he was an artisan, and I felt I needed to tackle a bigger scale."
The jump would not be long in coming: in 1963, the Taller was founded, and, as well as realising several apartment buildings and other projects in Barcelona (which alone would be worthy of a substantial footnote in the history of architecture for their ingenuity and finesse), began work, as of 1964, on an entire urban neighbourhood, the Barrio Gaudí in Reus, near Tarragona. Completed in 1968, the complex constituted a refusal of the regimented "Corbusian" bar‑ block estate then so common (dismissed by Bofill as "living cemeteries"), comprising instead a Chinese puzzle of 2,000 dwellings accessed by multiple courtyards, walkways and footbridges. […]
Click on the picture to read the following pages.