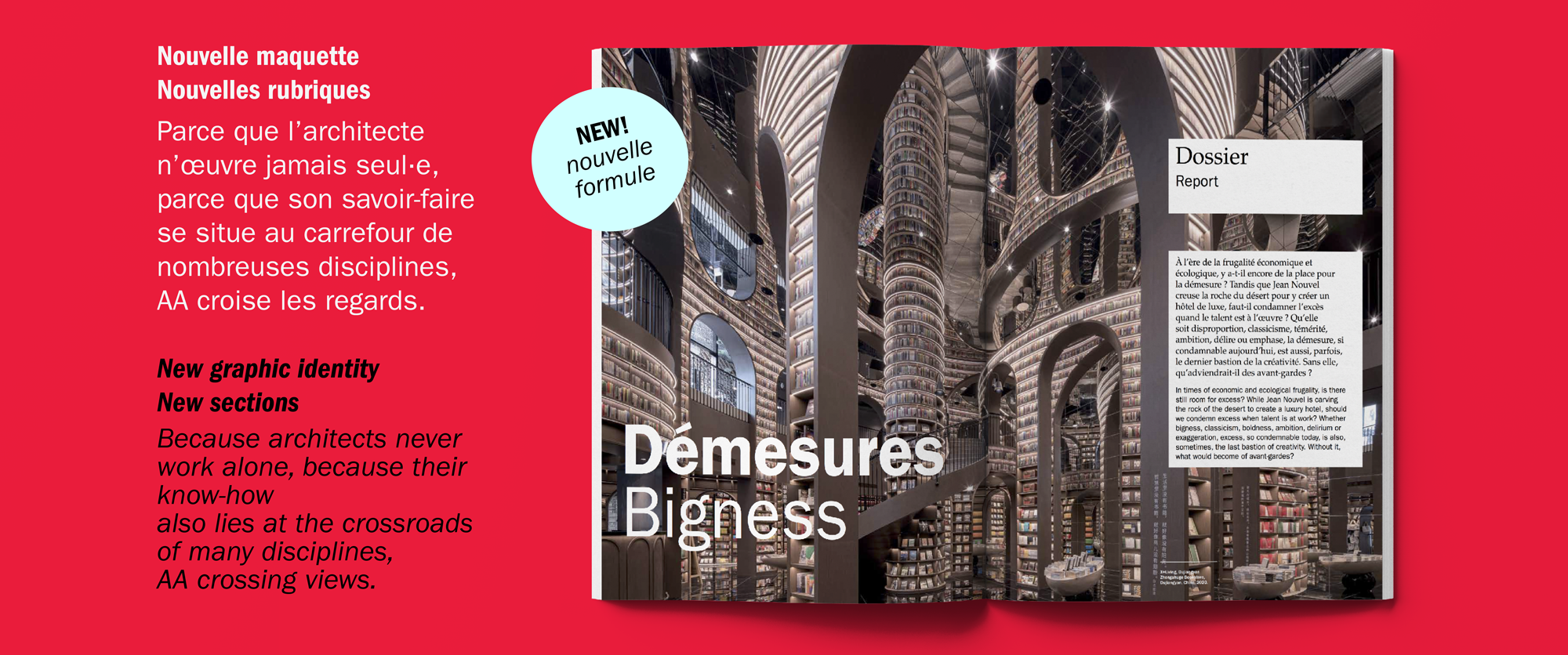 In times of economic and ecological frugality, is there still room for excess? While it can sometimes be condemned for the costs it generates and the environmental footprint it leaves, excess in architecture is also, in some ways, the last bastion of creativity. Whether bigness, classicism, boldness, ambition, delirium or exaggeration, excess, so condemnable today, is missing in this hour of sacrosanct frugality. Without it, what would become of avant‐gardes? That is the question AA answers to in its new issue.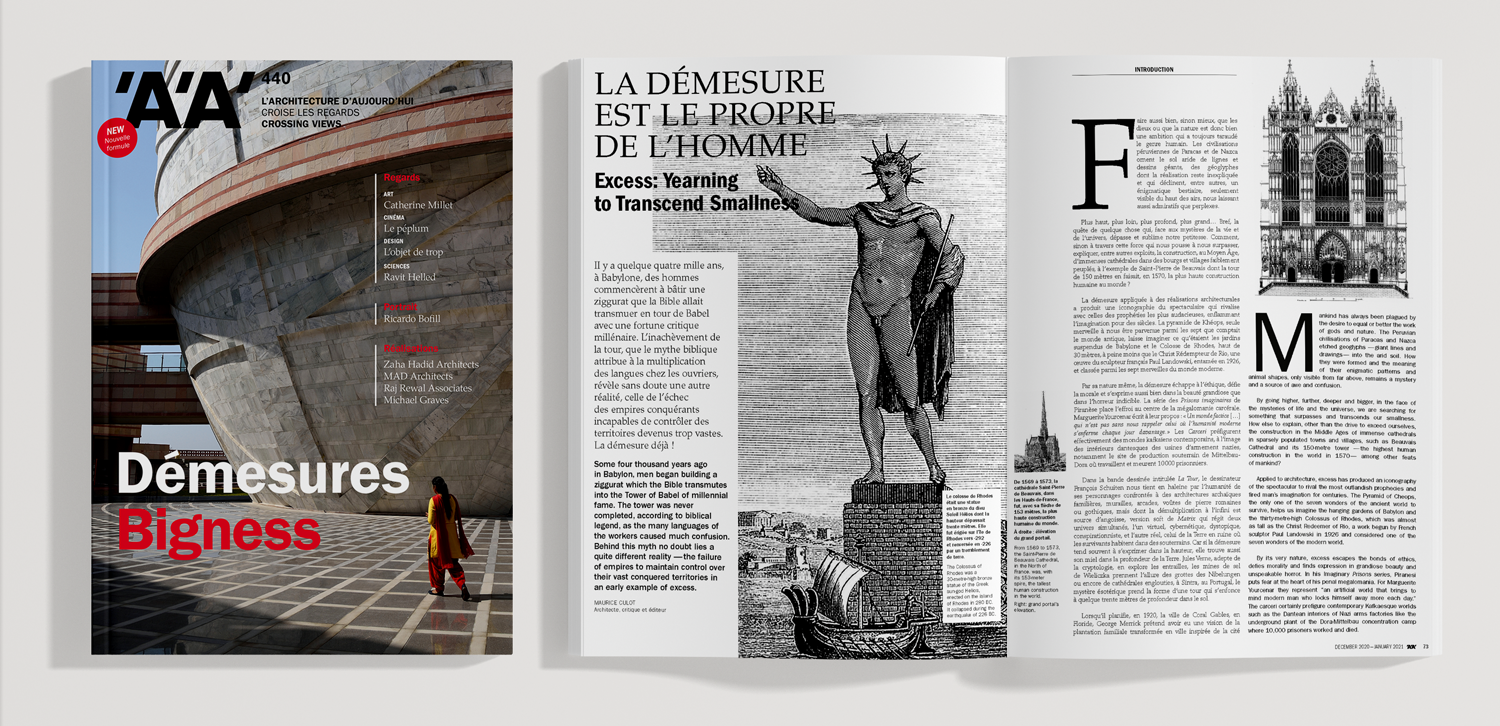 NEWS
Les inspirations de l'artiste Jean-Michel Othoniel ; une tribune de l'architecte marocaine Salima Naji ; les conseils de lecture de la librairie Sauramps à Montpellier ; les folies de Bjark Ingels et Jean Nouvel ; réalisations, expositions, les visites d'AA…
VIEWPOINTS
ART — "Not Everything Will Leave a Trace in History", interview with Catherine Millet by Christophe Catsaros
CINEMA — The Epic: It's All About the Set by Christophe Le Gac
DESIGN — One Too Many, when better is the enemy of good
SCIENCES — Ravit Helled, astrophysicist, an interview by Herbert Wright
PORTRAIT
Ricardo Bofill, by Andrew Ayers: whether in France, Spain or the U.S., 81-year-old Barcelona‑born architect Ricardo Bofill has realised some of the most impressive buildings of the past six decades, both in terms of size and style, his overblown concrete Classicism of the 1970s and 80s having come to define an epoch. While some are tempted to dismiss his architecture as bombastic, his social consciousness, his concern for structural logic and quality, his taste for experimentation and his sense of surrealist irony add up to make him — both despite and because of the old controversies — one of the greats of his century.
REPORT
INTRODUCTION — Excess: Yearning to Transcend Smallness, a historical narrative by Maurice Culot
UTOPIES — The E-volo Tower, the Architectural Object of the Future, by Amélie Pouzaint
HERITAGE — The Brussels Palace of Justice, a Masterful Composition, by architects Thierry Henrard et Thomas Greck
BUILDINGS —
Zaha Hadid Architects, Changsha Meixihu International Culture & Arts Centre, Changsha, Chine, 2019. An interview with Patrik Schumacher by Andreas Kofler.
Raj Rewal Associates, Jang-E-Azadi Memorial, Kartarpur, Pendjab, Inde, 2018
MAD Architects, Beihai Fake Hills, Huangshan Mountain Village, Beijing Chaoyang Park Plaza, Chine, 2015-2017, by Herbert Wright
Michael Graves Architecture & Design, Statue of Unity, Kevadia, Gujarat, Inde, 2019
ESSAY — Architecture Pulled by 36 Oxen by Jean-Philippe Hugron
EXPERTISE — Opulence and Frugality, interview with Philippe Rahm by Emmanuelle Borne
TRENDS
Innovative coatings, by Yên Bui
In the News — Closing the Loop With Tarkett
Innovations — Agivir by Serge Ferrari
Projects and Products  — AA's selection