Water, coastline and harbours are vital elements of our cities. These harbours and their redevelopment are not only the preserve of rich metropolis. The conversion of old port areas can carry in its wake the redevelopment of entire cities: such is the subject that AA editorial team has chosen to explore in this October 2018 issue.
In Europe, the transformation of the port of Barcelona for the 1992 Olympic Games will remain an example of successful conversion. If all cities do not benefit from such events in order to transform their industrial seafronts, many have begun, abruptly or gradually, the mutation of their ports, sometimes at the price of the commodification of public space, as highlights this  issue's survey: "Rebuilding docks: a globalised trade in architectural ubiquity".
In this context, both public and private players choose to raise emblematic buildings, whose architecture is a signal on the scale of the city. Jean Nouvel's La Marseillaise is the latest example, but, on a different scale, Olafur Eliasson's Fjordenhus in Denmark is also looking to stand out, as well as Jacques Ferrier's Rouen Normandie Metropolis headquarters. As for FOA's Yokohama International Passenger Terminal completed in 2001, this building has remained one of few to favor public space to iconic architecture. Who other than landscape architects to cover this subject? The founders of French office Ter probably deserve to be called out as urbanists as they have proved their talent as cities go.
Lastly, among the French cities whose port heritage is undoubtedly imposing figures Saint-Nazaire and its huge underwater base. No less patrimonial, even though less tangible, Kenzo Tange's project for Tokyo Bay designed in 1960 will remain a model.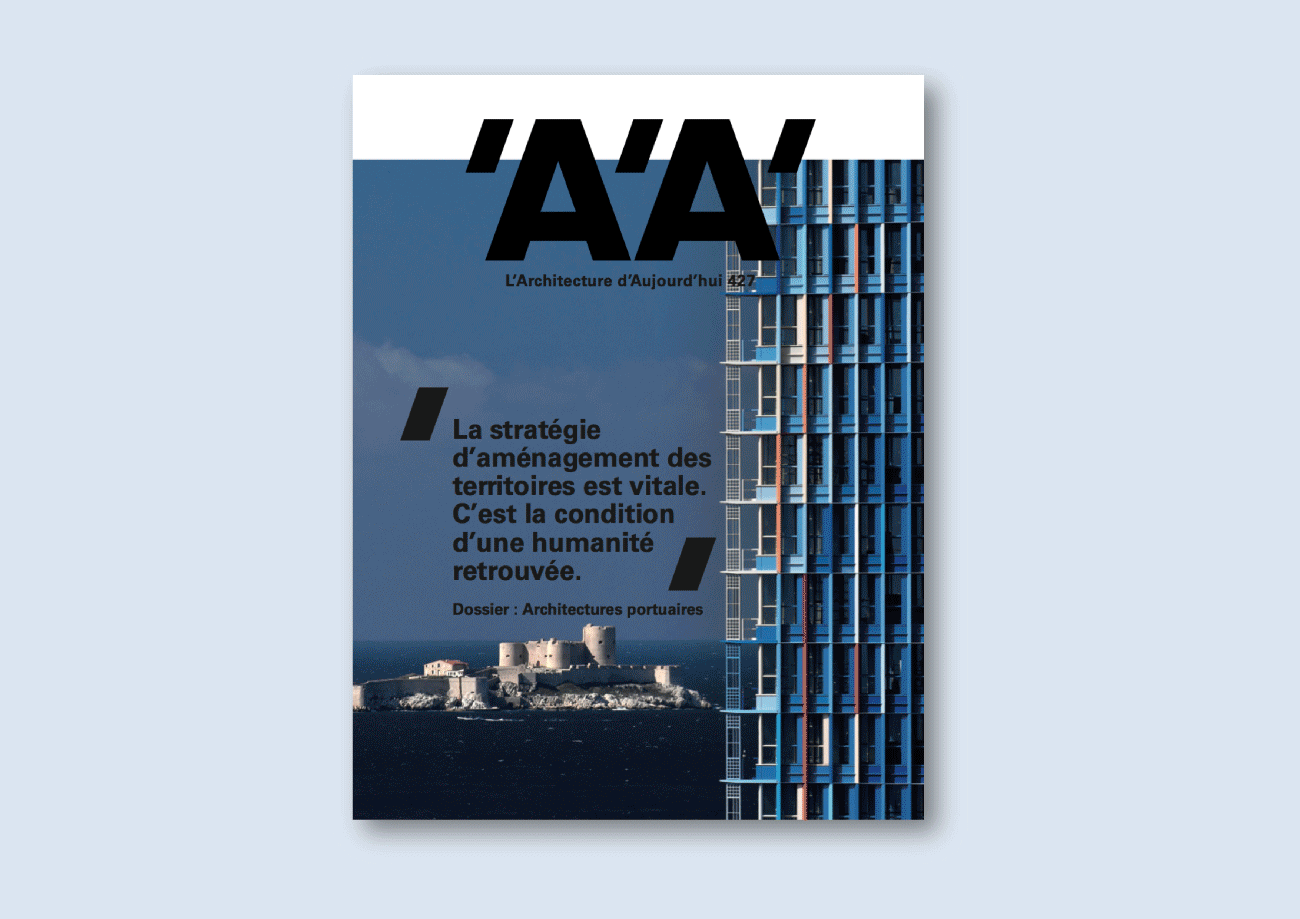 In this issue:
NEWS
Tribute to Paul Virilio, on Christian Kerez's bookshelves, three questions to Frédéric Druot, "The intensity of pedestrian solicitation" by Philippe Trétiack, Bernard Desmoulin at Cluny Museum… As well as completed buildings, exhibitions and quotes.
REPORT — Port architecture
Survey: Rebuilding docks: a globalised trade in architectural ubiquity
Portrait: The invisible cities of Ter
Expertise: Saint-Nazaire, paradoxical docks
Heritage: Kenzo Tange's Tokyo Bay
Projects:
– Ateliers Jean Nouvel, La Marseillaise office tower, Marseille, France, 2018
– Olafur Eliasson, Fjordenhus offices, Vejle, Denmark, 2018
– Jacques Ferrier Architecture, Rouen Normandie Metropolis headquarters, Rouen, France, 2018
– FOA, Yokohama International Passenger Terminal, Japan, 2001
VIEWPOINTS

Extract: Underground architecture by Dominique Perrault
Report: Tel Aviv's port: about a revival
Art: Nicolas Frize, building music
Actor: Eva Kail,working towards a female-friendly city
TRENDS
Three questions to… Fabrizio Gregori, General Contract Manager, Rimadesio
Projects and products: Hotels, restorations and innovations