Passed this summer, the Elan Act (Housing, Planning and Digital Development) will have had the merit of uniting architects for a common cause, including quality social housing.
Although it usually takes crisis to remind us that architecture is about commitment, many architects do not wait for things to culminate and work daily to defend a proper living environment. AA offers them a platform in the pages of this September issue, dedicated to commitment.
Even though we live in an era of compromise, the cofounders of Amateur Architecture Studio, Chinese architects Wang Shu and Lu Wenyu, make no concessions in their work. The managing director of the French Public Housing Office Aquitanis Bernard Blanc is a client praised by architects for his involvement. Social housing, over and over again: architect Francis Soler denounces the Elan Act, which undoes the 1985-MOP law, which he helped craft. A MOP law that would not have existed without the events of May 68. In other countries, commitment has become more diverse and Forensic in London is behind a new profession: investigative architecture. In Thailand, Patama Roonrakwit has been working since the 1990s with her studio CASE to build housing for disadvantaged populations as well as for the middle class, while in Morocco, architect Salima Naji endeavours to preserve vernacular architecture, as did Hassan Fathy, to whom Salma Samar Damluji pays tribute in the following pages. Last but not least, Flores & Prats in Spain and Construire in France show that building rhymes with presence and permanence.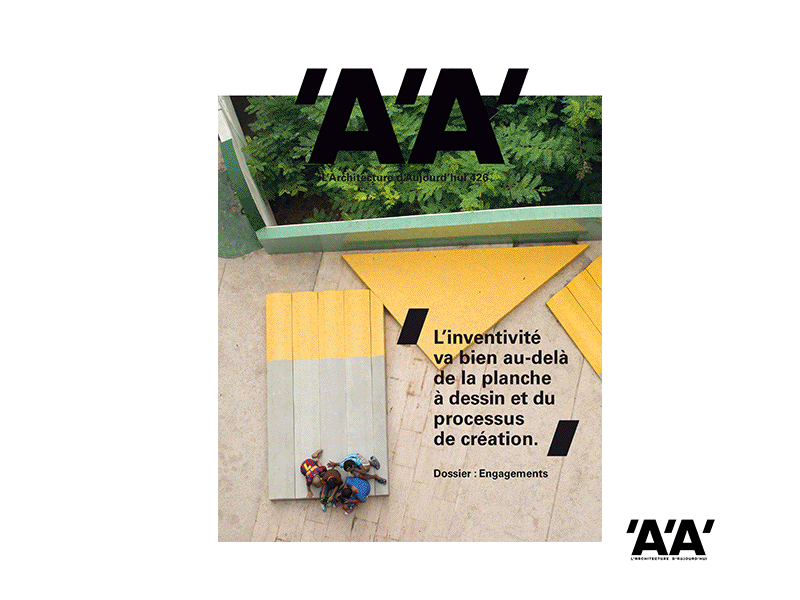 In this issue:
NEWS
Junya Ishigami's atmospheric architecture, news from architect Boris Bouchet, Academy of Performing Arts in Aalst (Belgium) by KAAN Architecten, Marc Barani's opinion on the Elan Act, COSA's favorite books, "Reinventing" by Philippe Trétiack, completions, competitions and books.
REPORT – Commitments
Portrait: Yes we can! Wang Shu et Lu Wenyu
Expertise: Forensic Architecture, a new kind of practice
Builders: Bernard Blanc, architecture in open design
Profession: May 68 and architecture, 50 years on
Opinion: Michelangelo's Pieta as a design-and-build by Francis Soler
Heritage: Hassan Fathy, about truth in architecture
Projects:
Flores & Prats, Edificio 111 social housing, Terrassa, Spain, 2012
CASE, TEN Bangkok housing block, Thailand, 2006
Salima Naji, cultural centre, Aït Ouabelli, Morocco, 2018
Construire, Chemin Vert district, Boulogne-sur-Mer, France, 2013
VIEWPOINTS
Extract: Rudy Ricciotti, François Carrassan and Bernard Plossu – the happiness hoax
Art: Gordon Matta-Clark, Anarchitect
Actor: Marie-José Malis, the theatre of hope
Report: Nicolas Laisné and Alain Bublex – resurrecting unrealised plans
TRENDS
Three questions to… Chloé Brismontier, Velux France
Project and products: Integrated openings