From the earliest days of her practice, Loci Anima, which she founded in 2002, Françoise Raynaud has extolled the virtues of architecture that is as one with its environment. Even when she's building towers, it's "like a plant that's growing". She goes on, "We need to revive the relationship between material and thought." In other words, her subject of predilection is, just as much as architecture, the spirit of place, race as much as species. Interview by Jean-Philippe Hugron.
The AA's special issue dedicated to Loci Anima works – "Elementary Particles" – is now available on our eshop.
L'Architecture d'Aujourd'hui: If you had to choose one word to describe the way you work, what would it be?
Françoise Raynaud: Vision, because we have a responsibility for the long-term. Although sometimes we have even gone too quickly… Practicing our profession requires a good timing, you need to be able to project yourself, but not too far. In 2000, one of Loci Anima's first projects was made out of containers. I had hardly any money and it was an unusual commission: a French pavilion for the America's Cup, in New Zealand. Containers could be used both to transport equipment required for the competition and to construct a temporary five-floor building to house the various activities of the team. Looking for suitable economy and design led us to think about the project in terms of optimising and recycling. We complemented the chosen aesthetic of containers by the addition of a large printed tarpaulin on scaffolding, with a goods lift made by the team members using pulleys and halyards from the boats. The overall result was economic, simple and self-evident.Containers resist well to stormy seas and New Zealand is a highly seismic country. But this had never been done before and so there were no existing regulations. We had to get Ove Arup NZ involved to complete sophisticated calculations. We also had to precisely examine fire stability for the whole thing. We won the Auckland prize for architecture. In the eyes of the organisers it was the first time that a 'communicating' building had been completed, which moreover catered for all functions: technical, administrative, and also receiving the public. It became the basic reference for such installations for the following years of the America's Cup.
Does being a visionary imply being innovative?
Personally I am dubious about innovation as we see it today. Society has taken up the question of sustainable development to innovate. Putting in place sophisticated techniques in order to obtain certification of arguable value. In my opinion, innovation should be more about the way in which each of us considers nature. I think, in these circumstances, of a more profound evolution of the way in which we live and how we work as one with our environment. It is here that lie the roots of innovation. Being visionary is not about always looking for further technology; on the contrary, it is about aspiring to produce and use only what is necessary. In other terms, it's a question of moving towards greater empathy with nature, with animals both human and non-human. That is my perception of what it is to be modern today.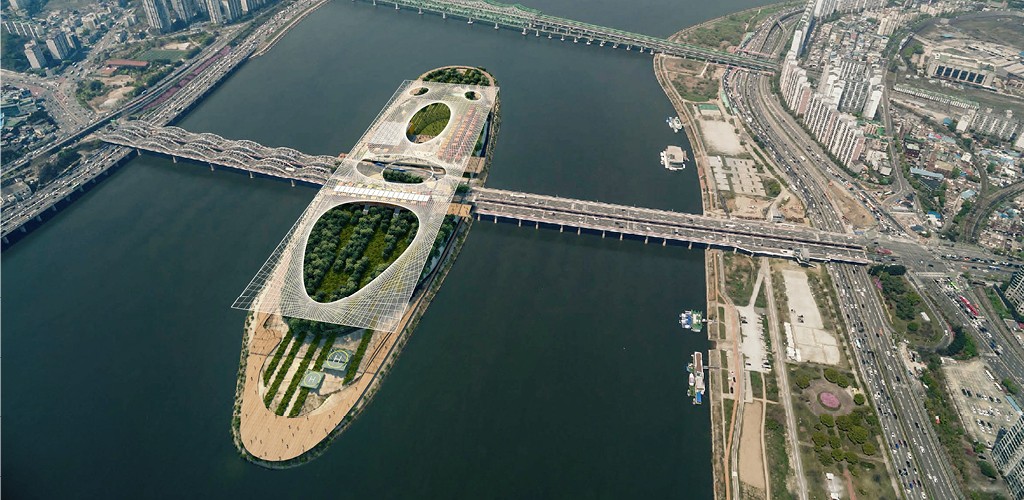 You like talking about 'postindustrial animism'…
It is a means of drawing the link between my practice and my relationship with nature. Literally, Loci Anima means spirit of place; therein lies a poetic provocation. It is a call to take greater care of our environment. That being said, there is a reality that is both known and little-known, that of animist people who believe that they recognise spirits in stones or trees. Is that the energy that we find in matter? We recently worked with the Office National des Forêts and with some wood specialists. Why do we love this material so much? Why is it such a source of wellbeing? Researchers have registered significant hygrometric exchange between wood and man. There are almost certainly other exchanges between elementary particles that come into play, but we know very little about these interactions. It's fascinating!
How did you become aware of these subjects?
"I eat therefore I am". In this affirmation I see a way of positioning oneself in the world. I myself have been vegetarian since I was 12. I suffered, empathy no doubt, to see other species sacrificed, and I can't bear indifference to animal suffering. I am always particularly struck by animals' intelligence and their intuitive relationship, fair and frugal, with nature. We have so much to learn here. This position requires that I clarify that I don't like the anthropomorphism of animals that sometimes prevails over our society. It is true that animals and humans would need to be comparable in order to obtain equal rights, but we are not identical. We need to be able to admit that being different does not mean being unequal. As long as we can admit that being different does not mean being unequal, the world will be at war.
You mention animals, stone… What about the ground?
When I work on a site, I don't like making basements. I always try to avoid it, although I rarely succeed. I hate disturbing the ground. There are beliefs in the world, such as Jainism, which unites more than 10 million believers in India,which voluntarily exclude roots from their vegetarian diet so as not to disrupt world order. When I think of them, I am humbled in the way in which I respect nature.
Yet you design towers of housing or offices. Is there not a contradiction in that? How do you reconcile your practice to your ideals?
I don't withdraw from the world and I live in the present. Today there is a demand to house and shelter an ever-increasing population on our planet. The reality is well and truly in the preservation and economy of our land. In this context, building high is an extremely efficient means of considering density and making it comfortable.
Towers, skyscrapers and other high-rise buildings are a pet subject for the practice. How did this come about?
I studied the subject of high-rise with Jean Nouvel, who I worked with for many years. My first project with him was the Lyon Opera. To cater for the scenographic requirements, the last floor plate exceeded the regulatory limits and took us into the realm of high-rise. So I managed and orchestrated a high-rise opera. It was unexplored territory. With this experience under my belt, I soon afterwards headed up the Tour Sans Fin project in La Défense, 425-m. high. Without being aware of it at the time, we were precursors of 'skinny-scrapers', those extremely slender skyscrapers that are now being built in New York. The slenderness ratio (10 : 1) on the Tour Sans Fins had never been done before. We didn't have the experience of SoM or of those huge American offices in building high-rise. To gain credibility at the time, we had to do a world tour, meeting and working with the best engineers, in London, in the US and in Canada, as well as with fire-fighting specialists in Hong Kong and Singapore. I did the world tour of towers, learning on the job. Amazing!
What did you take away from this?
I came to understood that, against all expectations, towers are simply cantilevers. So towers are subjected to movement and dimensioned according to movement at the top. In Canada we met with the specialist and worldwide reference of 'the acceptability of acceleration'. It had to be understood that building high-rise was not an exercise limited by what could be constructed, but by the criteria of acceptability of movement by the people who used it. So it was a question of limiting movement not only by stiffness but also by energy transfer, sometimes with the help of 'tuned mass dampers', the masses that compensate for movement – harmonic shock absorbers – found at the top of some of the world's tallest towers. From a technical point of view, the slenderness ratio of a tower, and even more so its slimness, require, contrary to all appearances, a lot of material and technology. Now, based on this understanding, we have developed a model tower in the office with the ambition of economy of material. Tipi Tower is a concept based on a primitive natural stability.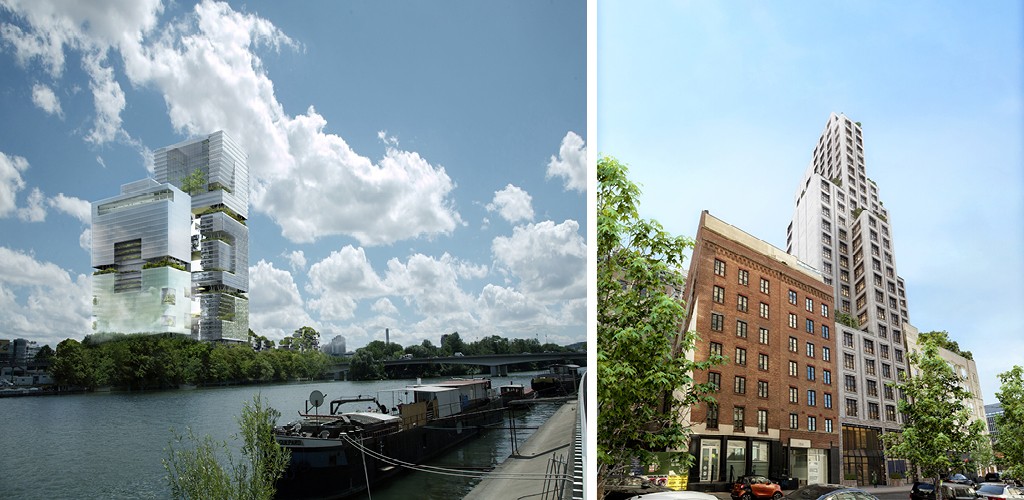 What have you learned from New York skinny-scrapers, in particularly from 432 Park Avenue, a tower 425-m. high of prodigious slenderness designed by Rafael Viñoly?
432 Park Avenue is an urban and sculptural triumph. I am full of admiration and can't begin to imagine the constraints encountered by Viñoly, because it is first and foremost a question of private rights through the purchase of rights to air and light. The skinny-scrapers have totally transformed the New York skyline over the last three years. They are pure New York, they haven't just landed from outer space. We are currently completing the construction of a tower in Manhattan, 'Greenwich West', and are confronted head-on by questions of high-rise. In New York, rules are negotiated; it's a different kind of urban logic. Our tower is of more modest height, but we also want to make our contribution to the spirit of New York towers by designing with air, light and outdoor spaces..
The office has built several apartment buildings in France that come close to the 50-m. limit above which high-rise building regulations apply. What is your approach to this new type of construction?
I design towers – wherever they are – like a growing plant. I look for the optimum position and turn to the sun. I also try, through this exercise, to raise the ground plane. In Issy-les- Moulineaux, the ADN and Koala towers were designed to be in contact with nature, to make the most of the views, the light and the exterior spaces. A tower must be designed like a tree; it only grows where it can grow. That is how we try to think in the office.
Does Loci Anima carry out its own research through theoretical projects?
I have worked in Asia, in Japan and in South Korea, where I witnessed the arrival of the mobile telephone. I found myself, in the 1990s, at the heart of those evolutions that were going to transform our societies. The large Korean conglomerates for which I was working were already concerned with acquiring the deposits of raw materials for semi-conductors. New technologies pillage nature. In the office we endeavour to study such briefs that involve the installation in the world of these new technologies, briefs that we feel are still too ignored by the profession. Take, for example, data centres. Many people realise, with surprise and dismay, that not only does the intangible digital world require material representation on earth, but also huge amounts of energy for cooling. Five years ago we turned our minds to a data centre concept that redefined digital's place in the city. New technologies must contribute to the common good.The subject is even more relevant today with France's 'GAFA' tax on major internet companies, designed to alleviate glaring injustices with regards payment of taxes. Beyond technology are other essential questions, political and diplomatic, about data governance. The return to earth of data is also a return to physical boundaries. These societal questions have preoccupied us in the office for the last 15 years.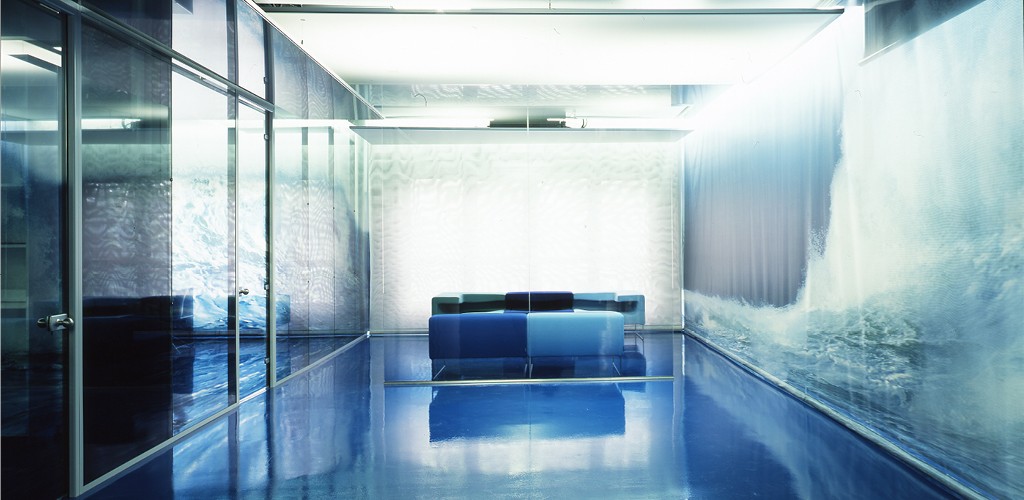 What are the other areas of research in the practice?
Always the aim of economy of materials. We are looking at using lightweight and recycled materials. In this context, we look for proximity with areas parallel to architecture. For example, we have found solutions in sailing and boat building. Obvious questions of weight are examined. The quest for lightweight is essential in these areas. To build the façade for the Pathé Wepler movie theatre on Place de Clichy, Paris, we worked with boat builders Multiplast. We framed the giant screen in a light shell, designed according to requirements set for racing yachts. Beyond questions of weight and rigidity, we wanted to use a material that was ecological and virtuous, a mixture of linen fibres and recycled resin that had never been used before.
Where do you position yourself with regards building materials? Are architects destined to simply assemble industrial products?
I am not free of industrials but I am not fooled. There is no perfect material. There are, however, materials in the right place. In other words, materials that are adapted to certain contexts, but also materials that originate from certain contexts.
How does the practice approach the design phase of a project?
Draw nothing first in order to think. Reflection must be the first step and drawing then serves to verify. When you draw, you can have affection for what you produce. I see it as the trap of a narcissistic tendency. The practice is not into formalism. What is more, we don't have any automatisms. Our projects are more the fruit of a reflection, of documentation orchestrated by experience.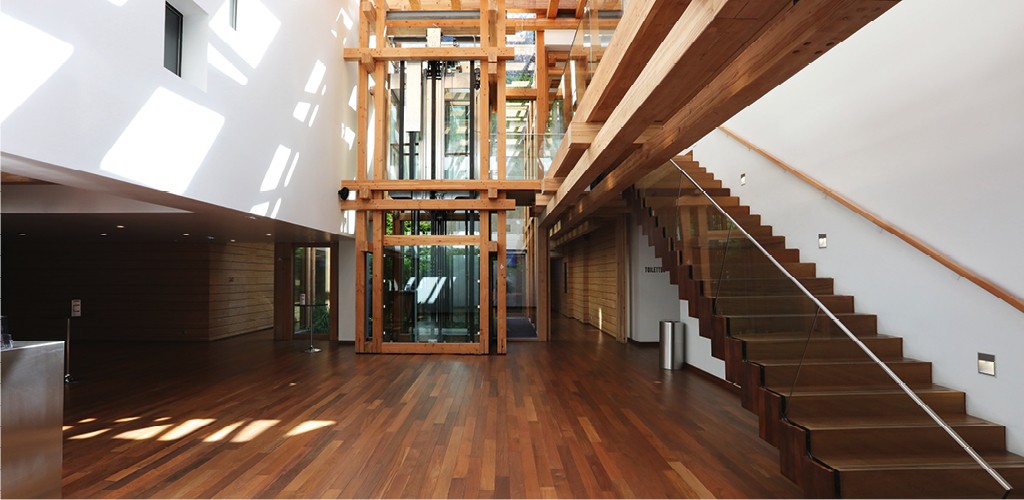 Yet today is all about image, an irrational consumption of photographs. Is there not a certain criticism of this in your approach?
I had an education, a training where I was taught to draw. I love drawing. I am, in some ways, very 'fine art', even though we were banned from picking up a pencil after 1968. In matters of art and drawing, I followed the teachings of Hubert Tonka. Jean Aubert also influenced me over the same period. He taught me about shadow and perspective. It was at La Villette school of architecture. Both of them lead me to an appreciation of these subjects; I am from a family of artists. My father, my mother, and especially my brother, Patrick Raynaud. Immersed in this world, life for me could only unfurl as a quest for artistic endeavour, which, as you know, doesn't stop at the image but is above all a search for meaning.
Has this familiarity given rise to collaborations between Loci Anima and artists?
Certainly. I could name Miguel Chevalier, a digital artist with whom we worked on the Gaumont Les Fauvettes movie theatre in the 13th arrondissement in Paris. It was a collaboration and truly hand-in-hand design for a façade-screen. In the same spirit, we are going to work with artists over the restoration and modernisation of the La Pagode movie theatre in the 7th arrondissement.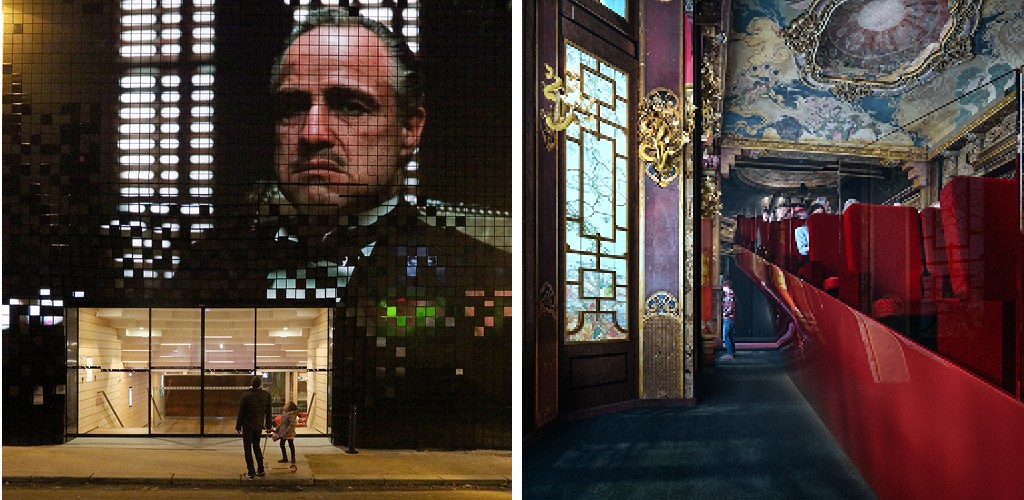 Today, the limits between 3D drawings and photographs are more and more unclear. Where do you stand on this?
On this subject we are not without pride in the office in demonstrating that there is no discrepancy between the photograph of the completed building and the competition image. That being said, a static image does not suffice to fully appreciate a building. It is too static and a building can only be really understood in movement and in changing light. We by far prefer narration, the story that we tell, the models and animated films that we produce in part in the office.
To conclude, what is your vision for the office? To keep growing?
Today there are 30 of us. We do very large projects. I think that at this size, the office has found the perfect balance for exchange and discussion of different ideas. It is the condition of healthy competition in order to remain creative and, hopefully, visionary.