What would have been the fate of Mouans-Sartoux if the project for the Espace de l'art concret (EAC) had never happened? How would this municipality have escaped a foretold destiny of being a dormitory town, wedged between and dependent on two urban and cultural centres, Nice and Cannes ? Those are the questions that Christophe Catsaros, journalist, asked himself in the « Acteurs » section of AA's 432nd issue.
Mouans-Sartoux needed to invent a future for itself, to become a real place rather than a nowhere of nondescript suburban residential sprawl. André Aschieri, the town's mayor at the time, understood this imperative very early on, in the 1990s, well before cultural development became an indispensable element in the standard tool kit of municipal governance. The particularity of the case of Mouans-Sartoux lies in the radicality and appropriateness of this project, as well as in the central place it came to occupy in the town. Even today, it serves as a model for framing the question of the role of culture in generating urban life and more specifically the way responsibilities must be shared between public and private initiatives in building a common vision for culture.
The history of the Espace de l'art concret (EAC) is wellknown. In 1990, the mayor's meeting with two art collectors from Zurich would lead to the creation of a centre of contemporary art with a real public purpose. The castle of Mouans-Sartoux and its park were to become the first pieces of an ensemble put together over time.
Click on the image below to read the full article.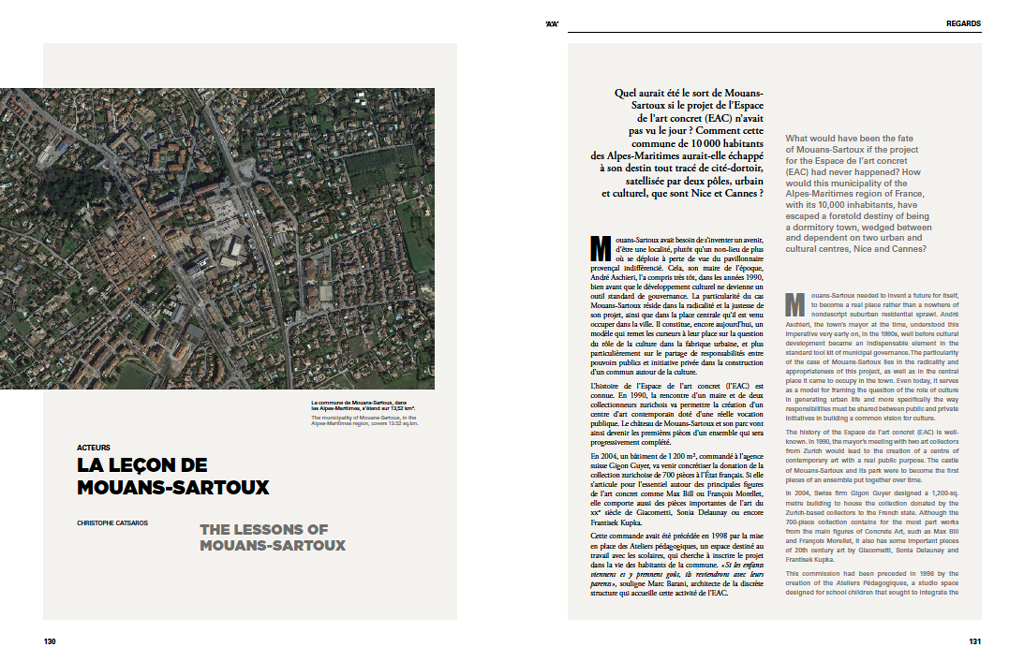 This article was featured in AA's 432nd issue – Heritage and innovation – published in September 2019, still available in book shops or in our online store.
—
In 1998, the "Ateliers Pédagogiques" of Mouans-Sartoux, a studio space designed by Marc Barani for school children that sought to integrate the project directly into the lives of the town's inhabitants. "If children come here and develop a taste for art, they will come back with their parents", explains Marc Barani, the architect of the discreet structure housing this activity at the EAC.
This project, between "nature and pedagogy" was presented just after its completion in 1999 in the 323rd issue of L'Architecture d'Aujourd'hui. Click on the image below to read (again) the whole article written by Annie Zimmermann 20 years ago.