"A viewing platform overlooking the city". This was the invitation extended by Jean Blaise, art director of Le Voyage à Nantes art event, to which Tadashi Kawamata RSVP'd in 2019. The artist designed a belvedere overlooking the Loire River, a technical challenge as much as an inspired work of landscaping, with ten ephemeral nests like omens indicating the pathway.  
Read the full article in AA 438 — Parasites. Guest Editor: Tadashi Kawamata — available on our online shop.
Every summer since 2012, the capital of the Loire Basin organises Le Voyage à Nantes, a cultural event that has earned a solid reputation by inviting several contemporary artists to install permanent works in the city. In 2019, the selection included Tadashi Kawamata. The artist is familiar to the region, having already installed an 800-metre footbridge in 2007 at Lavau-sur-Loire. His new work in Nantes, inserted into the heart of a marshy area, is also an observatory. It was ceated under the framework of the Estuaire programme, a public collection of contemporary works of art, placed in Nantes, Saint-Nazaire and along the banks of the estuary of the Loire River. "I was invited to create a permanent structure in Nantes, but there was nothing really defined. Jean Blaise wished to start with the idea of a promenade."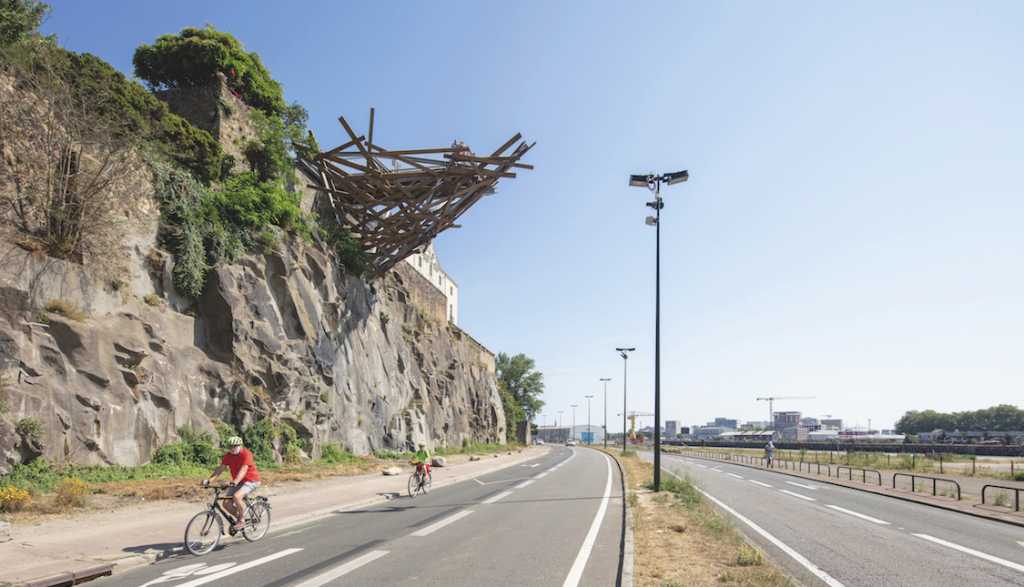 Located since 2019 along the Quai Marquis d'Aiguillon, the wooden and metallic belvedere's structure weighs around 20 tons. 
---
Thus, the bird Kawamata alighted at the summit of the Butte Sainte-Anne overlooking the Loire River, on the west side of the town centre. No nests here, and yet: "I wanted this work to be an extension of the butte and for the visiting public to be actually suspended in the air. It is not so much a nest as a structure protruding from the cliff". Altogether the work is 36 metres long. Before reaching the belvedere, suspended over the cliff at a height of 20 metres above the ground, strollers must take a rectilinear wooded path, surrounded by cliffs. This corridor gives the belvedere the appearance of the prow of a ship.
Boat or vessel, from a technical point of view, the identification of Kawamata's work had to follow more down‑to‑earth paths. "One of the project's challenges was first and foremost to characterise the artist's work", recounts Laurence Pérotin, engineer and project head for Nantes Métropole, the project client. Terrace? Footbridge? Bridge? "We finally opted for "work of art". Making the project fit into a given typology allowed the engineers to rely on technical regulations guaranteeing the work's stability and safety", Pérotin adds. Nevertheless, with regard to the project management everythting is new: "We had to make something atypical withing the limits of a highly regulated framework." It was difficult for the engineer to refer to a classic architecture project, given the extent to which the parameters were shaken up.
YOU CAN READ THE REST OF THIS ARTICLE BY VISITING OUR ONLINE SHOP.