On March 20th, AA organised a new conversation at Atelier Tarkett in Paris, within the 'Creative Affinities' series, bringing together chef Éric Delerue and architect Thomas Coldefy.
Emmanuelle Borne: Thomas Coldefy, with Isabelle Van Haute, you have been running Coldefy & Associates, with offices in Lille, Paris and Shanghai. Your first feat of arms was the Hong Kong Institute of Urban Design, which you completed in 2011. Éric Delerue, for 32 years you were chef at Le Cerisier, in Laventie, Pas-de-Calais, a restaurant awarded a Michelin star in 2002, and you are now opening a new restaurant in Lille's historic district. To be more precise, you will be opening two restaurants in the same place, a gourmet one and a bar-brasserie. Both establishments will be located in a new building designed by Coldefy & Associates, and including a six-bedroom boutique hotel. What is this project about, and what are your expectations?
Éric Delerue: My expectations are very high! I met Thomas three or four years ago, through the Marquet family, the client of this project. More and more, we're starting to realise there are common points between architecture and gastronomy. This project, managed together with Thomas, is about opening up a place right in the city centre, to bring the restaurant which I had some thirty kilometres away into an exceptional spot in all respects: the location, the luminosity… It's green lights all the way.
EB: Thomas Coldefy, can you share with us your sources of inspiration for this project?
Thomas Coldefy: The project is located in a very particular site of Lille's historic district, along the avenue du Peuple Belge, a very constraining plot because of the historical context, notwithstanding the great quantities of water in the ground. The client loved that place and that's when the name of Éric Delerue was floated about, as he is renowned in the North of France. We met and very quickly we talked about a building that could house two levels of restaurants, one in its base, one with a view on the city. The project then developed along with other meetings. Of course, I went to his existing restaurant for research. Above all, we had the idea, even before we met with Éric, of a building that would emerge as a mineral imprint of the city.
EB: Éric Delerue, what are your inspirations as a chef?
ED: I always work with music on. What matters is well-being: when you're feeling good, your cooking is good. I think the inspiration is in the produces, the markets, meeting the suppliers, the breeders… Up to now, the building industry, architecture, none of that had ever inspired me, at least not directly. But maybe it's going to change because the building has good vibes. My other restaurant was in an old-style town house, with its main entrance, a double service, mouldings on the ceiling, that had nothing in common with Thomas's building. This is a different register, much more contemporary.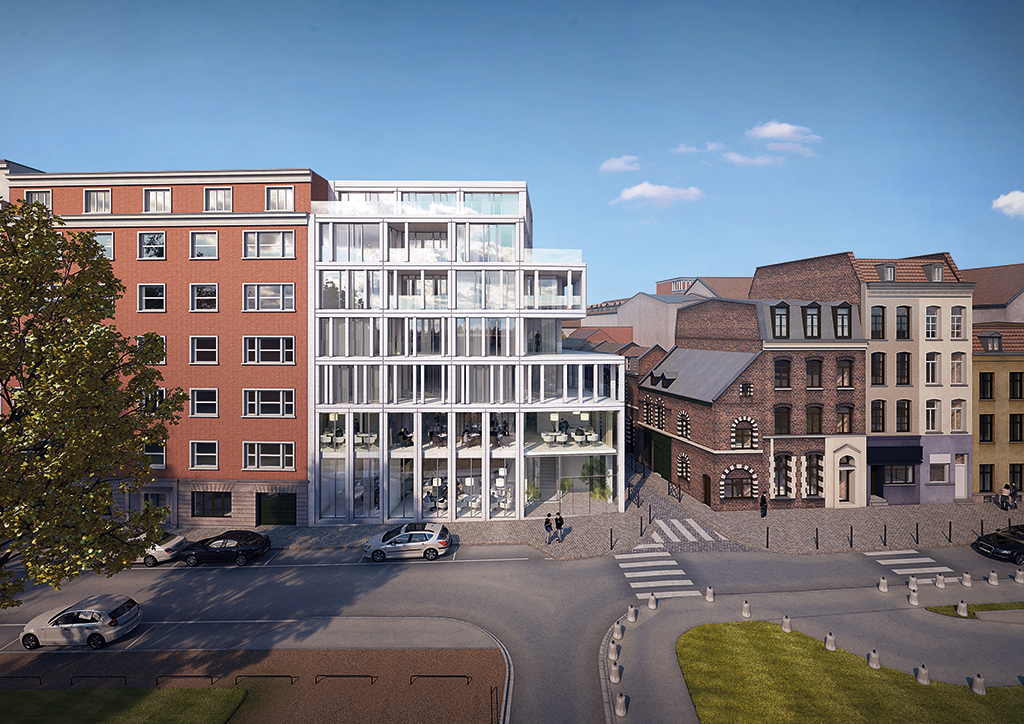 EB: Is this going to impact the way you work?
ED: I don't think so, because my cuisine is already contemporary. We try to focus on the produce, without fuss; and to keep things quite pure. It's difficult to talk about one's cuisine but I think ours is a cuisine of today, which lends itself well to this new building. We had a golden book for thirty years. Flicking through it, the one thing that keeps coming back is that 'we can taste the original produce.' I like to keep produces as untreated as possible.
TC: You're on our wave length. The Peuple Belge building is contemporary but above all it dialogues with the city, and stems from the dialogue between urban planners and heritage monuments architects. We wanted to make the ground floor and the front hall into spaces of passage, by almost prolonging the pavement into the project. Visitors can come in and choose between the 'bistrot' and the gourmet restaurant upstairs.
EB: You are both keen on "keeping things simple". Is this sobriety something complicated to implement?
ED: What's complicated is the technique, managing the little jus, the cooking time, which needs to be as precise as possible… But cooking isn't very complicated. As Alain Passard says: "cooking is mastering fire", and that's exactly what it is.
EB: Thomas, your first building was the Hong Kong Urban Design Institute. Since then, you've carried on working in China as well as in France, and you also design hybrid projects, at the crossroads between the two cultures. I'm thinking of the Fondation de Chine which you designed together with Chinese studio FCJZ for the Cité Universitaire de Paris, where you combined the traditional figure of the Tulou, this communitarian residence in the south of China, with that of the Haussmannian plot.
TC: We were working on an incredible site, with the ring road on one side, and a very open space dedicated to sports activities on the other. We were asked to design a building combining Chinese and French flavours. I know fusion food exists in gastronomy but in architecture, the exercise of imbrication isn't so simple. We ceased the challenge as an opportunity. Besides, I wasn't familiar with the Tulou typology. It's in working with our Chinese partner Yung Ho Chang, that we realised we wished to explore the urban format of the Tulou, consisting of walls used to protect the village from external attackers. But we no longer live in a time where you need to protect yourself and close yourself away from the outside world.
" It's a little like the mission given to an architect: he may have designed the most beautiful buildings in the world, but if the walls are laid the wrong way, everything collapses. "
EB: If, in this case, hybridity works, sometimes there are mixes that don't, in architecture as much as in food. TC: That's how you lose competitions, and how you serve a plate of bad food, I suppose!
ED: But in your case, you can't taste what it's like beforehand.
EB: In the same way as an architect needs to deal with constraints, what are a chef's constraints?
ED: There are many, especially during the opening period: I'm thinking in particular, concerning our new building, about security and disabled access. As to constraints in the kitchen, there are several: the produces need to be fresh, you need to pay attention to cooking time, to ensure that the jus are correctly seasoned… It's a little like the mission given to an architect: he may have designed the most beautiful buildings in the world, but if the walls are laid the wrong way, everything collapses. If the fish is well cooked, but the jus isn't well seasoned, you've made a mess of the dish.
TC: As an architect, we too set constraints to limit our freedom. We were criticised about the Design Institute, for allegedly just wanting to show off our muscles in an ostentatious building. Yet what matters, for that building or the Fondation de Chine, the Peuple Belge and all of our projects, is the impact of the building on the urban fabric. So we're going to test the stylistic device —even though I dislike the term— so that it can bring something new. Either a proximity or a rupture because it is necessary and partakes of the evolution of the urban fabric. In Hong Kong, we raised a part of the building to create a public space, which induced monumentality, but also allowed for more public spaces than what was originally available. Buildings need to be appropriated by people who are going to live in them or visit them, and they need to be understood by people at first sight. This dimension matters to us, because the building doesn't belong to us. Our buildings can sometimes have a caricatural expression because we ensure that they don't belong to us anymore, that they can be lived in.