In the first global consciousness changing event of the information age, the movement toward workplace comfort and wellness has experienced an apocalyptic worst-case scenario: having to work from home. We look at the infrastructure of the 21st century office in the age of pandemic.
This article written by New-Yorker journalist Stephen Zacks is an abstract from AA's issue dedicated to workspaces, available on our 

online shop

.
We have seen a new horizon appearing, glimpsed for a long time in science fiction, as the virus has transmitted itself across the world. The sweeping changes have pushed ongoing tendencies to unanticipated extremes: in the new reality, the flexible work environment has taken on a dire aspect. At first, businesses and governments temporarily closed offices, replaced by what used to be called telecommuting—working from home. Suddenly, video chats have become the new norm for schools and businesses. Everyone has curated a little nest as a backdrop to their computer screen, which constitutes the publicness of their home office. The marginal utility of bodies gathered together has become more evident: we didn't really have to be there, it turns out, except to display our bodies as present for the employer. Everyone has been working from home. But nothing feels normal.
Even before the crisis, the trend in office design had been moving toward increased flexibility and variety to accommodate different types of workers. A 2020 U.S. Workplace Mobility Survey by architecture, planning and consulting firm Gensler found that 24 percent of office workers do all or part of their jobs at home, and two-thirds collaborate with colleagues in other locations. Sixty percent of those surveyed spent at least some time away from their primary office every week. The last four years witnessed the number of office workers at unassigned desks grow three-fold, and 20 percent used a coworking space at least one day a week. These trends reflect shifts in the character of the workplace as well as the influence of rent pressures on bottom lines: since 2010, the cost of class A office space increased by 25 percent in the U.S.
Early tech offices famously accomplished flexibility adolescents. and variety in the manner of a teen fantasy: open social spaces, well-stocked pantries, and ping-pong tables remain an obligatory cliché of the industry. Even cable monopoly Comcast has ping pong in its $1.5 billion, 59-storey Foster + Partners-design headquarters, completed last year in Philadelphia. "I believe that office buildings for the tech industries should give something back to their cities or places of residence," Norman Fosters says. "They should have a social heart, adapt to change, and be sustainable—it is not about the workplace in isolation."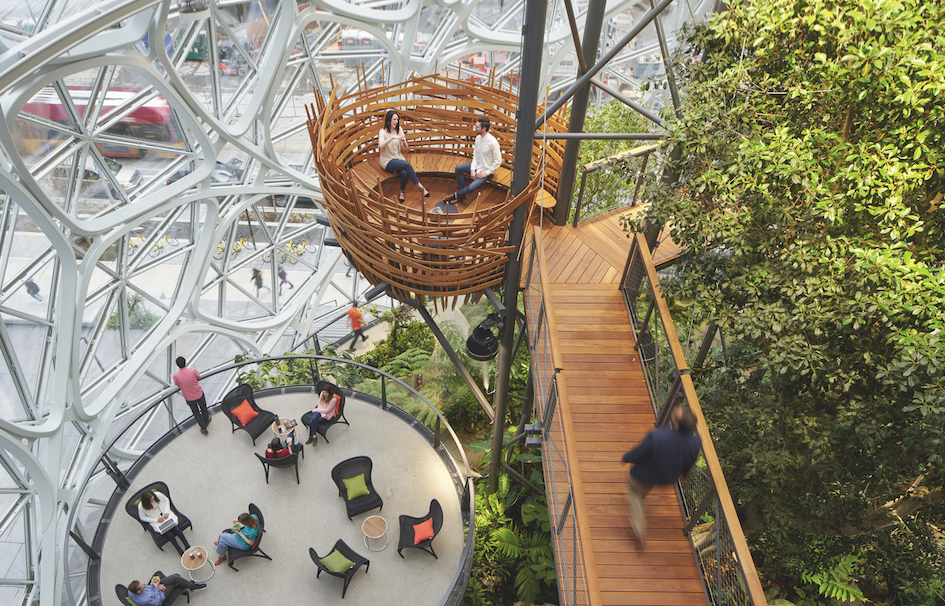 The Comcast building is packed with a variety of plush lounges, bars, restaurants, and cafés, allowing staff "great freedom in choosing how and where they work," according to Foster + Partners. It's this combination of the valorisation of freedom of choice and the increasing power exerted by information technology that may be axiomatic of what technology theorist McKenzie Wark calls the 'vectorialist class', a newly emergent inflection of power that Wark argues now constitutes the dominant mechanism of exchange, more important than capital itself. The flow of information is the central source of value in the contemporary economy.
---
To read to full article,
please visit our online shop
to purchase AA's May issue, dedicated to workspaces.