Cherished by architects, science fiction is not just a matter for film buffs drawing their urban visions from movies such as Metropolis (Fritz Lang, 1927), Blade Runner (Ridley Scott, 1982) or other Brazil (Terry Gilliam, 1985). AA has chosen to explore it as a 'predictive science', to borrow the terms of geographer Alain Musset. Paper architectures and urban utopias are understood as laboratories for the making of architecture and the city in a more or less distant future.
In this 454 issue, L'Architecture d'Aujourd'hui has chosen to share with its readers various scenarios for the future.
VISIT OUR ONLINE STORE
TO PURCHASE THIS NEW ISSUE
IN PAPER OR DIGITAL FORMAT!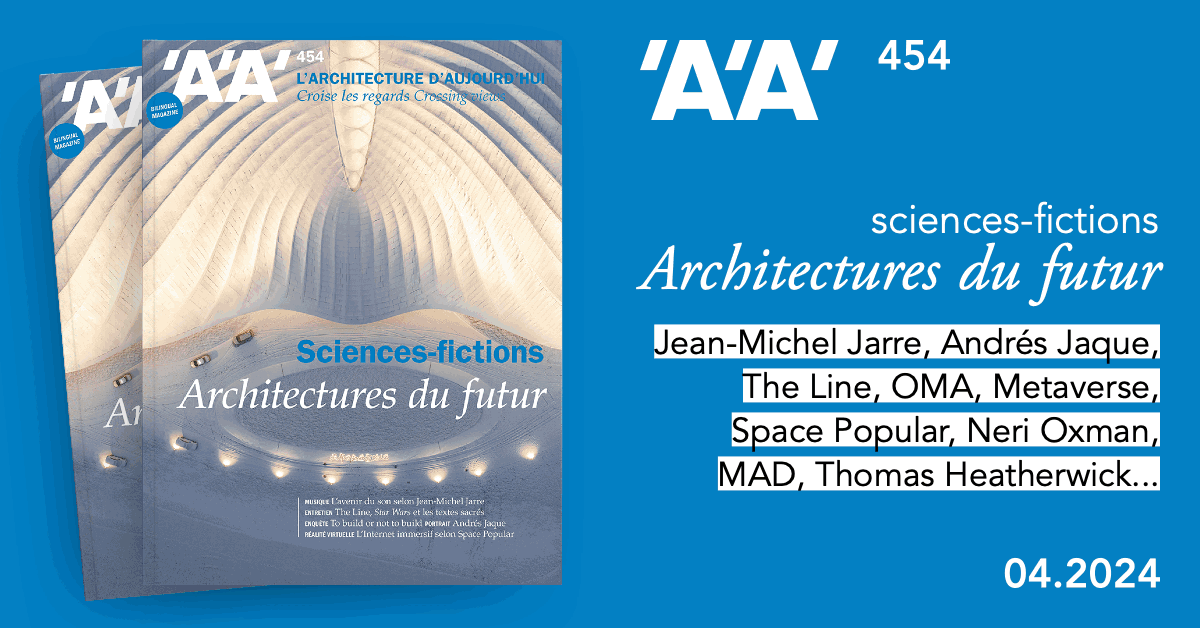 In this issue:
NEWS
In the eye of Bernar Venet ; our selection of exhibitions abroad ; recommendations from William Stout Architectural Books, San Francisco ; News, ENSA en lutte ; Philippe Starck's exhibition, Paris est pataphysique, Carnavalet Museum, Paris ; the M19 of Chanel in Paris, by Rudy Ricciotti ; the carnets du réemploi n°14 « Repurposing to Extend »… 
VIEWPOINTS
MUSIC — The future of sound, by Jean-Michel Jarre
DESIGN — Marion Seignan, Disappearing Act, by Christelle Granja
LIVING WORLDS — The blob, Species of the Future ?, by Anastasia de Villepin
PHOTOGRAPHY – Hong Kong XXI, as seen by Luc Boegly
PROFILE
Andrés Jaque, Velvet Dissident, by Andrew Ayers
Sitting in the shadow of Madrid's Palacio Real – that symbol of a vast and terrible empire, perched high on its rocky spur – Andrés Jaque's Spanish HQ are hidden two floors below ground, in the former archives of a leading Iberian insurance firm. Though found through happenstance, this discreet, secretive, almost sinister location seems fitting for an architectural practice that, from its very beginnings, has operated an underground campaign of activist dissidence in the face of established power structures.
REPORT
PRELUDE – Playtime Manifesto, Prelude to the Ontonautes by Aurélien Fouillet, cartographies  by Axelle Grégoire
SURVEY – To build or not to build, by Valérie de Saint-Do
INTERVIEW – Alain Musset, The Line, Star Wars and the Holy Books, interview by Emmanuelle Borne
HERITAGE – Delirious OMA Off the Wall, by Jean-Louis Violeau
VIRTUAL REALITY – Space Popular's Immersive Internet, by Emmanuelle Borne
LOOKING BACK – Éric Wasser, Heliodome, Cosswiller, Bas-Rhin, France, by Jean-Claude Raspiengeas
BUILDINGS
MAD Architects, Yabuli Entrepreneurs' Congress Center, Yabuli, Heilongjiang, China
OXMAN, study for Man-Naha ̄ta, New York, United States
Heatherwick Studio, The Vessel, New York ; Little Island, New York ; 1 000 Trees, Shanghai
ON AIR
A glimpse on the new partnership between AA and French radio France Culture: "When we Invite Nature to Colonise Architecture, How Far Can we go ?", interview with Pascale Dalix from the Office ChartierDalix, as part of the "Esprit des lieux" radio programme, by Tewfik Hakem.
TRENDS
In the news — Soprema Entreprises
Projects and products — AA's selection
Innovation — Significant Links, par Kriskadecor
by Lisa Agostini