A key construction company in Belgium, the Van Roey group exist for over two centuries and brings together ten companies, offering complete constructive solutions for public and private projects. Meeting with Kyoko De Fraeye, senior project manager for the group.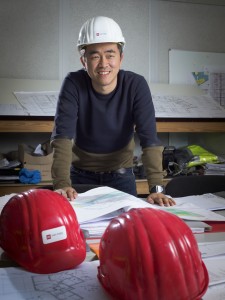 AA: Could you please tell us more about Groep Van Roey's philosophy, approach and activities?
Kyoko De Fraeye: Groep Van Roey is a construction group consisting of ten companies, which together offer complete solutions to both private and public-sector clients.
Our class 8 contractor companies Van Roey, vanhout.pro, Algemene Bouw Maes and Artem are leaders in general and industrial construction projects. In addition, vanhout.pro provides complete interior solutions and produces made-to-measure furniture in its own workshop. Staalbeton produces reinforcing steel and makes prefab concrete and metal joinery to measure, while Architon produces custom prefab construction elements in architectural concrete. Van Roey Vastgoed is active in residential and professional project development. Sportoase develops and operates multi-purpose sports and recreation venues. Services wants to unburden owners and users of buildings by optimizing the operational costs and the quality of life during the whole lifecycle of the building. Last but not least: IFTech is market leader in Belgium for the design, construction, installation and maintenance of geothermal energy installations.
We bring all parties around the table at an early stage: all stakeholders strive to create a win-win situation by working together in a construction team or public-private partnership. The combination of the creative input from our designers, our know-how and practical experience enables us to achieve the most sustainable and cost-effective solutions possible. We strongly believe that working together to tackle any potential difficulties and come up with the best solutions is the most effective way to safeguard budgets, quality, deadlines and safety.
We integrate the different steps in any process into a coherent whole, following a single guiding principle: our clients' needs. From design, build and finance to maintenance and operation, we consider all required components in advance because the overall cost of the total economic lifespan of a building is much more important than the cost of the initial investment.
We want to improve the quality of life of people through the creation of sustainable environments where people like to live, work, shop, learn and do sports. We build for people with a holistic vision of construction. This philosophy perfectly suits our culture built on quality, openness, commitment, respect for each other and teamwork.
AA: What are the key dates and achievements in groep Van Roey's history?
Kyoko De Fraeye: In 1740, Andreas Van Rooij started restoring the organ case and the furnishing of the Saint Michael's church in Brecht. Since then, the Van Roey family has been continuously active in the construction and related sectors.
In 1928, the foundations of today's construction group were laid with the acceptance of the first major masonry works. Reconstruction after the Second World War resulted in a boom in the construction industry and a spectacular development of the company's activities.
In 1982, Staalbeton became part of groep Van Roey, followed by vanhout.pro in 2003, Sportoase in 2005, Algemene Bouw Maes (60% participation by groep Van Roey) in 2007 and Artem & Architon in 2014. In 2018, IFTech became part of the group through a structural partnership with groep Van Roey, as was the case for Bao Living, through corporate venturing with groep Van Roey.
AA: What kind of solutions do you propose to support the projects in which you are involved and can you name some iconic projects you have worked on? 
Kyoko De Fraeye: Today's project leader is more than a mere contractor. We aim to participate in a project by offering the client our practical expertise throughout the journey towards completion.
It may be the only construction project in the client's lifetime so we have to make sure we get it right. Our input is valuable because we approach a project based on a different, more practical mindset. For example: "Will that door be convenient to use?" or "Isn't a certain investment too much considering the limited use?"
We aim to deploy this expertise to the benefit of the client and the process as much as possible. Because modifications implemented at a late stage in a construction project are often extremely detrimental in terms of costs, timing and quality.
Among the iconic projects I have worked on, I could mention the 135,000-sq.m. K shopping centre, a mixed-use programme including retail, housing and warehousing located in Kortrijk, West Flanders. It is a very sustainable building thanks to the selected insulation, green roofs and the night cooling. I also worked on the almost energy neutral AGC Glass Europe headquarters, a 13,000-sq.m. office building located in Louvain-la-Neuve.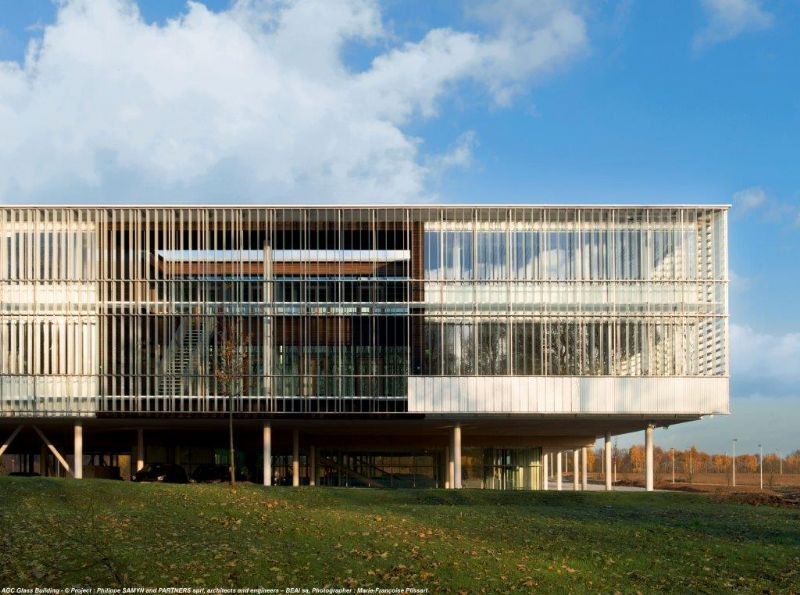 AA: You recently completed -with KAAN Architecten- the Utopia project, a library and academy for the performing arts in Aalst, Belgium. Could you tell us more about your approach and work on this specific project, as well as your collaboration with KAAN's team?
Kyoko De Fraeye: Our expertise proved very useful for the Utopia project in Aalst. Because as a group, we prefer the method of working within a construction team where we bring all stakeholders together proactively.
We fulfilled the client's request to realise the project in a sustainable way by obtaining a BREEAM 'Excellent' design. Sustainability is a broad term. An objective assessment method is needed to provide a clear frame of reference. A BREEAM certificate fulfils that need. The sustainability of a building is assessed objectively based on various criteria.
Plus, the BREEAM method ensures that all stakeholders (from suppliers and the construction team to construction management) keep sustainability in mind throughout the project. Because everyone is responsible for making sure that a high score is achieved in all categories.
The Utopia project does not qualify for the standard BREEAM rules. A standard approach is provided for buildings such as offices, hospitals, shops and schools. Utopia, which combines a library with an arts academy, required a custom BREEAM approach. Luckily, I was already quite experienced with BREEAM, which allowed me to do a good job managing the project team. The basic methodology used is BREEAM New Construction 2016.
The collaboration with KAAN Architecten proceeded smoothly, just like with the other construction team members. This way of collaborating requires the necessary transparency and mutual respect and trust, which was certainly the case.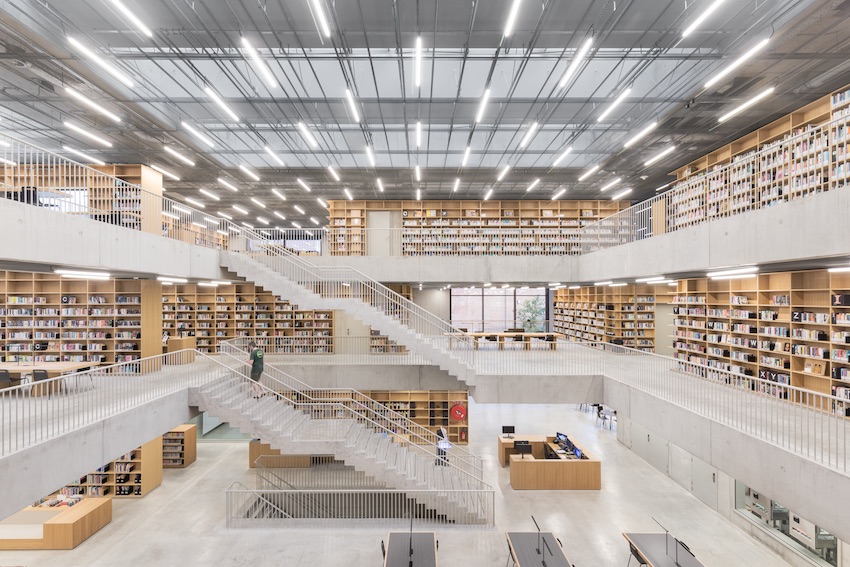 AA: Could you name a few projects -to be completed in 2020- you are currently working on?
Kyoko De Fraeye: Two projects that I am currently working on with my team stand out. Firstly, the Niel municipal elementary school project where we are responsible for the design, construction and post-delivery maintenance. This is a BEN project (Bijna Energie Neutraal – Almost Energy Neutral) which means special attention is given to the use of sustainable materials and techniques such as proper insulation, a thoughtful and maintenance-friendly choice of materials, recycling of rainwater, LED lighting and solar panels. Characteristic of this project is that it is a beautiful site, where the school children get to play in the forest. Of course, we wanted to preserve that green space. This means that the construction site design needs to take the presence of the trees into account. In addition, construction takes place in stages because the school remains operational throughout the works. This requires accurate planning and coordination!
Secondly, there is the Public-Private Partnership (PPP) for Wezenbeek-Oppem. We are realising a dynamic centre with modern services and greenery with a focus on experience in the heart of the municipality. A continuous green area is being constructed around the public buildings. The field behind it is being transformed into a public park. Plus, we are constructing 107 apartments in six residential buildings. This project is an excellent practical example of our mission to improve people's quality of life by creating sustainable, liveable environments where people love to live, work, shop, learn and exercise.
On top of that, I am also responsible for the following projects: De Zavel residential care centre in Antwerp, Koningslo sports centre in Vilvoorde, near Brussels and Engie Fabricom headquarters in Hoboken, near Antwerp.
—