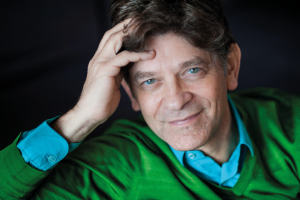 Architect and urban planner by training, Philippe Trétiack is a journalist and writer. He has been a reporter for thirty years and collaborates with several magazines, including Vanity Fair, ELLE Décoration and Air France Magazine … As an author, he has published some twenty books including Faut-il pendre les architectes ? (Seuil, 2001), De notre envoyé spécial (Editions de l'Olivier, 2015), and L'Architecture à toute vitesse (Seuil, 2016). In AA's pages, Philippe Trétiack decodes, with a certain sense of humour, the architectural jargon in the Quid ? column. In AA 426, he dives into "reinventing".
These days, everything is being endlessly reinvented. "Reinventing Paris" on the one hand, "Reinventing the Seine" on the other. Nothing appears to be able to escape this intense redesigning movement: the Mediterranean city, the Metro plan, citizenship and even, I have read, literary criticism – proof that far from being confined to the urban emporium, the epidemic extends beyond and impedes the most frivolous of disciplines. Yet, if there is a world in which everything gets reinvented every six months it is fashion; a world of feverish excitement in which the acceptable approach is to pillage other designers' work. It is hardly surprising that the city has become an object of fashion. Any self-respecting mayor dreams of distinguishing his town with a micro-district reinvented from the drains to the street lamps.
In the continuous rush to reinvent, the life expectancy of ideas, even if they are brilliant (which is rare and even extremely uncommon) has diminished sharply. Why yes! You must give way to your successors to enable them in turn to re-reinvent. We are endlessly going back on our footsteps. It would appear that inventing is not enough, that we must reinvent and redevelop what was already developed in the past. The inventors falter. Under the fiery heat of "culture", a trembling winning spirit now relentlessly pushes old ideas into the background to replace them rapidly with identical ones, but duly certified. It is wonderful, but it matters little! The acceleration of the process is its own antidote. Only the hype remains after all the reheated ideas have been dampened by their successors. And it is all the better!
When a cheap Neapolitan swears that he reinvents his pizza every time it comes out of the oven, you realise it is a con. When a publisher reinvents Dostoevsky, Pessoa or George Orwell with masses of new translations, there again it is easy to spot a lucrative venture, but in our world of cities and regions, in places where the creative process requires decades to gain recognition, quick reinvention can be seen at every level. Anyone who lends an ear can hear in the groaning of the forms and beams, the droning sound of the naïve, astonished to see an exposed past reinvented. Pinch me, I think I am dreaming… again.
Find Philippe Trétiack's Quid in L'Architecture d'Aujourd'hui Nr. 426, available here.