To celebrate the 40th anniversary of Cersaie - the international trade fair for ceramics and bathroom furnishings (25-29 September 2023 in Bologna), L'Architecture d'Aujourd'hui is publishing a series of articles about ceramic materials in architecture and innovation in the field. Let's stay in Italy for the third and final leg of our journey.
---
At Arco in northern Italy, not far from Lake Garda, Italian architects Noa have partially converted the Serve di Maria Addolorata monastery into a unique hotel with a peaceful and relaxing atmosphere.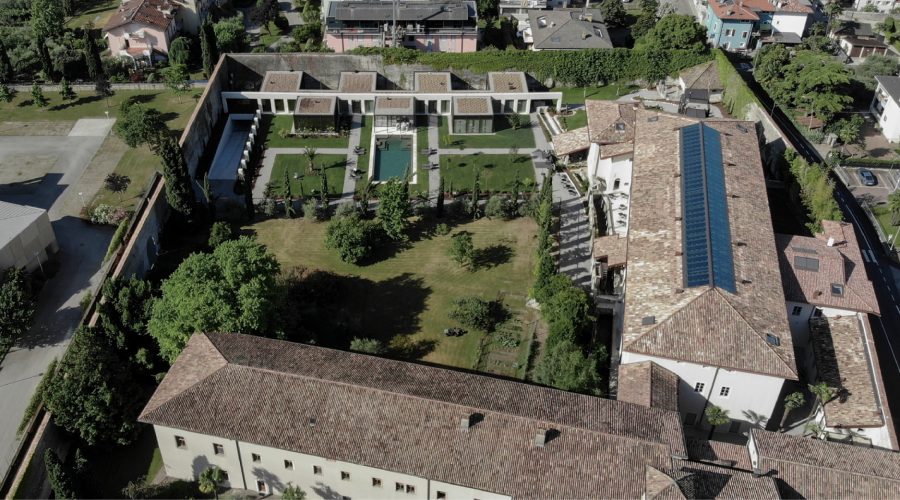 Entirely enclosed by a 7-metre-high wall, the monastic centre has been divided into 2 parts: one stay a church and cloister, while the other has been converted into a 40-room hotel and a relaxation and wellness area of over 500 sq.m in the garden.
The site was built during the 17th century, and the major restoration project was carried out in collaboration with the Trento Cultural Heritage Office. "It was the first time we had worked on a building classified as a historic monument," notes architect Francesco Padovan.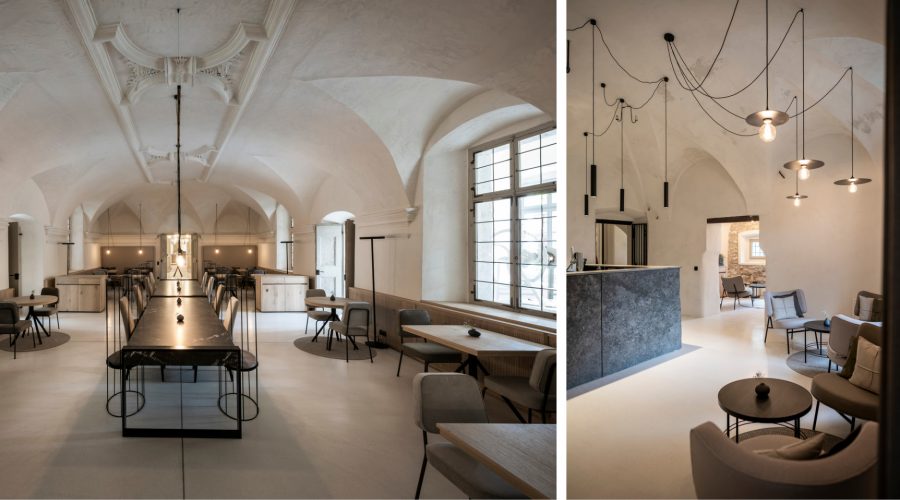 In the building that was converted into a hotel, the layout of the spaces, different and remarkable on each floor, has been preserved. On the ground floor, a central cross-vaulted space, surrounded by a ring-shaped corridor, distributes the common rooms (reception, hall, breakfast room, bar and kitchen). On the first floor, an impressive 50-metre long corridor with wooden beams on the ceiling leads to monastic cells. These have been joined together in pairs and converted, one into a bedroom and the other into a bathroom. On the second floor, the monumental wooden roof structure has been restored and the glazed to flood the corridor and the bedrooms with light through transom windows.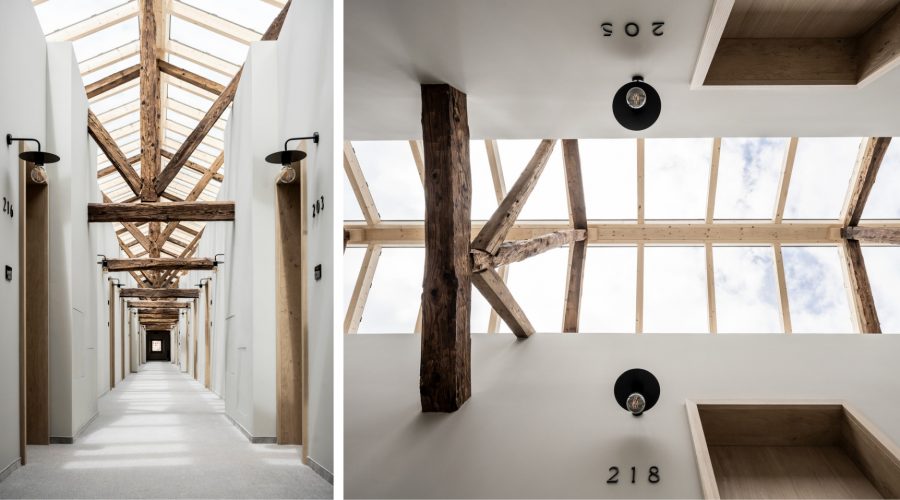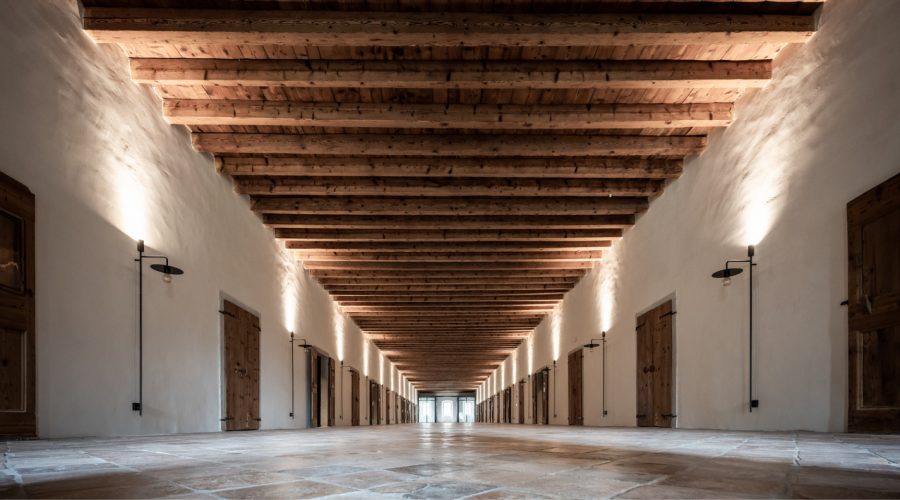 For this project, interior designer Niccolò Panzani wanted to preserve "the feeling of peace and tranquillity that the monastery has managed to preserve for centuries", a feeling that he translated into an atmosphere of "pleasant austerity". The architects therefore chose to maintain clarity in both the layout of the spaces and the choice of colours and materials. The light-coloured wooden cell doors were saved, and the terracotta floor in the ground floor corridor was restored, but other new materials were selected.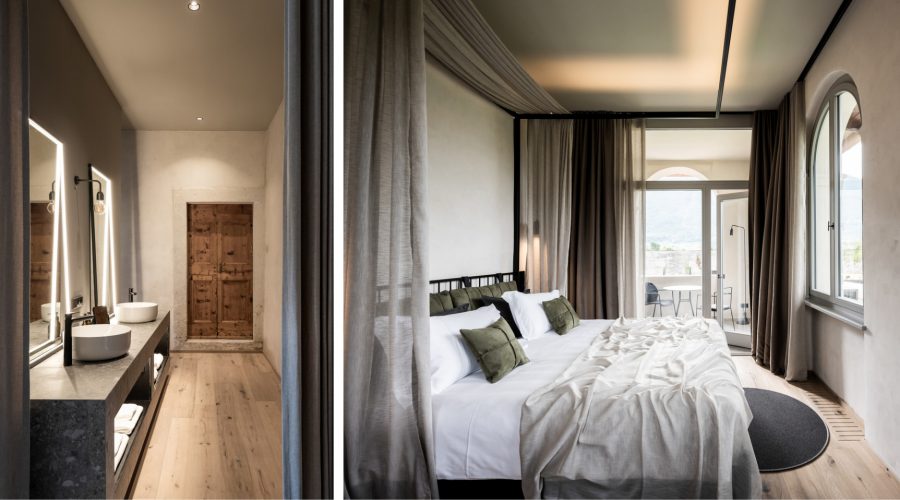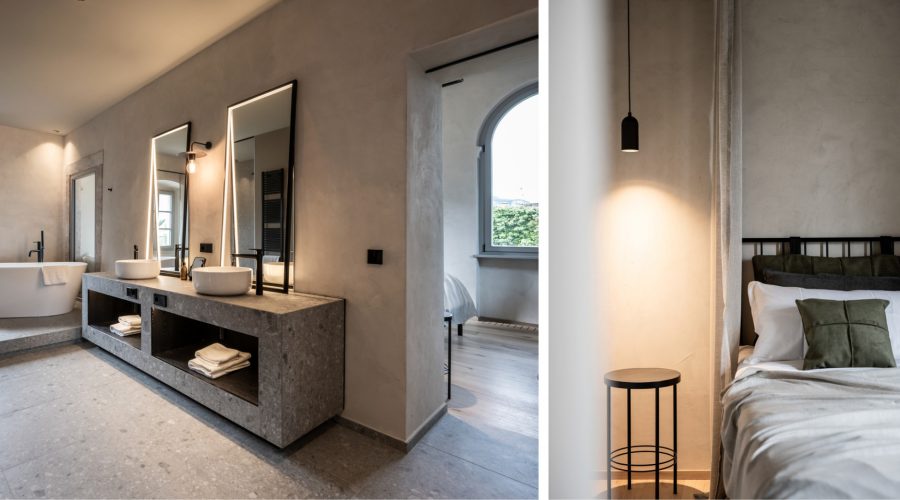 On the upper floors, Stoneone tiles by Marca Corona were used in the corridors, while Ceppo di Gré tiles from Marazzi's Mystone collection were chosen for the bathrooms. These surfaces combine the character of stone with the functional advantages of porcelain, perfectly matching the light and peaceful atmosphere of the old monastery.
Warmer colours were chosen for the new wellness area, including porcelain tiles from the Sensi range designed by Matteo Thun & Partners for Florim.