The Marmi Maximum collection, one of the flagship collections of the Italian brand Fiandre Architectural Surfaces, has been enriched with 9 new ranges inspired by Marble: Bardiglio Sublime, Breccia Mirabile, Calacatta Dorato, Cremo Superiore, Lepanto Rubino, Nero Damascato, Grand Carnico, Divine Blue and Majestic Onyx.
More informations on 

www.granitifiandre.com
---
Marble is a metamorphic rock derived from limestone and made up mainly of calcite crystals. It is this mineral that gives marble its white colour, while the characteristic marbling of this rock is due to inclusions of various types of metal oxides. There are more than 500 varieties of marble, all of which differ in colour or in the quantity and thickness of their marbling. The surfaces produced by Fiandre are cleverly made of stoneware, and marble is their source of inspiration.
After developing new formats to reduce environmental impact, Fiandre Architectural Surfaces is renewing the Marmi Maximum collection with nine new textures available in the large format 300×150 cm and in the sub-formats 150×150, 150×75, 75×75, 75×37.5 cm. A wide range of possibilities for floor and wall arrangements, but also for individual elements such as bathroom furniture, tables and worktops, sliding doors, movable partitions, shelves or seats.
The nine new ranges of the Marmi Maximum collection are inspired by precious marbles, their colours and textures illuminating the spaces and giving character and elegance to the rooms they cover.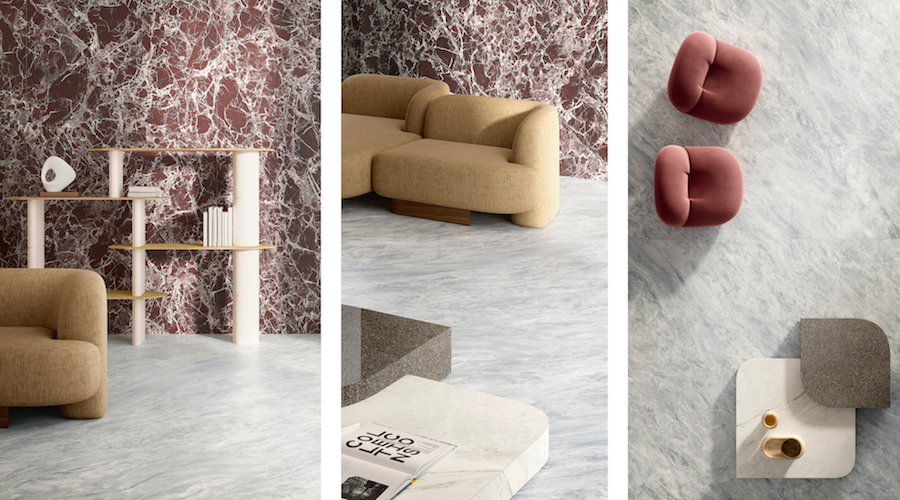 ⇧ Bardiglio Sublime
The impression of a grey, veiled sky, on which vaporous white marbled lines are moving. A movement, almost parallel, which sometimes stops and gives a real impression of the depth of a cloudy sky.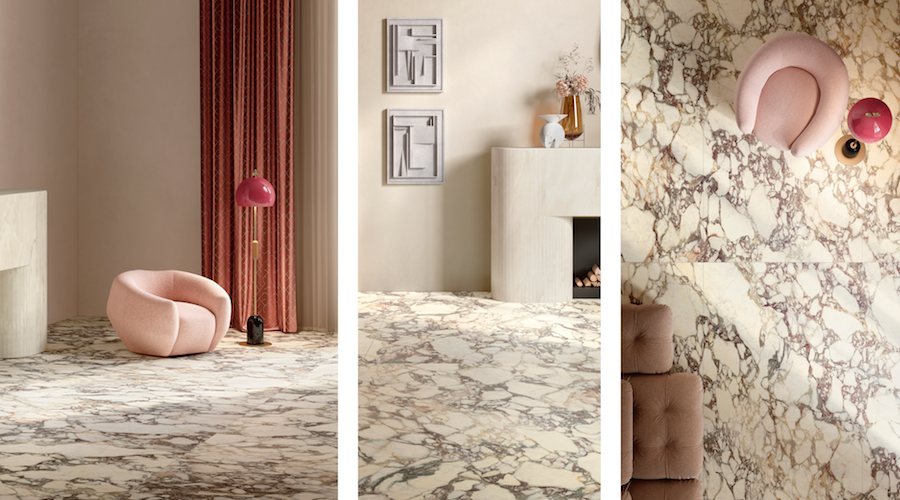 ⇧ Breccia Mirabile
The immediate evocation of the splendour of the most beautiful ancient villas. On a soft, creamy white background, the marbling in classic violet tones draws the free figures of a living composition. In some areas, shades of green and pink are mixed with almost golden touches and together offer a perfect polychromy.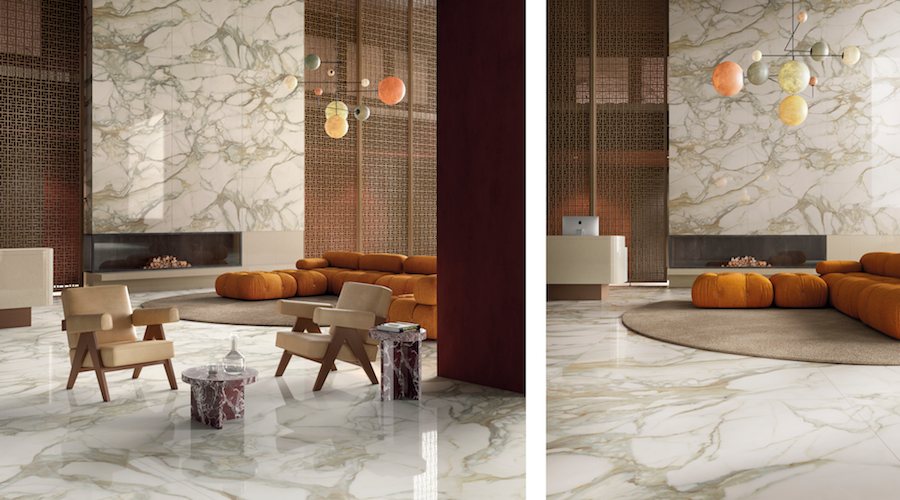 ⇧ Calacatta Dorato
An ivory white canvas on which marbling oscillating between grey and gold draws a discontinuous weft that animates the surface. The precision in the details, such as intrusions and crystallisations, underlines the refinement of the texture.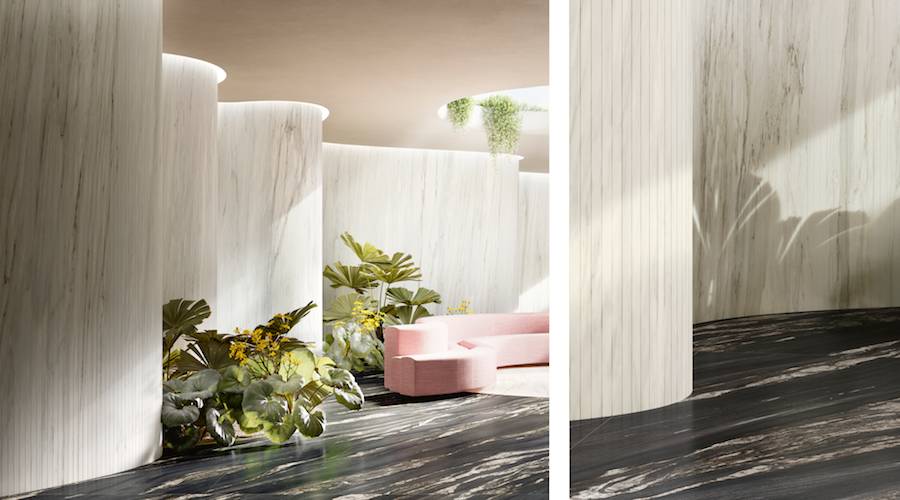 ⇧ Cremo Superiore
A tumultuous cascade of stripes and streaks, aligned and arranged over the entire surface, drawing thick pearl-grey mottles in places and intense beige traces elsewhere.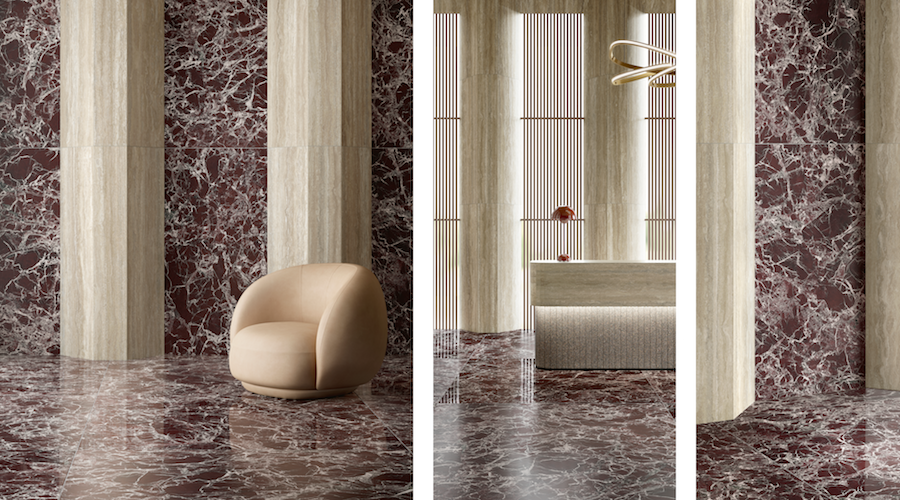 ⇧ Lepanto Rubino
Majestic and imperial, this texture presents a surface between purple and burgundy on which a network of very fine white marbling unfolds, sometimes pierced by darker holes. A true mineral masterpiece.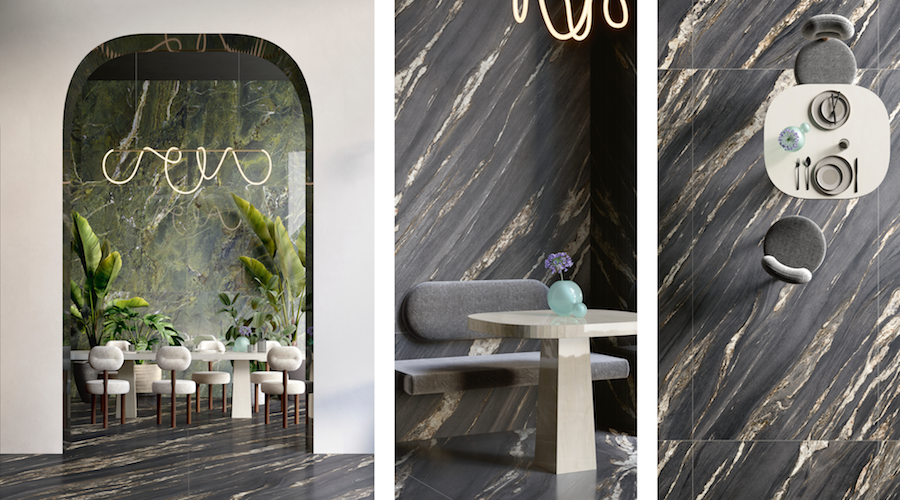 ⇧ Nero Damascato
Like a theatre set, against a deep black background, mineral arabesques and brown gold flames animate and punctuate the surface, giving it dramatic power.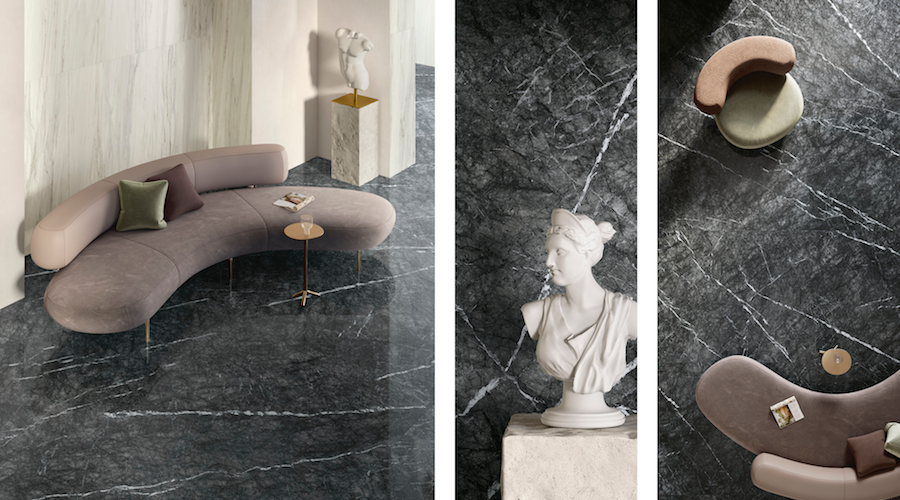 ⇧ Grand Carnico
On a grey limestone background, white marbling, like nervous and unpredictable pencil strokes, draws a network of very fine, ash-coloured lines.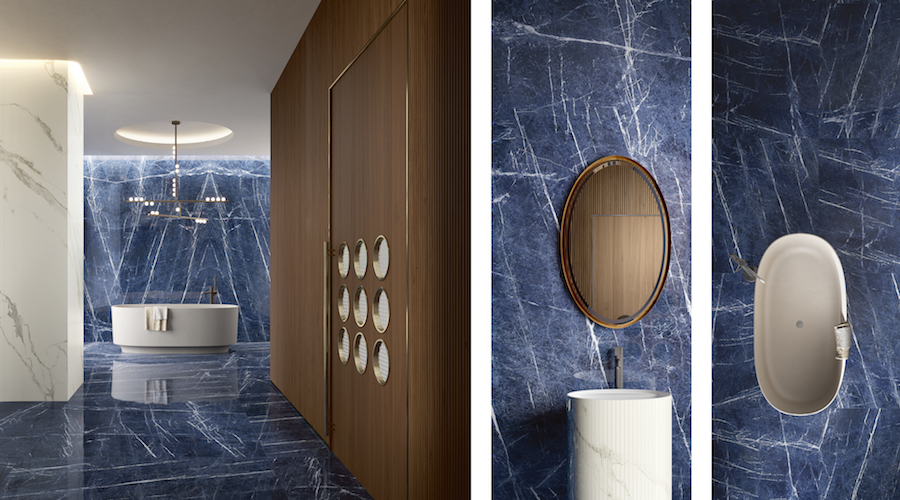 ⇧ Divine Blue
The rarity of a deep, rich marmoreal blue sublimated by clear, very light marbling in green or cobalt.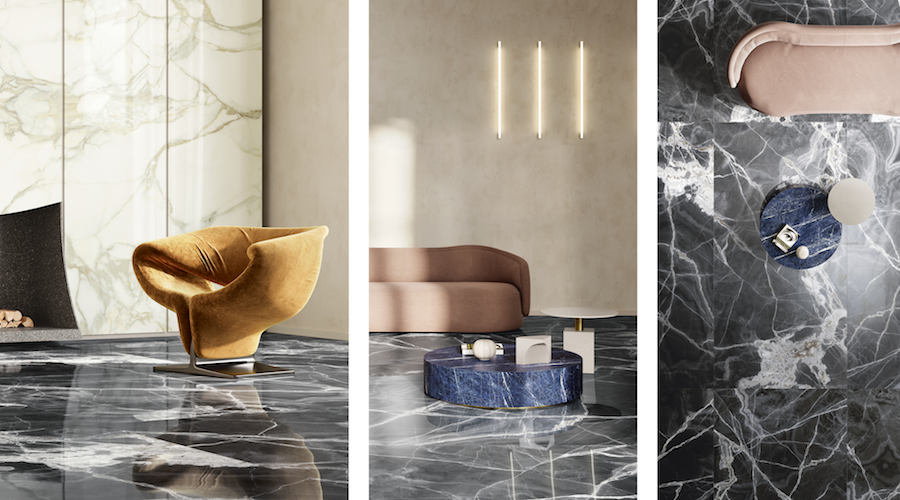 ⇧ Majestic Onyx
On a brown marbled surface in which the stratifications of the stone can be read, beige and cream marbling draws the furrows of a trajectory with random dynamics.
Maximum surfaces combine strength, durability, ease of maintenance and ecological commitments. During production, all machining waste is collected and reintroduced into the production cycle to preserve natural resources.