To celebrate the 40th anniversary of Cersaie - the international trade fair for ceramics and bathroom furnishings (25-29 September 2023 in Bologna), L'Architecture d'Aujourd'hui is publishing a series of articles about ceramic materials in architecture and innovation in the field. The second leg of our journey takes us to Italy.
---
In northern Italy, Italian architect Alfonso Femia is preserving the local architectural tradition of ceramics. Recently in Milan and soon in Bologna, the architect covers the façades of the buildings he designs with coloured ceramic tiles.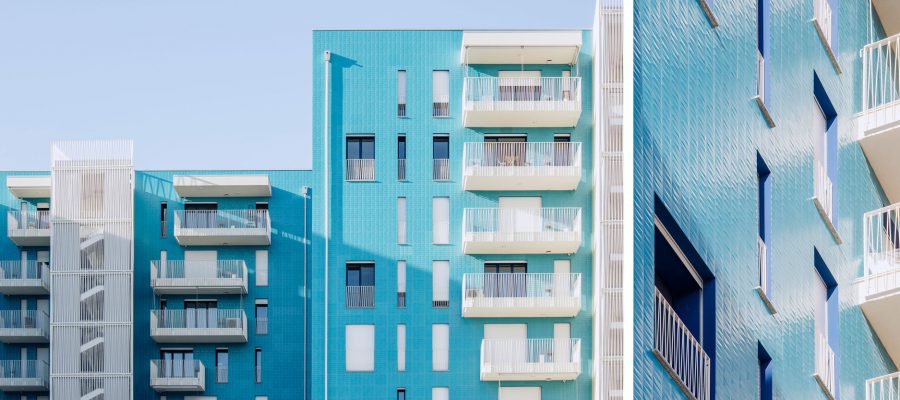 In 2020, in the vibrant Lambrate district of Milan, Atelier(s) Alfonso Femia delivered the 'Living in the Blue' project, a residential complex built on a former industrial site in full transformation. The buildings are organised in such a way as to facilitate movement and interaction. The exterior façade of the plot uses two different types of concrete to create a pattern inspired by the work of artist Bruno Munari. On the courtyard side, ceramic tiles specially developed with the Italian ceramist Casalgrande Padana to create a virtually invisible joint form an ocean of bright blue. The colour blends with the sky to tone down the height of the building, while the ceramic surface catches the light and reflects it back to the centre of the plot.
Recently, in Via Balilla, Milan, the architect also chose ceramics to illuminate the façade of a student residence. Located near the Bocconi University campus, the four-floor building, in the anonymous style characteristic of the post-war period, was given to the Ateliers Alfonso Femia for a complete transformation and requalification. On the street side and in the entrance hall, ceramic tiles cover the façade and walls. Their "diamantata" (facetted) shape plays with shadows and colour; the blue shades of the surfaces vary throughout the day and with the seasons.
Finally, we leave Lombardy for Emilia-Romagna. In Bologna, the Ateliers Alfonso Femia began work in 2020 on 121 social housing units distributed over 7 buildings, the highest one will have 11 floors. In this project, the ceramic tiles are applied to the lower part of the 7 buildings, forming a sort of red thread – the colour chosen for the tiles – that unifies the whole. This red ceramic also covers the facades of the 3 towers of the plot, transforming them into flagship buildings and giving the project all its character.