Whether it is a shelter, a hut, a sculptural pavilion or an experimental structure, architectural follies can take any shape. Before it was used for the coy buildings that 17th century aristocrats built at the bottom of their gardens, the 'folly' simply means also 'madness, unreason'. Is it serious then, to devote an entire issue to structures that, at first glance, have no urgency about them; one could even see them as an embodiment of frivolity in a world that's going to hell in a handbasket?
For its October-November 2022 issue, L'Architecture d'Aujourd'hui confronts the question, and reveals that, beyond appearances, these contemporary follies can be a test bed for trying out new concepts, ideas and intuitions, channelling a wellspring of ideation in a time of conceptual and material drought.
VISIT OUR ONLINE STORE
TO PURCHASE THIS NEW ISSUE
IN PAPER OR DIGITAL FORMAT!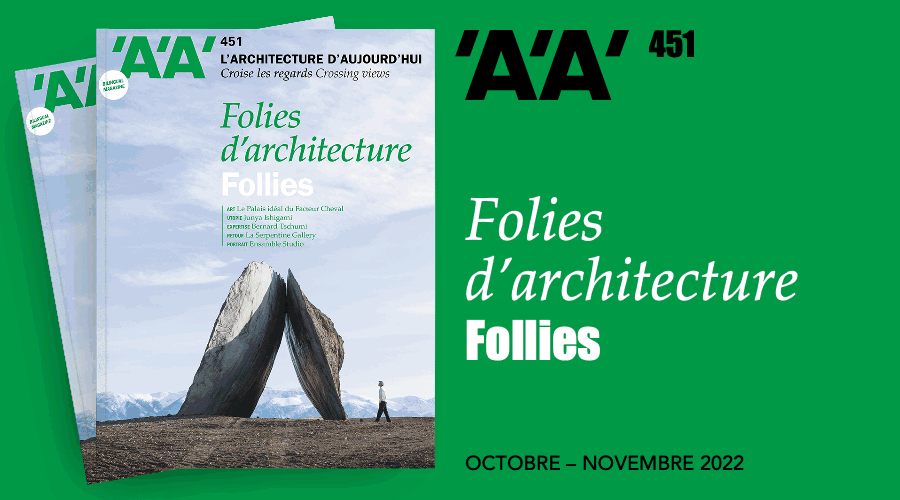 In this issue:
NEWS
Through the eyes of Catie Newell; the bookshop's selection of Llibreria Finestres; the renovation of the French national library by the Atelier Gaudin and Jean-François Lagneau; the renovation of the Brasserie Madame, on the first floor of the Eiffel Tower by Encore Heureux and RF Studio; eleventh part of the Reuse Notebooks: Questioning Use…
VIEWPOINTS
INTERVIEW – « Do not touch nothing » Frédéric Legros, director of Postman Cheval's Ideal Palace, by Emmanuelle Borne
CINEMA – Dan Graham's Follies, by Christophe Le Gac
PHOTOGRAPHY – The Bridge in Cergy-Pontoise, captured by Luc Boegly
PORTRAIT
Ensamble Studio, Gravity Without Mass, by Andrew Ayers
« Our practice is not an architectural office. We have an art practice and a tech company. Architecture is when the two connect, » say Antón García-Abril and Débora Mesa, from Spanish office Ensamble Studio, whose remarkable work bridges the boundary between blue-sky thinking and hands-on DIY.
REPORT
INTRODUCTION – Little Sexy Things, by Benjamin Lafore et Sébastien Martinez-Barat
HERITAGE – Folly Gardens, by Chiara Santini
EXPERTISE – Bernard Tschumi, a Follies Architect, interview by Emmanuelle Borne
UTOPIa – Junya Ishigami's Daydream, by Andreas Kofler
BUILDINGS
Serpentine Gallery Pavilions, London, United-Kingdom, by Edwin Heathcote
Gijs Van Vaerenbergh, Waterline Monument, Utrecht, Netherlands
Snøhetta, Path of Perspectives, Innsbruck, Austria
RSHP, Richard Rogers' Drawing Gallery, Château La Coste, France, by Stephen Barrett, RHSP Partner
Kéré Architecture, Xylem, Montana, United-States
Effekt, Camp Adventure Observation Tower, Gisselfeld Kloster, Denmark
Boltshauser Architekten, Kiln Tower, Cham, Switzerland
Alberto Burri, Il Grande Cretto, Gibellina, Sicily, Italy
TRENDS
In the news — Renson
Projects and products — AA's selection
Innovation — Copytopia
by Lisa Agostini