On 1st January 2022, France took over the rotating presidency of the European Union for six months. This is an opportunity for AA to look into the work of young European architects.
How do they consider the future of the profession in their respective countries? What are their main challenges and aspirations? Are the programmes the same in Porto, Stockholm, Brussels and Paris? How to recover from the health crisis when starting an office, facing new societal and environmental issues? Young guard and cross-border reflections will be at the heart of this first issue of the year 2022.
FIND THIS NEW ISSUE
IN PAPER OR DIGITAL FORMAT
ON OUR NEW

ONLINE STORE

!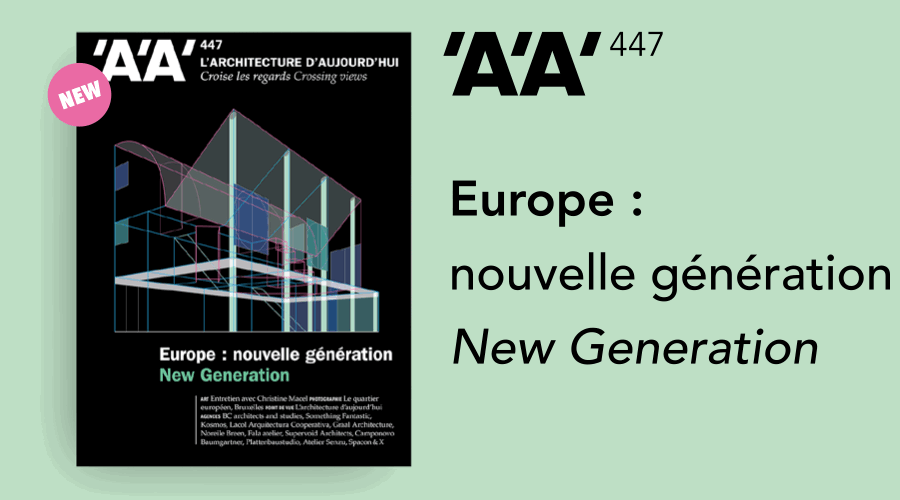 In this issue

NEWS
Through the eyes of Teresa Moller ; Books selection ; the new Comédie de Genève by FRES Architectes ; Ice Cubes in China by  Zone of Utopia and Mathieu Forest Architecte; the reuse notebooks by Vincent Laureau et Victor Meester ; buildings, exhibitions, visits and AA's lifestyle selection …
VIEWPOINTS
ART — Interview with Christine Macel, by Emmanuelle Borne
DESIGN — Catalogue raisonné, by Anastasia de Villepin
PHOTOGRAPHY — European district of Brussels, by Luc Boegly
REPORT
VIEWPOINT — The Current Class, by Ewa Effiom
INTERVIEW — with  Isabel Concheiro, by Christophe Catsaros
EXTRACT — Collective Processes,  Birkhäuser edition

OFFICES —
BC architects and studies, Belgium
Something Fantastic, Germany
Kosmos, Russia
Lacol arquitectura cooperativa, Spain
Graal Architecture, France
Noreile Breen, Irland
Fala atelier, Portugal
Supervoid Architects, Italy
Camponovo Baumgartner Architekten, Switzerland
Plattenbaustudio, Germany
Atelier Senzu, France
Spacon & X, Denmark

TRENDS
In the news — Bluedigo
Projects and products — AA's selection
Innovation — Ori Living
by Yên Bui