Founded in 2016 by Elise Giordano, Charlotte Lovera and Louise Dubois, Atelier Aïno is a Marseille-based multidisciplinary agency that blends architecture and textile design. "From the outset, we wanted to combine our skills to introduce the study of materials into architectural projects," explains Louise Dubois, textile designer. Thanks to an initial pilot project in 2017, the young agency is the 2018 winner of the Albums des Jeunes Architectes et Paysagistes. Their credo? Conservation of what already exists. Every place has a history and deserves to be enhanced".

In 2023, in Septèmes-les-Vallons in the Bouches-du-Rhône departement (France), the renovation of seven buildings and the extension of two dwellings will enable them to put their money where their mouth is. Louise Dubois talks to AA about this project, which involves "conserving, repairing and enhancing an emblematic heritage site".

---
Interview by Eléonor Gras
Could you tell us about the origins of the project?
Louise Dubois : The project was initiated by the municipality of Septèmes-les-Vallons, on the outskirts of Marseille, which bought back buildings in a very poor state of repair to prevent them falling into the hands of developers. It then launched a call for tenders in July 2020 to renovate them. The aim was to create quality housing to meet growing demand, while preventing buildings from falling into disrepair. This is a recurring problem in the south of France, and it is important that public institutions get to grips with the issue. That's why a communications operation is also part of the commission. Our team, supplemented by other professionals, was selected. Delivery of the project, on which work has already begun, is scheduled for January 2024.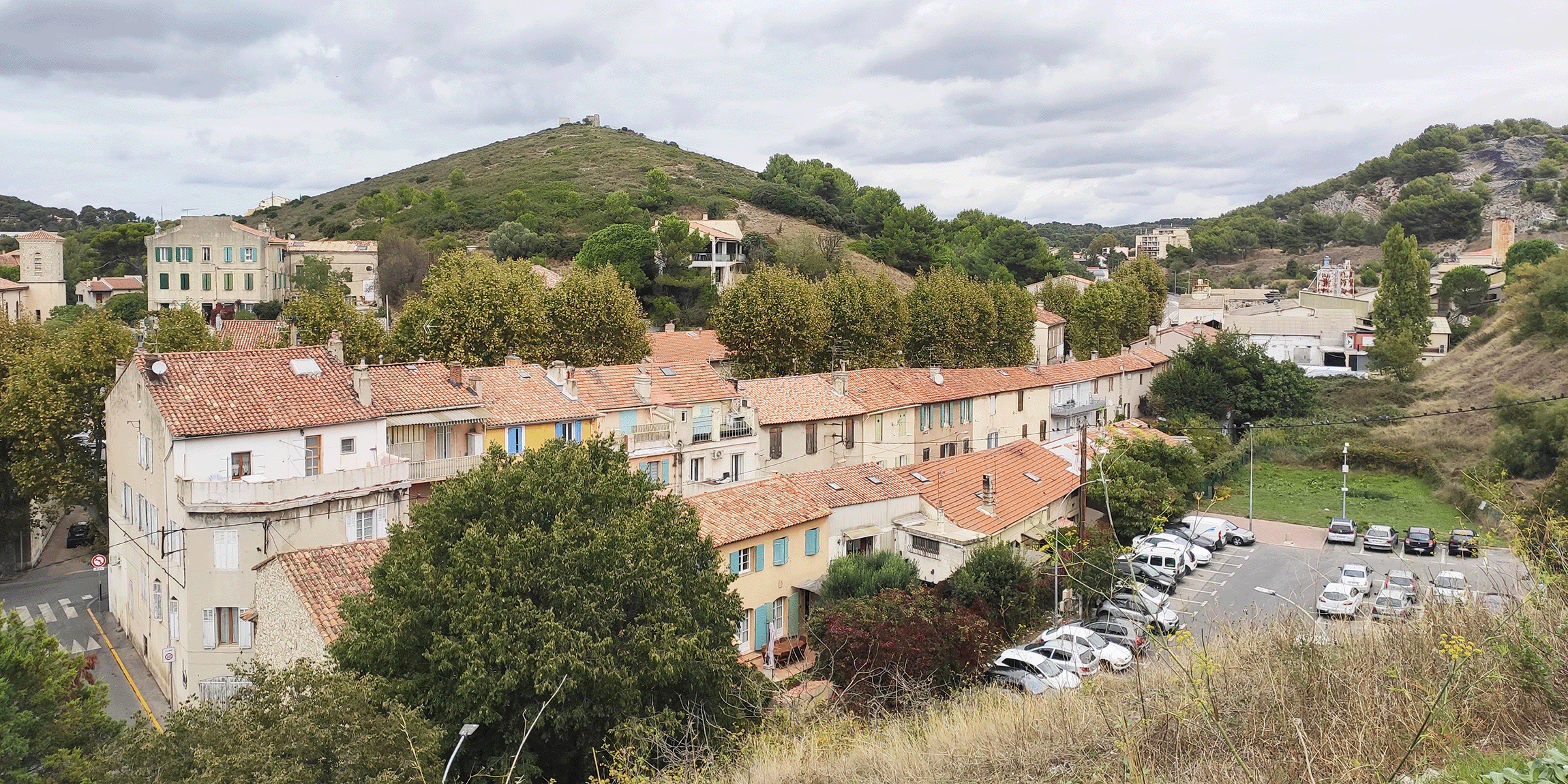 The question of materials is fundamental to your work. How did you deal with it in this case?
At Septèmes-les-Vallons, we made the drastic choice to leave all the existing floors in place, even those from recent renovations that were not the most aesthetically pleasing. Similarly, all the joinery was retained, whether it remained in place or was stored for a future project. It is also interesting to find a new function for non-conforming elements. For example, single-glazed windows became transparent interior partitions. At such times, it's important to be accompanied by professionals with experience in renovation (including knowledge of the building's hygrometry).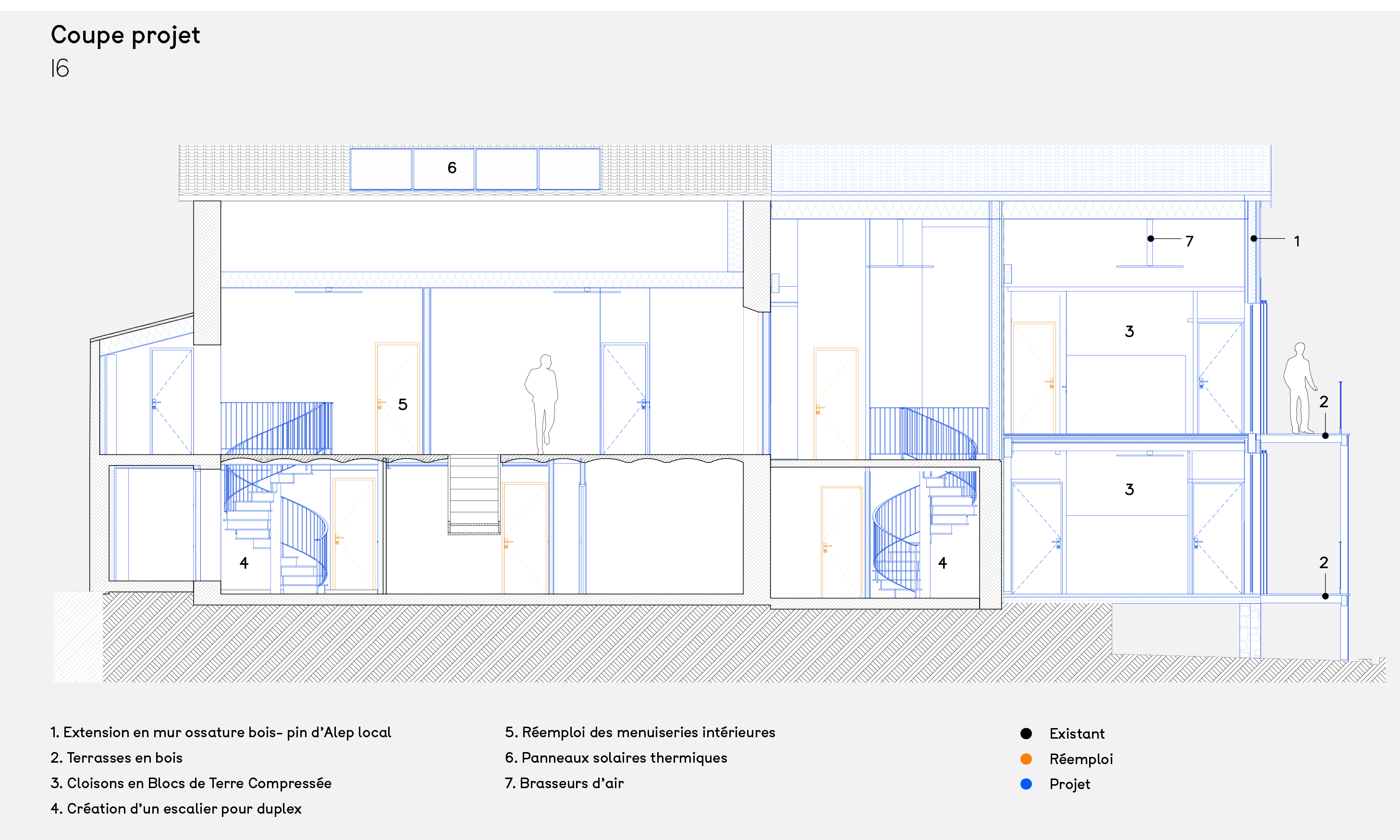 In some places, it is necessary to use new materials. For this project, we created duplex apartments that required new staircases. Steel was chosen because, as well as being available, it can easily be sourced from nearby recycling areas. Varnished in a bright colour, it adds a contemporary touch and stands out from the existing structure into which it is inserted. We chose not to use concrete, in favour of local wood: Aleppo pine, recycled through local channels. Finally, the use of local materials, whether in situ (reuse) or from the surrounding area, is a real time-saver during the construction period.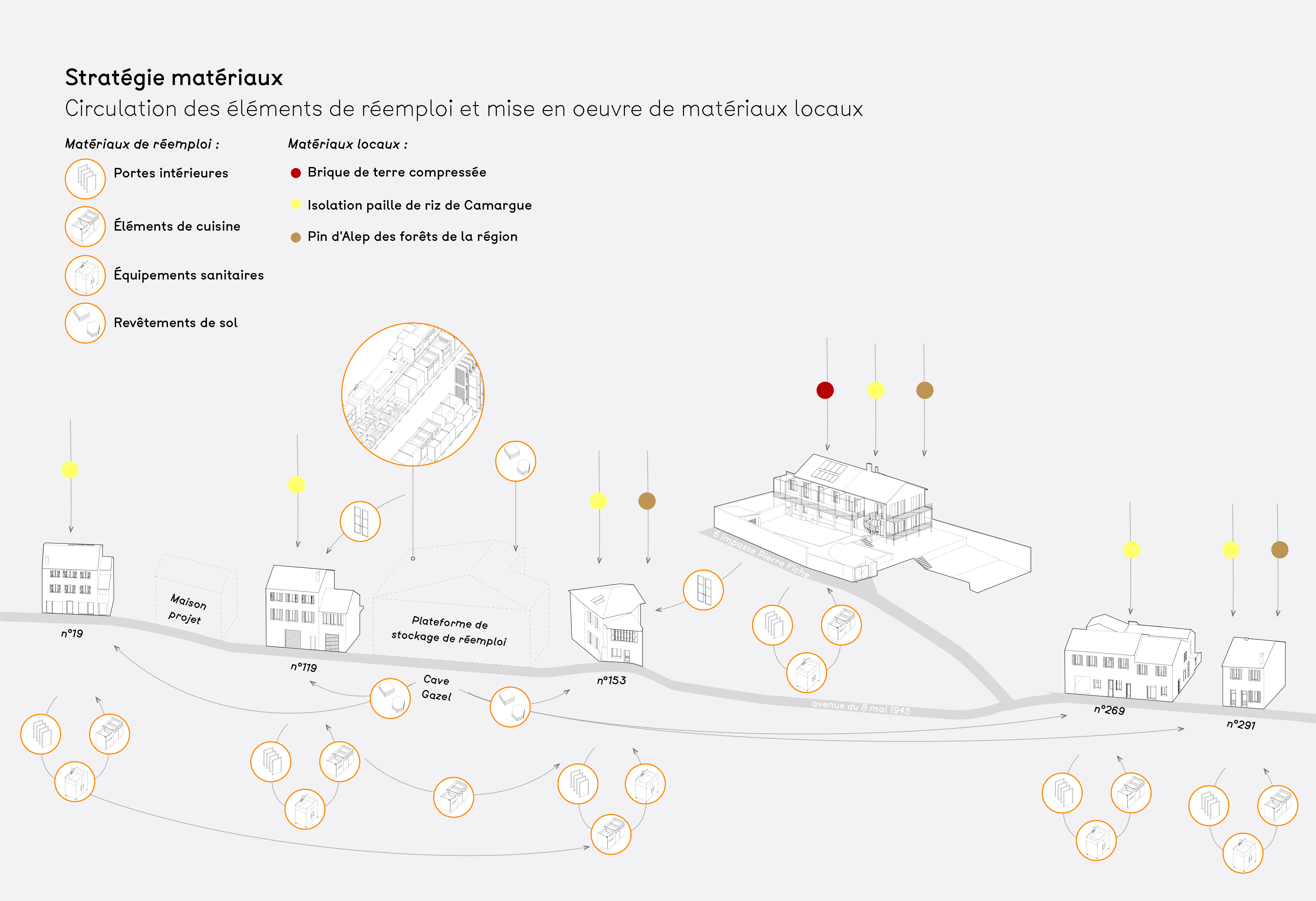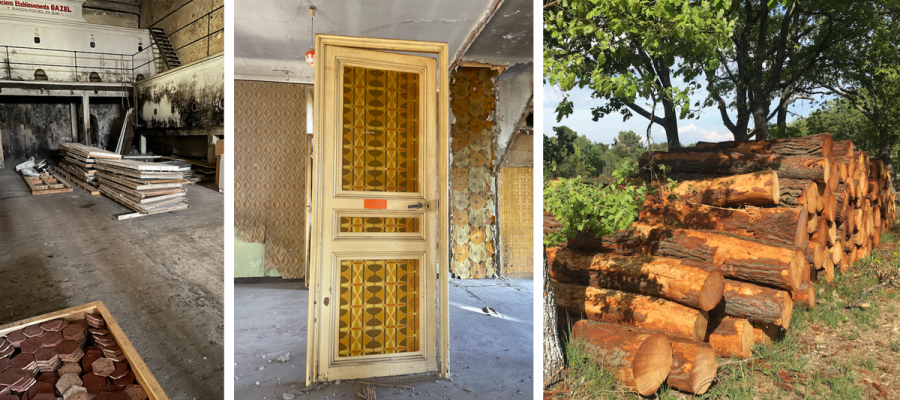 A wine cellar housing a stock of materials. An old joinery. Aleppo pine logs.
What communications operations have been carried out to date as part of the project?
To begin with, a project house was set up in the local village hall to house an exhibition open to all, explaining the project's approach. We also had the opportunity to organise conferences and site visits open to local residents, so that the work could be made visible and explained in an educational way. Secondly, we worked with Graines d'Archi, an association dedicated to bringing architecture to a young audience. They worked with three local schools to raise children's awareness of the heritage they have at their fingertips. Finally, a gardeners' association is working with residents to decide on the management of one of the buildings, which is a little out of the ordinary and has a large area planted with trees. Together, they decide on the upkeep and use of the garden.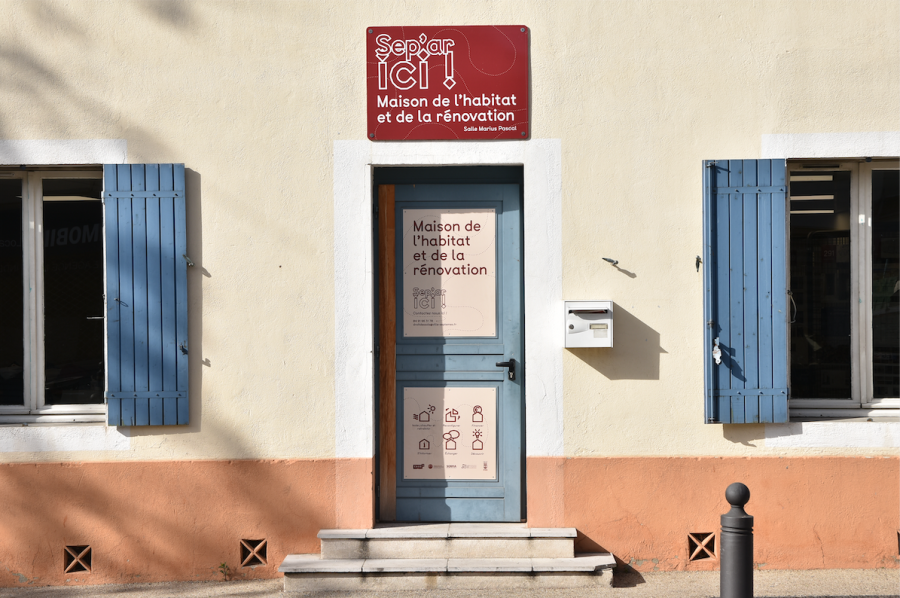 What limitations have you come up against in this "local" approach?
The first that springs to mind is a cultural limitation. Local people are the hardest to convince: they don't understand the purpose of the project because, in their view, nothing is worth preserving. The hardest thing is to change their minds. The other limitation is labour. The industrialisation of construction has resulted in a shortage of local companies with valuable expertise. However, with the introduction of the "zero net artificialisation of land" objective [set by the Biodiversity Plan in 2021], there will be more and more renovations to be carried out and we hope that a new workforce will be trained accordingly.
---
To find out more about the agency's work : www.atelier-aino.com