Talking about architectural commission, the border between public and private actors becomes more and more porous, but the concern should be elsewhere: the transfert of public interest missions to private actors, who are not accustomed to this topic. In its last issue of the year, AA assesses this porous situation, questioning these new methods of making the cities and analyzing certains exemples, some exemplary and some questionable.
In France, the latest figures confirm the trend: the percentage of architects' work dedicated to private orders has been rising steadily in the last ten years. This change in stakeholders promises new ways of planning cities, as underlined in the following pages with Catherine Sabbah's report about 'Réinventer Paris I', the first in a long series of calls for innovative urban projects.
Increasingly, private stakeholders are claiming for themselves – or are being entrusted with – a public vocation which was previously attributed to the State and to local authorities. The economic stakes of architecture remain, and OMA's partner Reinier de Graaf reminds us of their importance. For Joachim Azan, the CEO of Novaxia, a French investor-developer, it is currently wiser for an individual to invest in urban transformation rather than in a bank. Individuals are a major focus for developers praising the merits of hyper-customised housing.
Should these new paradigms be part of an adversarial relationship? John C. Portman, architect and a real estate developer: being both at once is not a new thing and most likely dialectical connections are more important. Once such connection has been created by Maja Hoffmann in Arles, who, with her Luma Foundation, redefines the role of patronage in the country's cultural life. Sometimes, economic stakes and architectural quality go well together, as demonstrated by Christian Kerez's office building in Lyon Confluence and a housing building in Barcelona by practice MAIO. Sometimes, on the other hand, this combination fails, such as with a project by AAVP and Aires Mateus in Paris, where the developer decided to ignore many of the architects' guidelines. A textbook case.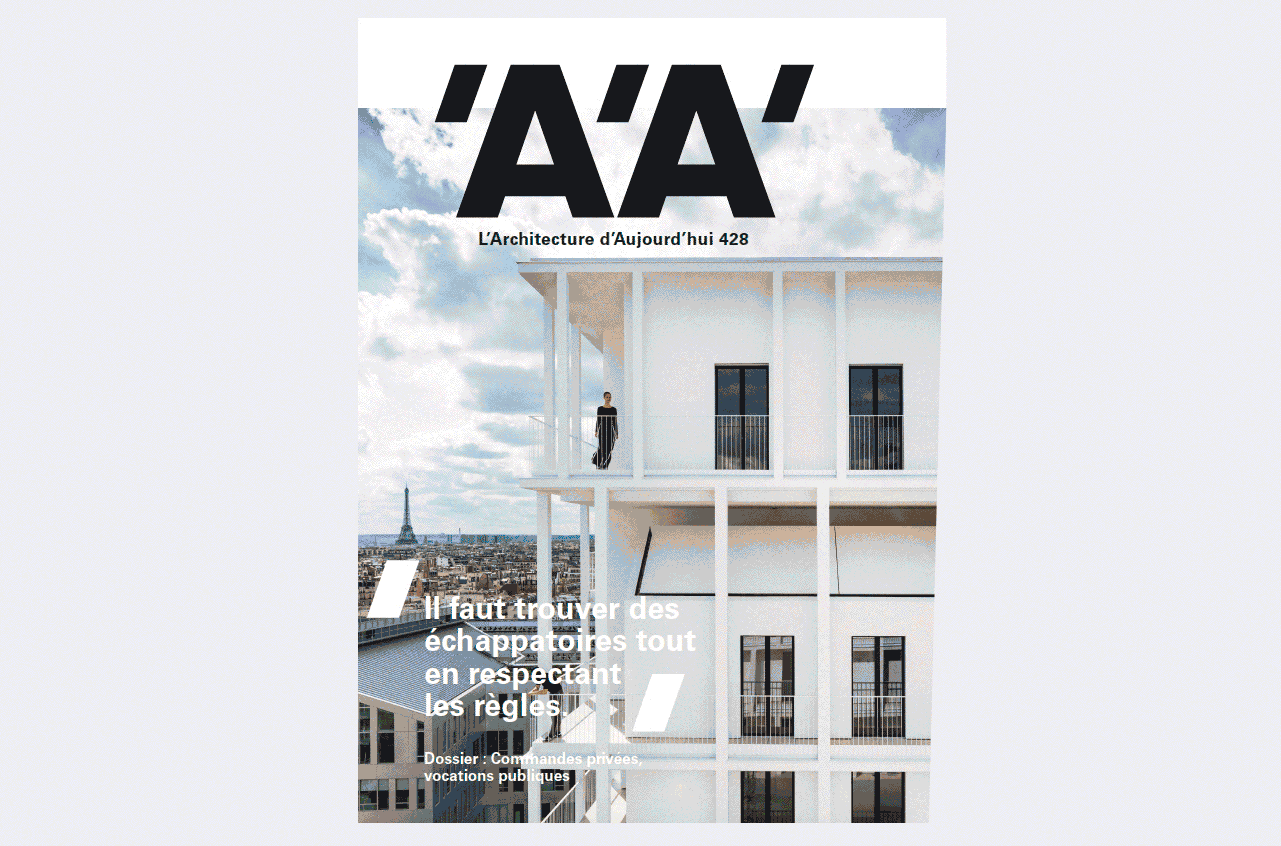 In this issue:
NEWS
Youssef Tohmé's MARe in Bucharest, on Jeanne Gangs's bookshelves, Three questions to Damien Antoni and Achille Bourdon (Syvil), The architect: Françoise Raynaud (Loci Anima), completed buildings, exhibitions and quotes…
REPORT – Private commissions, public intentions
Survey: The 'Réinventer Paris I' hold-up: cui bono?
Portrait: Reinier de Graaf's Barbie-doll effect
Builders: Joachim Azan: "Novaxia is a transformer"
Expertise: Hyper-customisation: the end of the architect?
Heritage: The architect as developer
Projects:
– AAVP and Aires Mateus, 170 housing units in Clichy-Batignolles development zone, Paris, France, 2018
– Christian Kerez, offices in Lyon Confluence development zone, France, 2018
– Luma Foundation in Arles, France, 2020
– MAIO, 22 housing units in Barcelona, 2016
VIEWPOINTS
Cinema: Legend, landscape and architecture revisited by Sergio Leone
Report: Stavros Niarchos Foundation Cultural Centre, a private centre of public interest
Extract: Notre-Dame-des-Landes, libertarian architecture
Scenography: Yoann Bourgeois, the art of suspended time
Report: Architecture and frames
TRENDS
Three questions for: Eric Rampelberg, General Manager, Southern Europe,
Project and products: A symphony of surfaces