Innovation in social housing? This complex equation is one that sometimes resolves in the meeting of a committed architect and an enlightened elected official. The first phase of "Les Haut Plateaux", designed by Christophe Hutin, was completed in 2015 in Bègles, South of France. This project serves as an example that is both singular and symptomatic of this fragile relationship, which can change from one moment to the next. For AA, Adrien Poullain tells the story of this promising project, "supposed to reconcile the qualities of individual housing with those of the collective".
The story begins in 2008. French architect Christophe Hutin is in South Africa, working on the challenge of access to housing, and planning responses to informal settlements, in Soweto. He realises how binary and uniform European models are regarding housing. On one hand, buildings stack one identical apartment onto another, and on the other, it means arranging individual houses across kilometres of land, resulting in urban sprawl. "When you're looking at the housing subject, answers tend to two extremes: ultra-individualism or ultra-collectivism", says the architect. On his return to France in 2010, Hutin went on to develop a theoretical model of vertical subdivision, intended to reconcile the qualities of individual housing with those of the collective: grouped residential units that pool services and drastically reduce their building footprint. The design he produced consisted of a minimalist concrete structure that integrates bulk utilities and distribution, leaving inhabitants with the freedom to construct their own homes within a limited volume. For Hutin, self-built homes are an opportunity to "give architecture back to the inhabitants", but also a way of lowering the price of housing in a real estate context that has become unreasonable. […]
Read the full version of this interview in AA's 433rd issue – Social Housing, a French exception ?, available on our online shop.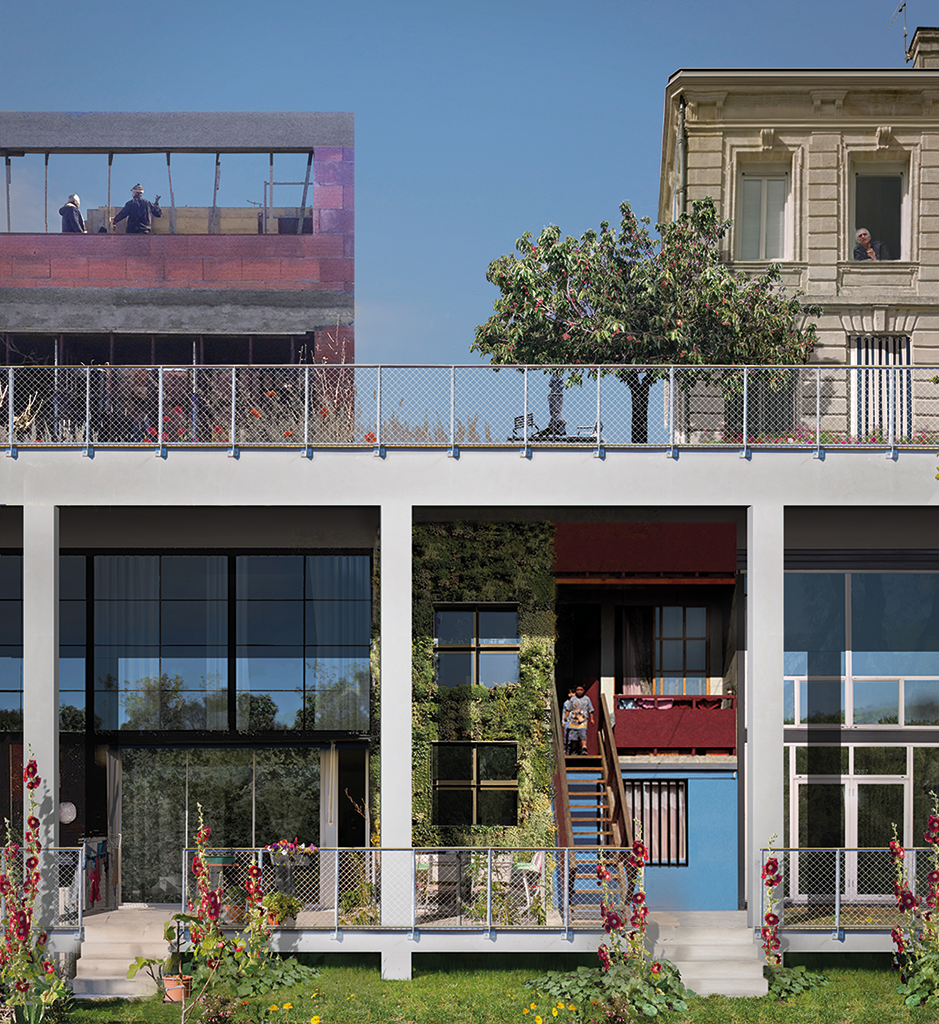 —
This project is reminiscent of the next Venice Biennale of Architecture thematic: "How will we live together?". Christophe Hutin and the members of Learning from, the workshop he co-founded, have been nominated commissioners of the French pavilion. The team proposes an exhibition named "Communities at Work", which explores how people participate in the "joyful" metamorphosis of their living environment and daily life.
In AA's December 2009 issue, Christophe Hutin and the jazzman Bernard Lubat spoke about politics, architecture and improvisation regarding The Estaminet, an old café restaurant-dancehall renovated by the architect, in Uzeste, South-West of France. To him, « Architecture must serve something. It is not an end in itself. We have created magnificent buildings which are worth a lot of money and in which nothing happens. This is what needs to be judged. It is not the aesthetic quality. Architecture should question the human, social, ecological… ».
Please click on the picture to read the full article.