The world has been deprived of it for almost a year. As the year-end festivities approach, L'Architecture d'Aujourd'hui takes a look at an international programme: places of celebrations. Theatres, night clubs, temporary or permanent structures, concert halls, agoras…
Architectures of sociability par excellence, places of celebration are inseparable from a healthly city. How does the architect contribute to this? Do such programmes still have a place in cities?
VISIT OUR ONLINE STORE
TO PURCHASE THIS NEW ISSUE
IN PAPER OR DIGITAL FORMAT!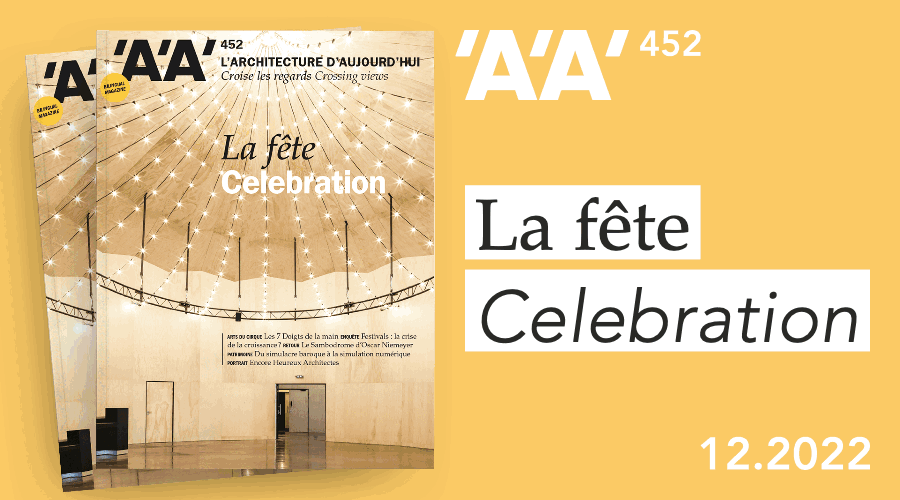 In this issue:
NEWS
Through the eyes of Cédric Torne; books advice from Zenobi; an eco-campus designed by Périphériques; a review of Níall McLaughlin's work, winner of the 2022 Stirling Prize, by Edwin Heathcote; drawing by Lila Van Wassenhove and Marjory Abilyk; tributes to Pierre Soulages and Mike Davis; the renovation of the INSA Strasbourg by COSA and rhb architects; the reuse notebooks No 12 « Dissociating Limitations »… 
VIEWPOINTS
CIRCUS ARTS – Liberating Circus, interview with Les 7 Doigts de la main, by Christelle Granja
CINEMA – The Swimmer, Through Liquid Architecture, by Christophe Le Gac
PHOTOGRAPHY – Le Cyclop by Jean Tinguely, photographed by Luc Boegly
PORTRAIT
Encore Heureux's Art and Craft, par Emmanuelle Borne
Those who were there cannot have forgotten it. In May 2018, the Encore Heureux collective had organised, on the sideline of the Venice Architecture Biennale 16th edition, a party within the former Guglielmo Pepe barracks, on the Lido. Festivities were only the visible part of the premises where, for six months, guests followed one another in debating, experimenting, feasting again –  in short, remaking the world. 
REPORT
INTRODUCTION – Celebration Bodies, by Éric de Thoisy (SCAU)
INVESTIGATION – Festivals: The Bill Please, by Valérie de Saint-Do
HERITAGE – From Baroque Simulacra to Digital Simulation, told by Jean-Philippe Hugron
UTOPIA – Stufish or Party 2.0
EXPERTISE – From Wall to Strobe, by Pol Esteve Castelló
BUILDINGS
MVRDV, The Imprint, Incheon, South Korea
Compagnie Architecture, Quai M, La Roche-sur-Yon, France
Atelier Kempe Thill, aNNo architects, Baro Architectuur, SUM Project, Wintercircus Mahy, Ghent, Belgium
Bureau face B, communal hall, Chemy, France
Iotti+Pavarani Architetti, Guido Tassoni, Lauro Sachetti Associati, RCF Arena, Reggio Emilia, Italy
K Architectures, concert hall, Béziers, France
DnA_Design and Architecture, Quarry No.9, Bamboo Theatre, Zhejiang, China
Oscar Niemeyer, sambodrome, Rio de Janeiro, Brasil
TRENDS
In the news — Atelier H.Audibert
Projects and products — AA's selection
Innovation — Marjan van Aubel
by Lisa Agostini