As the Cersaie exhibition is about to start, Mauro Manfredini, Director of Sales and Marketing of Casalgrande Padana, accepted to answer AA's questions.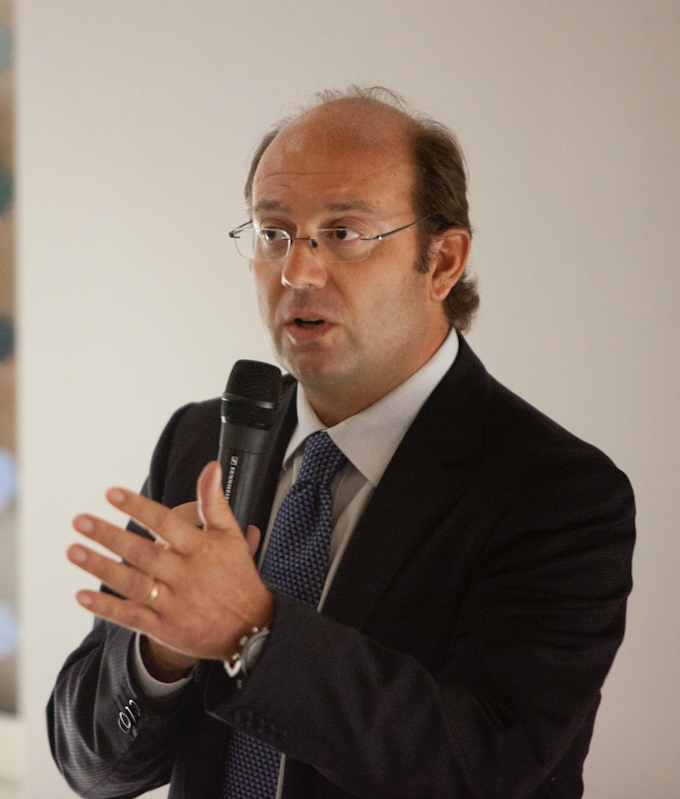 In a few words, could you present your company and your latest projects?
Casalgrande Padana has been producing cutting-edge stoneware for over 50 years. Its innovative, environmentally friendly solutions for cladding, flooring and facades are capable of meeting any creative or technological requirements for the worlds of architecture and design. A manufacturer of impeccable quality, Casalgrande Padana's corporate policy is firmly orientated towards innovation and respect for the environment as well as intensive research and experimentation for continuous product improvement in terms of aesthetics and function. The company's ever-increasing production and sales volumes are the perfect illustration of its excellent understanding of new market developments and trends, something also demonstrated by its company data: the group has a workforce of over 1,000 across six hi-tech plants set in the heart of the most important ceramic district in the world, for a total of 700,000 square meters.
Respect for natural resources, environmental protection and social accountability are intrinsic parts of the company's philosophy. Casalgrande Padana is constantly striving for excellence in order to ensure it can meet any architectural need. It also offers impeccable services through its Padana Engineering consulting firm, specialising in providing assistance at any stage of a project, from the selection of materials to the development of the project. The company's Research Centre is constantly developing innovative products and cutting-edge solutions to respond to modern architectural requirements. These range from facades to engineered flooring (raised, floating, heavy duty), solutions designed to make the most of public areas and reduce architectural barriers and tiling for swimming pools. Yet Casalgrande Padana is also blazing a trail at the new frontier of bioactive ceramics for architectural applications: the revolutionary Bios Ceramics® range of porcelain stoneware tiles feature excellent antibacterial, self-cleaning and pollutant-reducing properties.
Another big part of Casalgrande Padana's history is its commitment to supporting major architectural projects. First and foremost is the international Grand Prix award, first launched in 1990 to honour projects that best harness the technical properties and expressive potential of the company's range of stoneware products. The award is now considered one of the most prestigious international events in the ceramic architecture calendar. Promoting a culture of production and design has been the cornerstone of Casalgrande Padana's development strategies for over 50 years and will continue occupy a central role as the company strives to strike the perfect balance between economic development, technological advancement, environmental protection and shared wellbeing.

You are participating to the Cersaie exhibition this year, what products and innovative solutions are you going to present on the fair?
At the Cersaie, International Exhibition of Ceramic Tile and Bathroom Furnishings, Casalgrande Padana and Pininfarina will present EARTH, the first tile collection designed by Pininfarina. A partnership of two outstanding examples of Italy's excellence: Casalgrande Padana, leading manufacturer of state of the art ceramic materials and Pininfarina, the world-renowned design house. Two companies that share values, such as the pursuit of quality and excellence, design and material innovation, and respect for the environment.
EARTH by Pininfarina is a unique collection with a distinctive character born out of the combination of Casalgrande Padana's know-how and Pininfarina design. The originality of this project lies in the great versatility of the system, which combines tiles, whose refined and essential design conveys luxury and charm, with décors inspired by the automotive world. The texture of the porcelain stoneware slabs is the result of the blend of three different materials (glass, leather, and fabric), which creates a strong multisensory effect. The result is warm and cosy to the eye, whereas, at a short distance, you can appreciate its innovative texture and tactile three-dimensionality. EARTH by Pininfarina is available in the following two versions: Bios Antibacterial HYDROTECT®, with certified antibacterial properties, and Bios Self-Cleaning®, with high self-cleaning and pollution abatement performance. As with all Casalgrande Padana products, this collection stands out for its eco-compatibility.
The vast colour palette and large formats allow for a creative use of these tiles in any environment. The décors are inspired by the glorious Pininfarina car design tradition. They feature clean-cut and extremely elegant lines while the finishes and special materials – car body paint, fine wood, natural leather treated to be used as a coating material – make them even more unique. The Pininfarina tile system can come with the Pininfarina logo on both the tiles and the décors, according to the specific requirements of the project, architect, or the customer's taste. Its great versatility makes the collection EARTH by Pininfarina perfect for any use, ranging from private villas to luxury hotels. EARTH provides interior designers and architects with the ideal tool for creating simple and elegant or dynamic and highly sensory environments.
"At Casalgrande Padana, we have always manufactured state of the art ceramic materials with a perfect balance between natural resource protection, environment protection, advanced technology economic growth, and social responsibility." Says Casalgrande Padana's sales director, Mauro Manfredini.
"Working with Casalgrande Padana has allowed us to make full use of all our competencies, from industrial design to architecture, placing a high value on the know-how and materials acquired in the automotive industry." Says Paolo Pininfarina, President of the Pininfarina Group.

How do you foresee the evolutions of your sector, and the main challenges to address between now and 2020?
Technology, production, and aesthetics have constantly evolved over the years, and this makes it difficult to predict the trend in this sector. For sure, Casalgrande Padana aims at consolidating its position as a main player worldwide. This is why they are investing tens of millions of Euros in new technologies and systems. These investments have led to the production of Bios-treated Bioactive ceramics for making antibacterial tiles and helping reduce air pollution. Moreover, this year, we will present new collections of 90×180 and 75 x180 tiles. We have also planned new investments, which will allow us to develop our range of products. In any case, we will be able to meet all market trends and requirements. As for technology and aesthetic research, we will keep relying on in-house and outsourced expertise.
To find out more about Casalgrande Padana, click here.