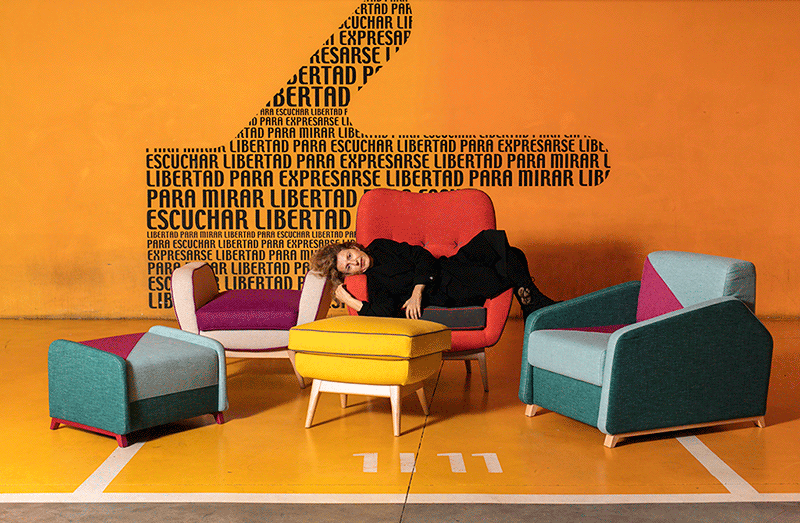 Interview with Italian architect Teresa Sapey, of the eponymous Madrid-based office, founded in 1999. For AA, she shares her views on the profession, her sources of inspiration as well as her vision of the future.
Since its creation, Teresa Sapey has completed several car parks, hotels and interior design projects. Recently, the office completed the NHow hotel in Marseille (2018), the boutique apartments Amor de Dios in Madrid (2017) and the Bruno hotel in Rotterdam (2017).
Being an architect means
Teresa Sapey: Creating and defining emotions into places. Every time I start working on a project I think about giving a purpose and a personality to a blank space.
Your ideal commission
TS: One I am currently working on. The office is collaborating with Gancedo – a firm that produces fabrics, wallpapers and rugs – in order to create a new space with a global and modern concept.
Your job in 20 years
TS: It will still be the same, architecture has always been my passion.
The advice you would give a young architect
TS: Give identity and functionality to your work. I believe architecture must make life easier, we have to create spaces that solve people's problems.
The architect we should all follow
TS: I really am into Norman Foster's work, that need no presentation. I also really like his Instagram feed, I think everyone should follow it.
The project you would have loved to build
TS: The next one.
Your favorite city
TS: Pompeii. This city rises many emotions in me; I am still attracted to it even though I've visited this place several times.
If your architecture was a movie
TS: The Great Beauty. (co-written and directed by Paolo Sorrentino, editor's note).
Your favorite object
TS: I cannot separate from my iPad. It's the device on which I create the bases of my projects.
A museum you recommend visiting
TS: The Musée des Arts Décoratifs in Paris. I've recently visited the exhibition on Gio Ponti there, a great reference to my work.
Your favorite restaurant
TS: Il Cambio, in Turin, Italy. Both for its food and for the memories I have there; I've always celebrated Christmas with my family there.
Your bedside book
TS: "Filastrocche" by Gianni Rodari. It's a counting rhyme book that belonged to my mother and is really important to me. I often find inspiration in its pages.
Private or public commission?
TS: Both. I work for both public and private commissioners.
Your motto
TS: Color must be the main character and spaces must create emotions.
Another career you'd have liked to pursue
TS: Artist. My parents pushed me to pursue a career in architecture, now I am both an architect and an artist.
To learn more about Teresa Sapey click here.