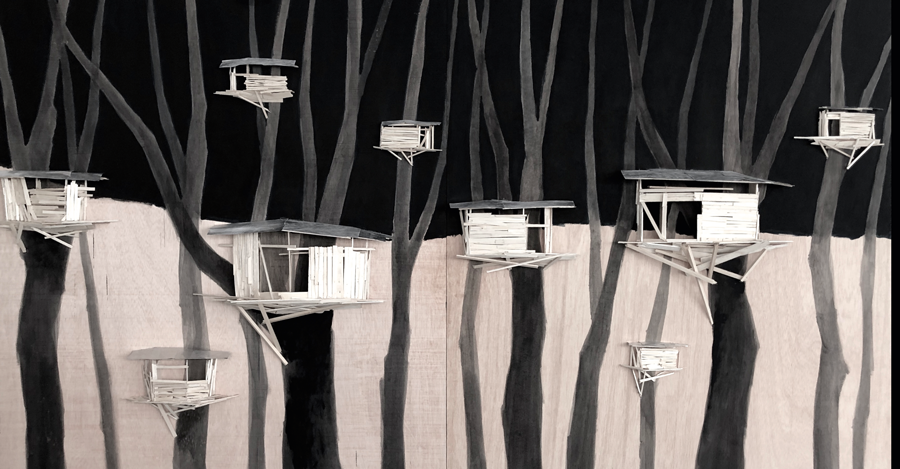 So many words describe Tadashi Kawamata's creations, which the Japanese artist born in 1953 in Mikasa qualifies as "in constant progress". "His work is like a dialogue, it's about how things are related", adds Catherine Grout, professor at the ENSAPL (École Nationale Supérieure d'Architecture et de Paysage de Lille), who has been familiar with his work since the mid-80s. In the following conversation, they talk about 'parasite structures' but also 'temporary states' and 'adaptation' versus form and objects. In the end, it's all about 'action', as Tadashi Kawamata puts it. In a few words, about being alive.
INTERVIEW BY EMMANUELLE BORNE
Read the full interview in AA 438 — Parasites ; an issue written with our guest editor, the artist Tadashi Kawamata. Please visit our online shop.
PARASITE
L'Architecture d'Aujourd'hui: Tadashi Kawamata, you have always, throughout your career, worked on parasite structures, whether they proliferate (Gandamaison, Versailles, 2008) or punctuate space (Tree Huts, since 1999). What does this word mean to you?
Tadashi Kawamata: In the 80s, when I started to work, my pieces were like a parasite, a virus, a cancer growing. Parasites are not autonomous structures, they use the energy of other systems in order to grow. I was also very influenced by natural incidents such as the Kobe earthquake in 1995. Natural incidents and parasites are connected. A society is a parasite to another society, like in Bong Joon-ho's 2019 movie Parasite. But when a natural incident occurs, this co-dependance is even more visible.
Catherine Grout: The word 'Parasite' reminds me of your exhibition I saw in Tokyo in 1998, the Tokyo Project, New Housing Plan. It was very political, related to the context. It showed how as an artist you can influence the city by occupying consumer structures such as vending machines. It was about how people live and work in such a huge city. What is a city in movement? It's not a question of form or even function but of being.
TK: Yes, it's about action. Vending machines are typical of Tokyo: I wanted to find out how much money they generate. It was economic research as much as political action.
CG: As you just explained, a parasite cannot be fixed and it is related to something else. Everything is interconnected. Your work is also like that: it is related to what is already there, and your pieces act like in-betweens.

AA: Your work has indeed a lot to do with in-betweens: in-between outdoors and indoors, in-between movement and built structures… It's always in-between two states.
TK: For me there is no contradiction there. When I started installations inside galleries, I immediately extended the outside: from the walls, then the windows, then outside on the building skin. The building skin is a part of the city skin: it's a continuity. In-between is about space, time and action.
CG: It's about how things are related to a 'milieu', it's a dialogue. In Japanese, you have ma that can be translated into 'in-between' but you also have ba, that has three meanings: the place as in 'milieu', the scene and the field, as a field of energy. Ba and its three meanings cover much of Tadashi's work. This goes beyond the notion of form.
TK: Sometimes site is very important and sometimes the space is totally neutral. Sometimes I make a stage, a basic structure and people participate. As in the Collective Folie at La Villette in 2013: I just built up the basic structure and people participated.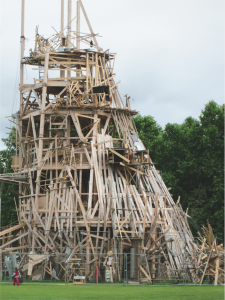 _ _ _
READ THE FULL INTERVIEW IN AA 438 IS AVAILABLE ON OUR ONLINE SHOP. 
_ _ _