At the age of the Anthropocene, and the damage caused by the opposition city vs. nature, architects and other stakeholders of the built environment are increasingly concerned with designing with and for living beings. How can we create biotopes and other ecosystems within our cities that encourage the development of flora and fauna? What are the limits of this desire?
In this new issue, AA presents different examples of how animals and plants can be integrated into the urban fabric far from greenwashing developments, highlighting the work of architects, designers, scientists and geographers who, among others, are striving to achieve a fruitful cohabitation. In addition to planted façades and roofs, how many projects have boldly proposed freeing up land space, since we now know that nothing is better for preserving biodiversity than the open ground of non‑mineralised soil? How many building owners and architects dare to use surfaces that are less smooth in favour of crevices that allow living things to nest?
It's not just a question of making our cities more breathable. As developed in the examples published, the animal body also calls for 'de-standardising' the way we design architecture.
RFIND THIS NEW ISSUE
IN PAPER OR DIGITAL FORMAT
IN OUR ONLINE SHOP!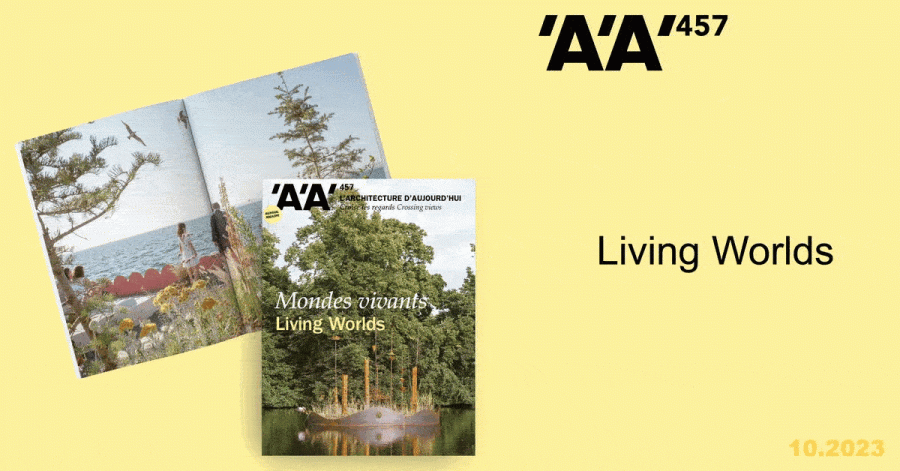 In this issue
NEWS
Through the eyes of Benjamin Tortiger ; Tribute to Jean-Louis Cohen (1949-2023) ; Centre sportif de l'US Métro à Paris of Think Tank architecture and Centre thérapeutique à Meulan-en-Yvelines of Tolila + Gilliland in Building ; L'immeuble qui pousse of Édouard François in Looking Back ; Naming Things in The Reuse Notebooks …
VIEWPOINTS 
INTERVIEW — Nathalie Blanc, Nature at Every Scale, by Christelle Granja
DESIGN – François Azambourg, bio-designer, by Lisa Agostini
PHOTOGRAPHY —Verdures, seen by Luc Boegly
SCIENCES – Jérôme Sueur, Listening to Landscapes, by Anastasia de Villepin
ABSTRACT – Journey into Fungal Territory, an abstract from Living in Mycelium
PROFILE
Catherine Mosbach's Multiple Viewpoints, by Anne-Solange Muis
"Since 1987 and the creation of her office, Catherine Mosbach has been one of the few French landscape architects to be recognised on the international scene, particularly thanks to the Jardin Botanique de Bordeaux, created in 2000, which made headlines at the Groundswell: Constructing the Contemporary Landscape exhibition at the MoMA in 2005."
REPORT
INTRODUCTION – The End of the Survivor, Eric de Thoisy
HERITAGE – From Urban Animality to the Living City, Emmanuelle Borne
LANDSCAPE – Letter to Gilles Clément by Julien Choppin
RÉALISATIONS
Freaks Architecture, ferme pédagogique du parc de l'Orangerie, Strasbourg, France
Studio Ossidiana, The Bird's Palace, Vondelpark, Amsterdam & Büyükada Songlines, 5th Istanbul Design Biennial
Guinée*Potin, le Potager Extraordinaire, La Roche-sur-Yon, France
Eestudio, Lys Villalba, Educan School, Brunete, Espagne
Husos arquitecturas, Edificio Jardín Hospedero y Nectarífero para Mariposas, Cali, Colombie
Sarah Wigglesworth Architects, Mellor Primary School, Marple Bridge, Royaume-Uni
VIEWPOINT – Jeanne Gang : From Coexistence to Care
TRENDS
In the News — Yamagiwa
Projets and products — AA's selection
Innovation — High Profile, MVRDV, Delta Light
by Lisa Agostini