As the Cersaie exhibition is about to start, Massimo Barbari, CEO of Ceramiche Piemme Industries, accepted to answer AA's questions.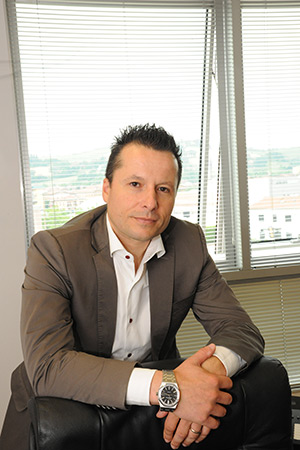 In a few words, could you present your company and your latest projects?
Piemme was the first ceramic industry to perceive a possible inter-relationship with the world of fashion and at the end of the Seventies had its tiles designed by a leading Italian fashion designer, which is Valentino. The poetry of aesthetics then went on to team up with the prose of technology, and Piemme tackled and strengthened the technological aspect with cutting-edge production systems: acquiring a spray-drier and a grinding mill among the largest in the world, and a natural-gas fuelled jet turbine for the production of electricity. All this once again becomes poetry, when you look at the stoneware production process: a linear process, hundreds of metres long, from mixing to firing, passing through the stages of cutting and drying, right up to the latest digital technology for decorating slabs.
A long process that tells the story of an ancient material, the result of the genius of man; and since 1962, when it was founded in Maranello, Ceramiche Piemme has linearly passed through the decades, introducing moments of prose and poetry that make the history of this industry as exciting as a great adventure. Now, the association with the world of architecture, thanks for example to our recent collaboration with Gordon Guillaumier, tells of new growth, expressed in the most modern, environment friendly and efficient ceramic production facilities in the world: while designers and architects become the masters of ceremonies of this new creativity.
You are participating to the Cersaie exhibition this year, what products and innovative solutions are you going to present on the fair?
We are going to present all collections inspired by the world of design for Ceramiche Piemme brand and of course inspired by the world of fashion concerning collections under the Valentino lifestyle by Piemme brand. We are talking about for example a brand new technology that allows us to produce an extra gloss marble with deepness and super shining effects without equal nowadays. Large sizes and trendy moods will be presented in a brand new company space that is inspired by modern european design which is not just minimal but has a thin materic skin that hides a bit of theatrality to emphasize our personality made of design and care for details, but also (and always) of italian creativity; our collections won't be just "collections", but we'll present real architectural projects, absolutely complete in terms of colours, sizes, thiknesses, finishes for indoor and outdoors and much more; its impossible to describe them in few words, but you've the chance to come and discover them at Cersaie.

How do you foresee the evolutions of your sector, and the main challenges to address between now and 2020?
Talking about sizes of course we are going to enlarge them day by day thanks to technologic improvements that allow us to produce big slabs in both high or mini thikness, following always the designers requirements that need to mantain stylistic omogeneity in complex projects with indoors, outdoors, facades, slippery areas and so on; but the challenge for the future is not just related to the nude product; yes of course it's important to be always very close to new stylistic moods and design trends, but the customer service is also important; designing new products giving them always the chance to express their italian soul but also completing them with important services, thinking always with architects and they needs in mind, in terms of presence on the region, times of delivery, and technical support on the project.
To find out more about Ceramiche Piemme, click here.