The project developed by the architect Milinda Pathiraja (Robust Architecture Workshop) in the country town of Ambepussa, near Colombo, was aimed at enabling the reinsertion of former soldiers into civilian life. This subtle way of dealing with the post-civil war period in Sri Lanka convinced the jury of the LafargeHolcim Awards, which had honoured her in 2014 with a Bronze Award for the Asia Pacific region, to compensate her once again in 2015 with a Global Silver Award.
L'Architecture d'Aujourd'hui: In what ways have the LafargeHolcim Awards that you won energised your practice?
Milinda Pathiraja: The greatest benefit of winning the LafargeHolcim Global Silver Award in 2015 was the international exposure it gave us as a young architectural practice from Sri Lanka. We were less than 3 years into the practice when we won the two Awards – the regional and the global one – and the Library project was only the third building we had completed. Since then, we have been invited to speak at many architecture forums, our work has been published widely and recognized by other award schemes, and in 2016 we were invited to present our work at the main section of the Venice Architecture Biennale. LafargeHolcim Foundation's initiative to hold the Global Silver Award ceremony in Sri Lanka also contributed significantly in building up our reputation locally. But more than anything else, winning theses Awards boosted our own confidence as a young practice and convinced us about the appropriateness of the professional and intellectual path we have defined for ourselves.
Click-on the image below to read the full article.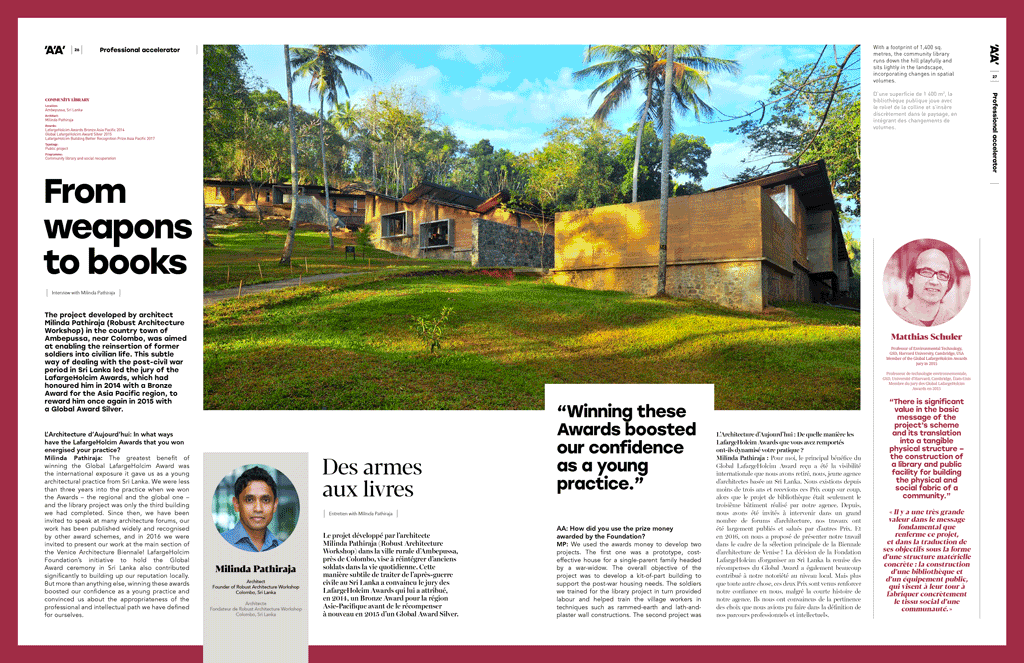 Community library
Location: Ambepussa, Sri Lanka
Completion: 2016
Architect: Milinda Pathiraja
Award: Bronze LafargeHolcim Award Asia Pacific 2014 / Silver Global LafargeHolcim Award 2015 / LafargeHolcim Building Better Recognition Award Asia Pacific 2017

—
The AA Perspectives special issue – Global Design Competitions: Shaping a sustainable future – is available on our online store.